Key market moves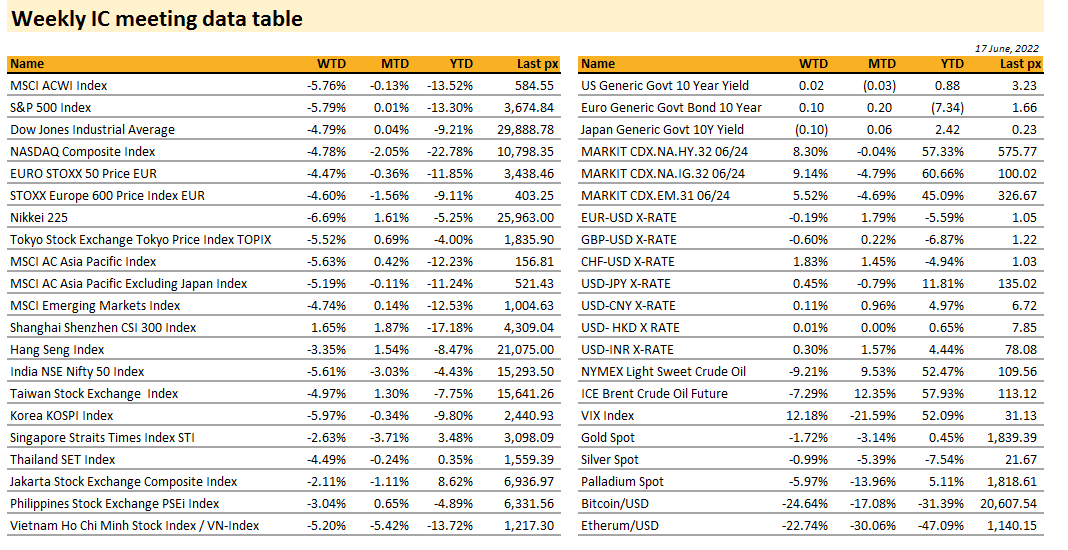 Source: Bloomberg
Macro Overview
Americas:
The week pushed the S&P 500 into official bear territory joining the Nasdaq Composite. The Dow remains just head above water down some 18.8% from its highs in January – supported mainly by its energy representation. Still, crude was down from its highs to circa WTI$110 per barrel as President Biden prepares to travel to Saudi (July 13-16) to press for more oil. The last oil output cut by OPEC+ agreed in 2020 is scheduled to end in August but the cartel is still grappling with what should come next. US stocks plunged some 4 plus percent for the week as the threat of a recession, which some are claiming that we are already in one, took center stage. Sparked by the Fed Reserve's pledge to tame the highest inflation in 4 decades, the S&P 500 saw some $1.9 trillion wiped off in market value for the week. The index is now trading at 15.7x estimated earnings, below the 10-year average of 17x (Bloomberg). The Fed on Thursday raised the Fed Funds rate by 75 bps to 1.75%, the most since 1994, adding that it is "strongly committed" to returning inflation to its 2% objective. "However, don't expect moves of this size to be common" Powell mentioned, whilst reiterating its "unconditional" vow to restore price stability. At the press conference, reading between the lines, it appeared that the Fed could let the unemployment rate increase to 4% to 4.1% in order to cool wage price pressures. Powell went on to say that the Fed is not trying to induce a recession. The updated dot plot by Fed officials expects the Fed Funds rate to be at 3.375% for 2022, 3.75% for 2023, and 3.375% in 2024. This implies another 75bp hike at the July meeting, 50bp for September, 25bp for November, and 25bp in December.
Recessionary fears were further exacerbated by recent data showing that the housing market is cooling, weakness in the manufacturing and service sector activity and retail sales, coupled with a record low reading in consumer sentiment – all classic indicators of an "impending" recession. The coming week will see a lighter load of economic releases – industrial production and hosing data.
Cryptos saw its selloff continue on the back of heightened inflation fears and pausing of withdrawal by various exchanges.
Europe / Middle East (EMEA):
Euro Stoxx 50 fell 4.46% last week, due to increased recession risk in the US after the FOMC meeting. In addition, US market falling more than 20% ytd (officially entering into the bear market territory) led Euro Stoxx to fall as well.
At an emergency meeting the ECB Governing Council determined that market fragmentation is a threat to the even transmission of monetary policy across the euro area member states. Two decisions were made. First, the ECB triggered the flexible PEPP reinvestments. Second, the ECB internal committees were tasked with "accelerating the completion" of a new anti-fragmentation tool. Although details are missing, the intent is clear: the ECB won't let market fragmentation get in the way of the tightening cycle needed to cool inflation. Following this announcement the 10years spread Bund Vs BTP has tightened last week by almost 50bps, from 242bps to 193bps.
The ECB is deploying its anti-fragmentation tools earlier than we were expecting. This reduces uncertainties for the second half of the year. The deployment of the anti-fragmentation tools clears the pathway for policy rate liftoff and an accelerated tightening cycle. As such, we are adding a third 50bp hike to our call. We now see hikes of 25bp in July and 50bp in September, October and December. This means 175bp of hikes over the next six months and a deposit rate of 1.25% at the end of this year.
Russia said it hit military targets in Ukraine with sea-launched cruise missiles. Ukraine warned its grain harvest may shrink by more than 40% this year because of Russia's invasion, while Volodymyr Zelenskiy said Kyiv "will do everything possible" to ease a global food crisis as long as it can get security for vessels to enter its ports. The conflict "could last for years," NATO chief Jens Stoltenberg told German newspaper.
Regarding Brexit developments, in Parliament last Monday, the UK government is set to introduce a bill to amend the Northern Ireland Protocol unilaterally, while the EU was said to be considering new legal actions against the UK in retaliation.
Asia:
CSI 300 Index outperformed all major indices last week, as it rose 1.65% for the week, while MSCI APAC Index fell 5.63%. MSCI China fell 2.84% last week though, implying that the onshore market had outperformed the offshore market. China has more capacity for both fiscal and monetary stimulus, given that the inflation number is relatively muted compared to the rest of the world and fiscal stimulus has been relatively small when Covid started.
Shanghai's weekend Covid-testing blitz found the virus seemingly contained, after a spike in cases last week had fanned concern the city would be plunged back into lockdown. The financial hub reported 13 Covid cases for Sunday and nine on Saturday. Just one case each day was found outside government-mandated quarantine. In Beijing, five cases were recorded on Sunday and one on Saturday. The capital resumed all subway services and some bus operations yesterday as cases decline. Nationwide, 24 cases were recorded on Sunday, the fewest in more than three months. The tech hub of Shenzhen reported a flareup over the weekend, prompting mass testing in a downtown district and a lockdown of some neighborhoods in the Futian and Luohu areas from 6 p.m. Saturday.
TWD outperformed in the AxJ region even as the CBC delivered a smaller than expected hike on Thursday. The currency's resilience is notable because Taiwanese equities did not react positively nor did the local exchange report any foreign equity inflows. This implies either FX conversions by exporters or the CBC's FX policy as the reasons behind the better performance.
In Korea, USDKRW touched above 1290 intra-week as the sell-off in local equities extended. Foreign market participants net sold USD 0.4bn worth of KOSPI stocks. 1y1y KRW forward swaps jumped above 4.15%.
COMPANIES
Coinbase Global Inc announced last Tuesday it will lay off 18% of its workforce in another sign of a worsening crypto downturn that has shaved off trillions of the total cryptocurrency market value . Coinbase fell 12.75% last week, and its shares had dropped around 85% since it went public more than a year ago.
Revlon Inc. filed for Chapter 11 bankruptcy as the global supply chain crunch proved the tipping point for the debt-laden company that has struggled to tap into a broader cosmetics sales boom driven by social-media influencers.
Sea Ltd. is making its first major job cutsbin areas spanning shopping and food, joining other tech firms downsizing this year in anticipation of unprecedented market and economic volatility. Southeast Asia's largest tech firm plans to let employees go across its e-commerce division Shopee, Chris Feng, the unit's chief executive, said in an email to employees seen by Bloomberg News. It will reduce headcount across its ShopeeFood and ShopeePay divisions in Southeast Asia. The cuts will also extend across its Mexico, Argentina, and Chile teams, as well as the cross-border team supporting Spain.
Walt Disney Co. suffered a setback to its global streaming ambitions after losing a bidding war to retain the rights to broadcast India's cricket league online. Cricket has been a huge contributor to Disney's global streaming growth. The Disney+ Hotstar service, which broadcasts the Indian Premier League under a contract expiring this year, had 50.1 million subscribers as of April 2. That's more than a third of the global total for Disney+.
Reuters reported that PBOC has accepted Ant Group's application to set up a financial holding company. Alibaba rallied in pre-market after the news, before paring back to perform flat for the trading day. Alibaba eventually closed the week down close to 7%.
FX
DXY USD rose 0.53% to 104.7 as FOMC delivers a 75bp rate hike at its June meeting (consensus at 50bps hike) the largest since 1994. However, Fed Chair Powell does "not expect moves of this size to be common", which suggests 50bp hikes are the base case increment, but higher inflation creates a scenario where 75bp hikes can be utilized. USD weakened after the FOMC meeting, but eventually rose on Friday closing due to risk sentiment deteriorating.
SNB delivered a surprise 50bp rate hike from -0.75% to -0.25% (its first in 15 years), and guided "further increases in the SNB policy rate will be necessary." In addition, SNB would consider currency sales if franc weakens. USDCHF fell 1.83% to 0.9699, while EURCHF fell 2.01% to 1.0183.
BoJ remained on hold and maintained its existing guideline for market operations for the short-term policy rate at -0.1% and the 10y JGB YCC framework at "around zero percent.", as BoJ Governor Kuroda shows an "unwavering" stance to continue easy monetary policy. USDJPY eventually close up 0.45% to close the week at 135.02.
ECB announced an unscheduled Governing Council meeting, and announced the design of a new anti-fragmentation instrument. ECB decided it would apply flexibility in reinvesting redemptions coming due in the PEPP portfolio. However, the lack of more details failed to support the EUR rally. EURUSD fell 0.19% to 1.0499.
BoE maintains its 25bp hiking pace in a 6-3 vote, with 3 members calling for 50 bps hike, raising rates to the highest level since 2009. In addition, BoE will act "forcefully" in response to more persistent inflationary pressures. EURGBP rose 0.51% to 0.85847, while GBPUSD fell 0.60% to 1.2241.
AUD fell 1.79% and 0.90% against USD and NZD respectively, closing the week at 0.6932 (AUDUSD) and 1.0979 (AUDNZD), as industrial metals prices continued to slide lower. Iron Ore future fell 8.96% for the week. AUD weakness was despite RBA Governor striking a hawkish tone, emphasizing that it would be 'reasonable' for rates to rise to 2.5% over time and inflation could accelerate to as high as 7% by end-2022. In AU, we have a strong May employment report, which showed the economy added 60.6k jobs (C: 25k) and participation unexpectedly rose to 66.7% (P: 66.3%).
ECONOMIC INDICATORS
M – CH LPR
T – NZ Cons. Confid., AU RBA Minutes, CA Retail Sales, US Existing Home Sales
W – NZ Trade Balance, UK CPI/PPI, JP Machine Tool Orders, US MBA Mortg. App, CA CPI, EU Cons. Confid.
Th – JP/EU/UK/US Svc/Mfg/Comps PMI June Prelim, US Initial Jobless Claims
F – JP CPI, UK Retail Sales, US Michigan Sentiment/New Home Sales
Sources – Various news outlets including Bloomberg, Reuters, Associated Press




Disclaimer: The law allows us to give general advice or recommendations on the buying or selling of any investment product by various means (including the publication and dissemination to you, to other persons or to members of the public, of research papers and analytical reports). We do this strictly on the understanding that:
(i) All such advice or recommendations are for general information purposes only. Views and opinions contained herein are those of Bordier & Cie. Its contents may not be reproduced or redistributed. The user will be held fully liable for any unauthorised reproduction or circulation of any document herein, which may give rise to legal proceedings.
(ii) We have not taken into account your specific investment objectives, financial situation or particular needs when formulating such advice or recommendations; and
(iii) You would seek your own advice from a financial adviser regarding the specific suitability of such advice or recommendations, before you make a commitment to purchase or invest in any investment product. All information contained herein does not constitute any investment recommendation or legal or tax advice and is provided for information purposes only.
In line with the above, whenever we provide you with resources or materials or give you access to our resources or materials, then unless we say so explicitly, you must note that we are doing this for the sole purpose of enabling you to make your own investment decisions and for which you have the sole responsibility.
© 2020 Bordier Group and/or its affiliates.