Key market moves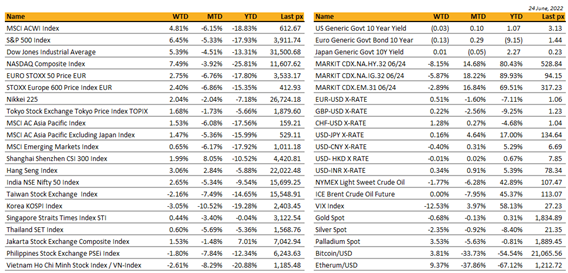 Source: Bloomberg
Macro Overview
Americas:
A rally on Friday saw losses from the previous 2 weeks wiped out as recession fears calmed and key economic data suggested inflation may indeed be cooling. All 3 major indices closed above 2.5% as confidence returned in buying heavily discounted stocks. Optimism that even if the economy were to tip into recession, given its still on solid footing, would be a short one.
Goldman's Hatzius said they don't have a recession in their base-line forecast, and that private-sector balance sheets are in better shape than previous business cycles.
Fed chair Powell appeared before the Senate and the House earlier in the week, sounding less hawkish than feared. Powell said steep rate hikes could tip the US economy into a recession and called a soft landing very challenging. However, he did not think recession "is inevitable." The rates market scaled back its forward expectations.
University of Michigan's final June reading of longer term US consumer inflation expectations fell from an initially reported 14-year high, which could reduce the urgency for steeper rate hikes by the Fed.
Even the Fed's most hawkish member Bullard weighed in, claiming fears of a recession are overblown! Stocks closed on its highs as JP Morgan called for a 7% rise this coming week as pension and sovereign wealth funds rebalance their portfolios.
Separately. US banks rose after results of the Fed stress test showed all 34 participating lenders passed, showing they could withstand a severe recession.
For the week, the Dow was up 5.4%, the S&P 500 up 6.5% and the Nasdaq, a welcomed up 7.5%. Tech and growth stocks outperformed as longer term yields fell ~ UST10Y at 3.13%.
A recent snapshot of the Bloomberg Spot Commodity Index lent support to a softening commodity outlook, now back at February levels – commodities, a major contributor to decades-high inflation: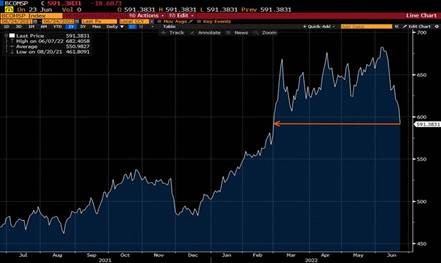 Source: Bloomberg
Crude prices fell, on pace for its first monthly decline since November as concerns about an economic slowdown outweighed the fallout from the war in Ukraine. WTI$108 & Brent$113.
In progress is President Biden's push for a fresh economic plan to counter inflation through legislation and rein in the deficit, and revive parts of his stalled economic agenda.
Cryptos held above the crucial BTC$20k level as risk sentiment returned.
This week is busy with releases, key among which are GDP data, Personal Income & Spending and PCE, the Fed's preferred inflation gauge.
Whilst most expect this rally to be brief, we think opportunistically, the sector worst hit, from a much lower base would recover the most in the ST. We would add to some select growth exposure (large tech) with an eye on LT yields possibly topping out.
Europe / Middle East (EMEA):
Euro stoxx 50 rose 2.75% last week. Eurozone PMIs missed, the composite index declined 2.9 points to 51.9 in June (consensus 54.0), its weakest since the end of the pre-vaccine winter Covid wave in February 2021, composite new orders fell below 50.
UK PMIs beat, composite unchanged at 53.1 in June, consensus looked for a fall. Beat was underpinned by services. May UK headline CPI continued its rise to 9.1% yoy in line with consensus expectations, while Core CPI declined to 5.9% y/y.
Germany declared a gas crisis. It elevated the national gas emergency plan level to stage 2. The second "alarm stage" of a three-stage emergency plan means authorities see a high risk of long-term supply shortages. It includes a clause allowing utilities to immediately pass on high prices to industry and households. Germany was not at that point, but the clause might get triggered if the supply squeeze and price gains persisted, pushing power companies deeper into the red.
Ukraine and Moldavia are now officially candidates to join the European Union after the European Council granted both countries with candidate status. The process for them to join the EU will be long and complicated, it might take depending on different estimates between 10 to 20years.
Rail workers in the UK went on strike after negotiations failed. The walkout will be the biggest in 30 years, and severe service disruptions are expected. It could pave the way for widespread industrial action across the economy in the coming months.
Russia has a $100m interest payment that was due on 27 May. Russia says the money was sent to Euroclear, a bank which would then distribute the payment to investors. Euroclear wouldn't say if the payment had been blocked, but said it adheres to all sanctions. Payment has been stuck there, according to Bloomberg News, and creditors have not received it.
Asia:
Markets closed higher with broad-based strength across the region. MSCI Asia Ex Japan was up 1.5%. Hang Seng was the strongest in the region, up 3%. Taiwan, Vietnam and South Korea lagged, down 2.16%, 2.61%, and 3.05% respectively. This performance last week took Kospi to -19.3% for the year, one of the worst performing Asian markets.
Xi Jinping will make his first trip outside of the Chinese mainland since the start of the pandemic more than two years ago to attend the swearing-in ceremony of Hong Kong chief executive John Lee. This year marks the halfway point of the 50 years of "one country, two systems" autonomy that Beijing guaranteed to Hong Kong.
Japan Core CPI rises to 2.1%, the 9th consecutive monthly gain. The country saw services PMI hit its highest since October 2013 at 54.2, whilst the composite reading also accelerated to 53.2, which is the highest since November. Japan separately also warned of an energy shortage. Electric power supplies are expected to be near their capacity in Tokyo and eight nearby prefectures today amid a heat wave.
South Korea logged a record deficit of US$7.6 billion as soaring import costs inflated by a weaker currency widened the shortfall, putting pressure on central bank to raise interest rates faster
The numbers from Australia showed a modest decline in June however, with the flash composite PMI down to a 5-month low of 52.6.
Australia's top central banker on Tuesday flagged a lot more policy tightening ahead as rates were still "very low" and it was important that higher inflation did not feed into public expectations and wage claims. The official cash rate is currently at 0.85% having been lifted by 50 basis points earlier this month following an initial quarter-point hike in May.
Singapore May Inflation data came broadly in line with consensus expectations as Headline CPI ticked up to 5.6% yoy and Core CPI rose to 3.6% yoy, and this caused markets to price out expectations of inter-meeting tightening by MAS. The rise in inflation was broad-based across all major categories.
Bank Indonesia will leave its key interest rate steady at 3.50% on Thursday. Indonesia's central bank is one of a few major Asian central banks that has not raised rates from a pandemic record low since inflation has held within its target range of 2%-4%. Until recently, price pressures have been relatively tame. But soaring global energy and food prices have pushed inflation close to the upper band of the BI's target, hitting 3.55% in May, the highest in over four years.
The Philippine central bank will raise rates by a modest 25 basis points for a second straight meeting in June. The Bangko Sentral ng Pilipinas (BSP) is under pressure to act now to prevent the economy from overheating as the economy is recovering from the pandemic and inflation at a more than three-year high of 5.4%,.
A consortium of Chinese state banks has lent $2.3bn to Pakistan to help the country stave off a foreign payments crisis. China had quietly urged Islamabad to repair ties with the IMF "as an essential step to improve Pakistan's economic health and avoid a default", the official said. The Chinese loan will raise Pakistan's liquid foreign reserves of $8.2bn to $10.5bn and could help shore up the rupee, which has slumped against western currencies.
COMPANIES
Alibaba jumped over 4% after reports indicated that China's central bank has accepted an application by Ant Group to set up a financial holding company..
Qantas and Airbus pledge $200 million for low-carbon jet fuel. The airline and the planemaker hope to ramp up sustainable aviation fuel production in Australia.
The Twitter board endorses Elon Musk's acquisition. The company's directors unanimously voted in favor of the $44 billion sale.
Toyota recalled its first fully electric SUVs. The fleet of 2,700 vehicles was meant to challenge Tesla's EV market dominance. The Japanese car maker also halved its stake in Uber after the ride-sharing company sold its self-driving unit.
British Airways union workers voted to strike. The decision will likely exacerbate travel disruptions that are already hitting major European airports.
Pfizer and its partner, Germany-based BioNTech SE, said a booster dose of a vaccine designed to target omicron, as well as a hybrid shot that that fights the original strain and omicron, both elicited a "substantially higher" immune response against omicron subvariant BA.1 when compared with their existing Covid-19 vaccine. The US Food and Drug Administration will discuss on Tuesday how to modify vaccines to fight emerging and future variants.
JPMorgan Chase is reducing its home lending work force as higher interest rates dampen the mortgage business. The bank is letting hundreds of mortgage employees go and reassigning hundreds more. The moves will affect a total of 1,000 workers, half of whom will be reassigned. JPMorgan Chase marks a fresh example of layoffs nibbling at the mortgage industry, including no-bank lenders.
Coinbase Global Inc. will launch its first crypto derivative product in the midst of the current crypto winter. Each nano Bitcoin futures contracts (BIT) will represent 1/100th of the token. The contracts will be accessible for trading only via multiple third-party retail brokers and clearing firms.
CREDIT
Powell said that a recession was "a possibility", whilst the soft landing the Fed is seeking will be "very challenging", which is a long way from what the Fed were saying at the start of the year.
Even as Powell emphasized the Fed's willingness to deal with inflation, those growing fears of a recession meant that Fed funds futures became more doubtful on the Fed's ability to take policy into restrictive territory. For instance, the rate priced in by the December meeting actually came down -10.5bps yesterday, and since early last week we've seen nearly a full 25bp hike taken out of market pricing. The expected terminal rate also came down, with futures only seeing a peak of 3.61% in April 2023 before subsequent cuts.
The Fed's preferred yield curve indicator that Powell has cited of the near-term forward spread (which looks at the 18m forward 3m yield minus the current 3m yield), that came down by -18.9bps yesterday to 176bps, is the lowest it's been in over 3 months, even if it still remains some way out of inversion territory. It is quite telling that softer data, oddly enough, appears to be helping equity sentiment, the equity markets and bonds had their best day last week when economic indicators came out well below expectations, especially after last Thursday weak publication of both June PMI's.'
FX
DXY USD fell 0.49% to 104.185, as risk recovery last Friday weakens USD. Data wise, preliminary June US PMIs underperform consensus, reinforcing slowing realized economic activity globally. University of Michigan Consumer Sentiment falls to a record low at 50 in June (May: 58.4). Powell testimony in the Senate did not yield any major headlines as Powell reiterated the Fed's commitment to fighting inflation is "unconditional." Powell did not view a recession as inevitable, but again acknowledged their path toward bringing inflation back down to 2%, while preserving the labor market has become more challenging in light of rising energy and food prices.
USDJPY rose to a new year to date high of 136.71 last week, before paring back to close the week at 135.23, as Japan officials continue to sound out the possibility of intervention to cap the weakness. USDJPY was still up 0.16% for the week.
EUR and GBP rose 0.51% and 0.22% against USD respectively, while CHF outperformed, rising 1.20% against USD. This is due to USD weakness, as equity markets recovered slightly. Despite UK PMIs performing slightly better relative to consensus expectation as compared to Eurozone, GBP still fell 0.18% against EUR. EURUSD close the week at 1.0553, GBPUSD at 1.2268 and USDCHF at 0.9583.
Norges Bank surprised with a 50bp rate hike (C: 25 bps hike) and guided toward a 25bp hike in August The rate path projection was revised meaningfully higher and suggested a projected terminal rate of just above 3% and with tightening front-loaded. In addition, risk recovery contributed to NOK upside. NOK rose 1.51% against USD, closing the week at 9.8549.
Oil & Commodity – Weakness was broad-based across the commodities complex as the Bloomberg Commodity Index fell -4.31% to its lowest level since early March. This is due to concern over demand, as probability of recession has risen given most central banks are hiking rates. Copper fell to February 2021 low, as it fell 5.78% last week to 378.15.
ECONOMIC INDICATORS
M – JP Leading Index CI, US Durable Goods Orders/ Pending Home Sales/ Dallas Fed Mfg Activity
T – US Wholesale Inv/ Cons. Confid./ Richmond Fed Mfg
W – JP/AU Retail Sales, EU Econ/Indust./Svc Confid., US Mortg. App./ GDP/ Personal Cons.
Th – JP Indust. Pdtn, NZ Biz Confid., CH PMI, UK House Px/GDP, EU Unemploy. Rate, CA GDP, US Personal Income/Spending/ Initial Jobless Claims/ MNI Chic. PMI
F – NZ Cons. Confid./ Building Permits, JP CPI/ Tankan Index, CH/EU/UK/US Mfg PMI, UL Mortg. App, EU CPI, US ISM Prices
Sources – Various news outlets including Bloomberg, Reuters, Associated Press




Disclaimer: The law allows us to give general advice or recommendations on the buying or selling of any investment product by various means (including the publication and dissemination to you, to other persons or to members of the public, of research papers and analytical reports). We do this strictly on the understanding that:
(i) All such advice or recommendations are for general information purposes only. Views and opinions contained herein are those of Bordier & Cie. Its contents may not be reproduced or redistributed. The user will be held fully liable for any unauthorised reproduction or circulation of any document herein, which may give rise to legal proceedings.
(ii) We have not taken into account your specific investment objectives, financial situation or particular needs when formulating such advice or recommendations; and
(iii) You would seek your own advice from a financial adviser regarding the specific suitability of such advice or recommendations, before you make a commitment to purchase or invest in any investment product. All information contained herein does not constitute any investment recommendation or legal or tax advice and is provided for information purposes only.
In line with the above, whenever we provide you with resources or materials or give you access to our resources or materials, then unless we say so explicitly, you must note that we are doing this for the sole purpose of enabling you to make your own investment decisions and for which you have the sole responsibility.
© 2020 Bordier Group and/or its affiliates.