Key market moves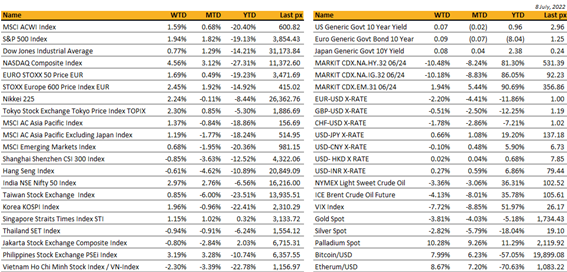 Source: Bloomberg
Macro Overview
Americas:
Market sentiment in recent weeks has swung between the recognition that central banks need to raise interest rates aggressively to combat soaring inflation and a concern that excessive monetary tightening may cause a global economic slowdown. Both S&P and NASDAQ closed positive last week, only to return some gains at the start of this week.
Fed minutes revealed Fed is increasingly worried about inflation and inflation expectations. The June jobs report painted a picture of consistency and strength in the labor market. And with no signs of inflation abating, another rate hike of 75bps is likely in the July meeting.
US Treasury bear-flatten following a stronger than anticipated June US employment report last Friday, illustrating the strength of the labor market in the wake of growth concerns. NFP came out much stronger than expectations at +372K in June. Unemployment rate remain unchanged at 3.60% but participation rate came out a touch weaker than previous Month. June average hourly earnings came out at +5.10% YoY, a touch higher than expectations. The June job reports underlined the solid momentum in the labor market and reinforced Fed officials' desire to hike by 75bps at the July meeting. Shortly after the employment report, Atlanta Fed President Bostic indicated his "full support" for another super-sized 75bps hike in July and expected it not to cause protracted damage to the economy. He joined at least six other Fed officials across the typical hawk-dove spectrum (Governor Bowman, Governor Waller, St. Louis Fed President Bullard, SF Fed President Daly, Chicago Fed President Evans and Minneapolis Fed President Kashkari) who have openly endorsed a second 75bps rate increase in July. While NY Fed President Williams, a traditional dove, is still considering between a 50 and 75bps move, his comments leaned hawkish by noting that inflation is now 'sky high' and the "top threat" to the economy. The minutes to the June meeting also disclosed the Committee recognized the possibility of an "even more restrictive" stance if elevated inflation pressures persisted
2y US Treasury yield rose 20bp, 5Years gained 22bps, 10years was up 16bps and 30years gained 9bps over the week.
In term of performance, US IG lost 40pbs, US HY gained 65bps, supported by tightening of credit spreads (-50bps over the week) that more than offset rising rates. Leverage loans were roughly unchanged over the week.
In this environment, the US Dollar remain very well supported, the DXY gained about 1.80% last week. The EURUSD parity this morning seems within reach at 1.0035.
Inflation is in focus ahead of this week June CPI, June PPI and University of Michigan inflation expectations readings. The June industrial production as well as the June retail sales will also be released this week.
Europe / Middle East (EMEA):
Main European indices mostly managed to advance, the STOXX 600 was up +2.5% for the week.
Eurozone producer prices, up 0.7%mom in May. German trade balance fell to a EUR1bn deficit in May, the first deficit since June as rising energy prices have seen the value of imports surge in recent months.
The departures of two top ministers, as well as the conservative party vice chair and junior-ranking lawmakers, signaled a loss of confidence in prime minister Boris Johnson amid high-profile scandals. Boris Johnson has since resigned as the UK's prime minister and Tory party leader, but signaled intentions to carry out his term until the fall.
Dutch farmers angered by government plans that may require them to use less fertilizer and reduce livestock began a day of protests in the Netherlands on Monday. Reductions are necessary in emissions of nitrogen oxides from farm animal manure and from the use of ammonia in fertilizer, the government says, estimating a 30% reduction in the number of livestock is needed. Farmers say they have been unfairly singled out and have criticized the government's approach.
Putin declared victory in the Luhansk region of Ukraine. Russian forces will likely now focus on capturing Donetsk. CNBC was reporting that Putin may propose a cease-fire after taking all of Donbas
Norway oil & gas union strike ends, easing natgas prices and positively impacting sentiment. EU and Germany on track to fill 80% of gas storage by Nov 1, potentially avoiding rationing. However, Russia cutting off supply would prevent this from coming to fruition.
France is nationalizing nuclear energy giant EDF amid a European energy crisis.
The Netherlands is on track to make work from home a legal right. It may become one of the first countries to enshrine remote work into law, if it passes a Senate vote.
Asia:
Asian markets ended the week xxx
Growth in China's services sector surprisingly beat as the Caixin services PMI jumped to 54.5 in June, its highest level in nearly a year from 41.4 in May as Covid curbs eased. Elsewhere in the region, South Korea's CPI rose +0.6% m/m in June (v/s +0.5% expected) and against a +0.7% increase in the prior month.
China is weighing an unprecedented fast-track sale of special bonds that would speed up fiscal stimulus, Bloomberg reported. If it happens, the sale of 1.5 trillion yuan about $220 billion in local government bonds would be pulled forward from 2023's quota to the second half of 2022. The debt would bolster infrastructure spending, as it would add 1.1 trillion yuan of additional funds to infrastructure plans announced over recent weeks.
Protests in China over frozen bank deposits turned violent. Mass demonstrations in Henan Province have led to arrests and clashes with police.
Russia has made $24 billion in energy sales to China and India. The purchases have helped offset the impact of Western sanctions, and are likely to continue as Russia offers enticing discounts. US and allies are considering price caps on Russian energy. According to Bloomberg, those price caps could be $40 – $60/bbl. In response, former Russian President Medvedev said that those price caps would lead to less oil on the market and could push prices in to the $300 – $400/bbl range.
The RBA hiked rates by 50bps at its July meeting, as expected, taking the level to 1.35%. The forward guidance was unchanged from June, but that sets the stage for a potentially more interesting policy decision at the upcoming August meeting, when the RBA will have updated inflation data for Q2.
Foreign investors have dumped a record $33bn of Indian shares since October last year. June's $6.3bn monthly outflow of foreign investment was the biggest for Indian stocks since the pandemic erupted more than two years ago, and the ninth straight month of net foreign selling, according to Goldman Sachs.
PM-in-waiting Lawrence Wong says Singapore is not at risk of recession or stagflation amid growing concerns about global monetary policy tightening to counter surging inflation. Expects Singapore to grow 3.8% this year and 3% next year, former which has been guided to the low end of its previous 3-5% range guidance. Japan's services activity accelerated at the fastest pace since October 2013 as the Jibun Bank services PMI advanced to 54.0 in June from 52.6 in May.
COMPANIES
Dutch airline KLM has been accused of "greenwashing." Environmental groups allege it rolled out a misleading advertising campaign that marketed flying as sustainable.
Samsung reports better than expected earnings per share, 21% jump in revenue. It was the best April-June quarterly profit in three years.
Taiwan Semiconductor Manufacturing Co. reported better-than-expected quarterly revenue, providing another signal that electronics demand is holding up better than feared. The world's largest contract chipmaker booked NT$534.1 billion ($17.9 billion) of revenue for the second quarter. TSMC may be able to exceed its goal of growing sales by 30% in US dollar terms this year according to some analysts.
Tencent Holdings and Bank of China have agreed to work together to digitalize certain financial services. Under the deal, the two parties will offer customers with one-stop financial services and digital technologies that would reduce enterprises' operating costs. The partnership also aims to facilitate the digital transformation.
Musk and Twitter will head to court. Elon Musk's lawyers said he wanted out of his signed agreement to purchase the social media site for $44 billion, but Twitter's chair said it would fight to force Musk to close the deal. Twitter is expected to file a lawsuit against Musk with the Delaware Court of Chancery in the coming days.
A crypto exchange platform in Singapore halted operations. Vauld, which is backed by several prominent venture capital firms, cited financial difficulties.
FX
DXY USD rose 1.78% to 107.007, a level last seen in 2002, due to a stronger than expected June US employment report and recession and growth concerns. Nfps rose by 372k in June (C: 265k; P: 384k) and marks the fourth consecutive month of roughly 400k job growth, a remarkably steady trend. Average hourly earnings rose 0.3% m0m (C: 0.3%; P: 0.4%), with a 10bp upward revision to the May data. ISM Services Index in June came in at 55.3 (C: 54.0; P: 55.9).
EURUSD fell 2.2% to 1.0185, a level last seen in 2002, as recession concerns remain in the spotlight amid strikes across Europe and one European airline filing for Chapter 11 bankruptcy protection last week. In addition, European gas prices rose to new high. EUR weakness is despite in-line Euro Area services and composite PMIs. Technically, EURUSD is now in oversold territory. Next strong support level on EURUSD is at parity.
GBP fell 0.51% against USD to 1.2033, but rose 1.77% against EUR to 0.84639, as we see broad-based GBP strength following the resignation of UK PM Boris Johnson. GBP strength was despite BoE Chief Economist Pill warning against the upcoming growth slowdown, where it is suggested that the UK would not see any growth in the economy over the next year or so.
CAD fell 0.37% against USD to 1.2947 due to broad based USD strength. Employment data surprised to the downside in June at -43.3k (C: 22.5k; P: 39.8k). Although the unemployment rate fell to 4.9%, the participation rate also fell to 64.9% (C: 65.3%; P: 65.3%) signaling some meaningful attrition from the Canadian labor force.
AUD fell 0.63% against USD to 0.6857. RBA delivered a 50bp hike as expected to bring the cash rate target to 1.35%, but removed the reference that rates were very low from the statement. However, AUD rose 0.61% against NZD to 1.108 due to the strong US nfp.
Oil & Commodity – WTI and Brent fell 3.36% and 4.13% to 104.79 and 107.02 last week due to recession concerns. However, both rebounded from its low of 96 and 100, partly supported by the strong US nfp numbers. Copper continued it downside trend, falling 3.01%. Gold fell 3.81% to 1742.48, after breaking 1800 strong support level.
ECONOMIC INDICATORS
M – JP Core Machine Orders/ Machine Tool Orders, NO CPI/ PPI
T – JP PPI, AU Cons. Confid./ Biz Confid., EU Zew, US Small Biz Opti.
W – NZ House Sales/ Food Prices/ RBNZ OCR, UK Indust. Pdtn/ Mfg Pdtn/ Trade Balance, EU Indust. Pdtn, US CPI, CA BOC Rate Decision
Th – AU Unemploy. Rate, JP Indust. Pdtn, SZ PPI, US PPI/ Initial Jobless Claims, CA Mfg Sales
F – NZ Biz Mfg, CH Indust. Pdtn/ GDP/ Retail Sales, EU Trade Balance, US Empire Mfg/ Retail Sales/ Indust. Pdtn/ Mich. Sentiment
Sources – Various news outlets including Bloomberg, Reuters, Associated Press




Disclaimer: The law allows us to give general advice or recommendations on the buying or selling of any investment product by various means (including the publication and dissemination to you, to other persons or to members of the public, of research papers and analytical reports). We do this strictly on the understanding that:
(i) All such advice or recommendations are for general information purposes only. Views and opinions contained herein are those of Bordier & Cie. Its contents may not be reproduced or redistributed. The user will be held fully liable for any unauthorised reproduction or circulation of any document herein, which may give rise to legal proceedings.
(ii) We have not taken into account your specific investment objectives, financial situation or particular needs when formulating such advice or recommendations; and
(iii) You would seek your own advice from a financial adviser regarding the specific suitability of such advice or recommendations, before you make a commitment to purchase or invest in any investment product. All information contained herein does not constitute any investment recommendation or legal or tax advice and is provided for information purposes only.
In line with the above, whenever we provide you with resources or materials or give you access to our resources or materials, then unless we say so explicitly, you must note that we are doing this for the sole purpose of enabling you to make your own investment decisions and for which you have the sole responsibility.
© 2020 Bordier Group and/or its affiliates.