Key market moves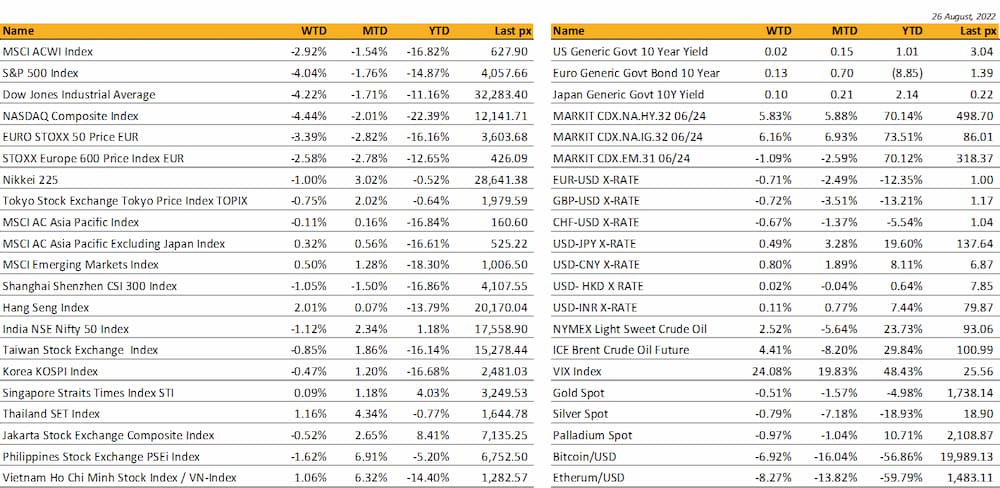 Source: Bloomberg
Macro Overview
Americas
Major US indices fell into Jackson's Hole after Fed Chair Powell's 8-minute speech. Jerome Powell signaled that interest rates will stay higher for some time, diminishing what potential remained for an economic soft landing, boosting volatility in equities Friday night. He also warned against prematurely loosening monetary policy. All 3 indices fell by more than 4% for the week, retreating for the 2nd week. Powell hinted that another "unusually large" rate increase could be appropriate next month and remained firm on the need for price stability. There was nothing in his speech for doves. Data underlying some cooling in inflation was largely ignored when PCE inflation data came in weaker than expected. The University of Michigan survey results showing better than expected inflation expectation and economic sentiment did little to stem Friday's losses. Personal income and spending also headed in the "right direction" after 2 rounds of giant 75-basis point hikes so far. UST10Yr yields closed relatively flat around 3.05% as flows switched out of equities and into safe haven Treasuries – Bloomberg reported global equity funds had outflows of $5.1 bn in the week through Aug 24th.
Kansas City Fed President Esther George said that the Fed hasn't yet raised rates to levels that are weighing on the economy and it may have to take it above 4% for a time, while Atlanta Fed's Bostic said he had not yet decided whether to back a 50 or 75 bps increase next month. After Friday's selloff, the street is now saying they see limited scope for the rally to continue given the current economic outlook as growth will be compromised in favour of price stability.
Still, data dependency should dictate its pace of hikes to come.
Earlier in the week, Chinese ADRs rallied after the SEC and the Public Company Accounting Oversight Board announced a preliminary agreement with the China Securities Regulatory Commission (CSRC) to allow US officials to audit materials for Chinese firms listed on American exchanges. This week will see key employment data again together with ISM releases. Unemployment rate is expected to remain unchanged at 3.5% and non-farm payrolls to come in at 300k from last month's 528k. Our take: The Jackson Hole Symposium confirms rate hikes will continue and quashed hopes of a quick pivot or pause. However, should inflation continue on its downward path, there are inclinations from certain Fed members to pause OR lower its magnitude or rate hikes. As is, together with QT inflation is already being addressed quite aggressively. We simply have to wait to see if this is backed up by further cooling inflation data.
Europe / UK / EMEA
Recessions now look almost certain in Europe as prices of gas remain at a very high level, critical for households and industry. The energy crisis intensified yet further, after news over the weekend that Nord Stream would be shut for maintenance at the end of the month introduced fresh fears it would not re-open. European natural gas prices ratcheted +14.59% higher to €280/MWH, a record high. German power prices surged to another record as well, closing at €748.
The euro dropped 0.9 per cent against the dollar to $0.994, to its lowest level since 2002. It had hit parity with the greenback in July for the first time in two decades. Worries over possible Russian energy supply cuts led European gas and power prices to surge on Monday, adding to fears that the continent could slip into recession.
French output is contracting for the first time in a year and a half, mirroring the trend seen in Germany as Europe's biggest economies succumb to record inflation and increasing uncertainty from the war in Ukraine. A recession in the 19-member euro zone is now more likely than not as energy costs spike. The continent, already enduring the fastest price gains since the common currency was introduced, is also bracing for further increases in interest rates after the European Central Bank hiked borrowing costs last month for the first time since 2011.
Moscow sees no possibility of a diplomatic solution to end the war in Ukraine and expects a long conflict, a senior Russian diplomat has warned, as President Vladimir Putin's full-scale invasion reaches the six-month mark this week.
Fears of a catastrophic accident at one of Europe's largest nuclear power plants escalated on Thursday after fires sparked by repeated shelling led to Ukraine's Zaporizhzhia reactor complex being cut off from the country's electric grid. Energoatom, Ukraine's state nuclear power company, said the temporary interruption was the first time the plant had ever been disconnected from the grid. But it added that there were "no concerns" over a full-scale accident after back-up systems kicked in.
Asia
Markets in Asia rose on the back of news from China. Economic stimulus was further supported with 1 trillion yuan ($146 billion) of funding largely focused on infrastructure spending. The State Council, China's Cabinet, outlined a 19-point policy package on Wednesday, including another 300 billion yuan that state policy banks can invest in infrastructure projects, on top of 300 billion yuan already announced at the end of June. Local governments will be allocated 500 billion yuan of special bonds from previously unused quota.
Talks between Beijing and Washington to avoid the delisting of about 200 companies from New York stock exchanges also added to positive sentiment.The plan may allow US inspectors travel to Hong Kong to review audit documents of Chinese businesses. The Nasdaq Golden Dragon China Index jumped 6.3%, the most since June. The clock is ticking to avoid a congressionally imposed deadline of 2024 for kicking out businesses that don't comply from the New York Stock Exchange and Nasdaq.
Japan, factory activity decelerated to a 19-month low as the Jibun Bank manufacturing PMI dropped to 51.0 in August from 52.1 in July as output and new order declines deepened amid weakening global demand. Also, the nation's services sector activity contracted for the first time in five months with the services PMI slipping to 49.2 in August from July's final of 50.3 because of a lackluster demand at home. Tokyo's CPI came in above expectations at +2.9% (vs. +2.7% expected).
Australia composite PMI fell to 49.8 in August from 51.1 in July while at the same time the services PMI Index dropped to a contractionary 49.6 from 50.9 indicating that the nation's services sector is struggling. There was some encouraging data on the manufacturing activity with the headline index remaining in expansionary territory but eased slightly from 55.7 to 54.5.
Another sizable rise in Singapore CPI inflation in July, after a 0.9-percentage-point pickup in June, builds the case for the Monetary Authority of Singapore to tighten policy again at its next meeting in October. Inflation climbed to 7.0% year on year in July from 6.7% in June. Core inflation rose to 4.8% in July from 4.4% in June.
Taiwan's export orders unexpectedly contracted in July as demand from Chinese customers plunged, and officials are now warning of further declines to come. Orders slumped 1.9% in July compared to the same month last year. The median estimate was for a 6.2% increase.
The Bank of Korea raised its key interest rate by a quarter-percentage point TO 2.5%, in line with the expectations of all economists. The BOK also raised its inflation forecast for the current year to 5.2% from its earlier 4.5% view, for its highest projection since 1998. The bank nudged down its growth forecast for this year and next year.
South Korea is stepping up surveillance of the won after the currency tumbled to a 13-year low. Officials are monitoring the foreign-exchange market with an intent to stem a drop in the won, according to a text message from the nation's finance ministry. The verbal warning helped the currency rebound from losses, before it again slid to trade near an earlier low of 1,345.20 per dollar.
Reserve Bank of India Governor Shaktikanta Das seeks to slow India's inflation to 4% within two years after hitting its peak in the last few months. The RBI has raised policy repurchase rate by a total of 140 basis points since May, including back-to-back half point increases in June and August, to cool down inflation within its mandate of 2%-6%. Consumer prices have fallen for three straight months in July but continue to remain above 6% mark.
Indonesia's central bank unexpectedly raised borrowing costs for the first time since 2018 as mounting inflation risks pushed the central bank to give up its position as one of Southeast Asia's last holdouts for easy policy. Bank Indonesia raised its seven-day reverse repurchase rate by 25 basis points to 3.75 on Tuesday.
Singapore's central bank chief said that global interest rates are unlikely to return to near zero. The MAS has tightened monetary policy four times since October last year. Core inflation hit a near 14-year high last month in the city-state and the financial hub is also experiencing its worst labor shortage in over two decades.
Singapore will start work on a fifth terminal at Changi Airport with a revised design that allows it to adjust capacity during a pandemic. The terminal is expected to be completed in the middle of next decade. The terminal will have provisions to reduce disease transmission, including contactless systems at passenger touch-points, and enhanced ventilation that can be activated during a pandemic to increase fresh air and avoid mixing air. Construction will start in about two years.
Asia reopening – Asian countries eased covid restrictions. Japan is scrapping pre-departure covid tests, China reinstated some foreign visas, and Singapore is lifting its indoor masks requirement.
COMPANIES
Pfizer and BioNTech have applied to US regulatory authorities for emergency authorization of a Covid-19 vaccine specifically tailored to target the most dominant strain of the Omicron coronavirus variant. Shipping could begin immediately if regulators authorized the new "bivalent" vaccine, which contains the original Covid strain and the genetic code for the now dominant sub-variants.
Made in USA. US climate legislation, the law signed by president Joe Biden last week immediately requires that any EV sold in the US must be assembled in North America to qualify for the credit. The requirements grow stricter in 2024, when eligible EVs must have battery components not made or assembled "by a foreign entity of concern", which includes China, the dominant battery producer. In 2025 those batteries must exclude "critical minerals" extracted, processed or recycled from the same foreign countries. An increasing share would need to be from North America or selected trade partners. Audi, BMW, Chrysler, Jeep, Lincoln are some brands immediately applicable for the t ax credit under the Inflation Reduction Act. The US auto industry largely endorsed the new law, known formally as the Inflation Reduction Act. Ford, which has announced $14bn in US investment in EVs and batteries, was among the supporters.
Hyundai Motor and affiliate Kia have taken over the number two spot, behind Tesla, in the US electric car market by sales volume this year. Globally, excluding China, Hyundai and Kia are the second-biggest electric carmakers by shipments, with a combined 14 per cent market share. Tesla holds the top spot at 27 per cent.
Grab Holdings Ltd. shares tumbled 12%, net loss for the second quarter was about $547 million, contracting almost 30% from a year earlier. To combat the downturn in ride-hailing, Grab had pivoted to expand into groceries and made a significant investment. But the company said yesterday it decided to shut its dark-store operations in Singapore, Vietnam and the Philippines to cut costs and streamline its deliveries operations, retreating from the earlier strategy. Now, it must navigate through an era of rising inflation that could dampen demand just as Grab is trying to emerge from Covid challenges. The stock is down approx 55% year to date.
Sony is raising the price of its PlayStation 5 console in select markets, citing challenging economic conditions including inflation. Recommended retail price will be adjusted in Europe, Middle East, and Africa, Asia-Pacific, Latin America and Canad. There will be no price increase in the US
Apple Inc. plans to begin manufacturing the iPhone 14 in India about two months after the product's initial release out of China, narrowing the gap between the two countries. The first iPhone 14s from India are likely to be finished in late October or November, following the initial September release.
FX
DXY USD Index rose 0.59% to 108.803 after Jackson Hole, where Chair Powell delivered a hawkish tone. Powell cautioned against premature easing expectations, kept 75 bps hike as an option for September and commented that US will likely require restrictive policy for some time. Data wise, US services PMI sharply underperformed consensus at 44.1 (C: 49.8). Core PCE was in-line at 4.4% and GDP qoq came in at -0.6%. Consumer Michigan sentiment came in at 58.2 above consensus and inflation expectation was revised down to 4.8%. Year to date high of 109.30 remains a resistance level, with next key level at 110.
EUR fell 0.71% to 0.9966 against USD with broad based USD strength. This was despite hawkish tone from ECB council member Holzman, where he commented that a 75 bps hike in the next meeting should be part of the debate and 50 bps hike is the minimum for him. Data wise, a small beat on EU composite PMI at 49.2 (C: 49.0), and consumer confidence was slightly better than expected. EURCHF was unchanged for the week at 0.96279, as Eurozone recession/growth remains a concern with gas prices remaining at high level.
GBP fell 0.72% to 1.1744 against USD, and was unchanged against EUR at 0.84851. Data wise, UK composite PMI came in at 50.9 (C: 51.0). Manufacturing PMI sharply underperformed at 46.o (C: 51.0), but services PMI beats consensus at 52.5 (C: 51.6). Immediate support level at 1.17, with the next level at 1.165.
JPY fell 0.49% to 137.64 against USD due to broad based USD strength with widening US-JP interest rate differential. Deteriorating risk sentiment has no impact on JPY. Year to date high of 139.39 remains the key resistance level.
Oil & Commodity
Bloomberg commodity index rose 1.86% last week. WTI and Brent rose 2.90% and 4.41% respectively, as Saudi Arabia flagged the possibility of production cuts to offset the return of Iranian barrels to oil markets should Tehran clinch a nuclear deal with the West. Aluminum and Copper rose 4.51% and 1.02% respectively as China rolls out a further trillion yuan (USD 146 billion) in economic stimulus targeting infrastructure, property and private business.
ECONOMIC INDICATORS
M – AU Retail Sales, JP Leading Index, US Dallas Fed Mfg Act.
T – JP Jobless Rate, AU Building App., UK Mortg. App., EU Econ./Indust./Svc Confid., US Cons. Confid./JOLTS
W – NZ Building Permits, JP Indust. Pdtn/Retail Sales, CH PMI, EU CPI, US Mortg. App./ADP/MNI Chic. PMI, CA GDP
Th – AU/JP/CH/EU/UK/US/CA Mfg PMI, UK Nationwide House Px, SZ CPI, EU Unemploy. Rate, US ISM Mfg/ISM Prices
F – EU PPI, US Nfp/Unemploy. Rate/Factory Orders/Durable Goods Orders
Sources – Various news outlets including Bloomberg, Reuters, Associated Press




Disclaimer: The law allows us to give general advice or recommendations on the buying or selling of any investment product by various means (including the publication and dissemination to you, to other persons or to members of the public, of research papers and analytical reports). We do this strictly on the understanding that:
(i) All such advice or recommendations are for general information purposes only. Views and opinions contained herein are those of Bordier & Cie. Its contents may not be reproduced or redistributed. The user will be held fully liable for any unauthorised reproduction or circulation of any document herein, which may give rise to legal proceedings.
(ii) We have not taken into account your specific investment objectives, financial situation or particular needs when formulating such advice or recommendations; and
(iii) You would seek your own advice from a financial adviser regarding the specific suitability of such advice or recommendations, before you make a commitment to purchase or invest in any investment product. All information contained herein does not constitute any investment recommendation or legal or tax advice and is provided for information purposes only.
In line with the above, whenever we provide you with resources or materials or give you access to our resources or materials, then unless we say so explicitly, you must note that we are doing this for the sole purpose of enabling you to make your own investment decisions and for which you have the sole responsibility.
© 2020 Bordier Group and/or its affiliates.