Bordier & Cie (Singapore) joins the Global Elite in the Wealthbriefing Asia Awards 2023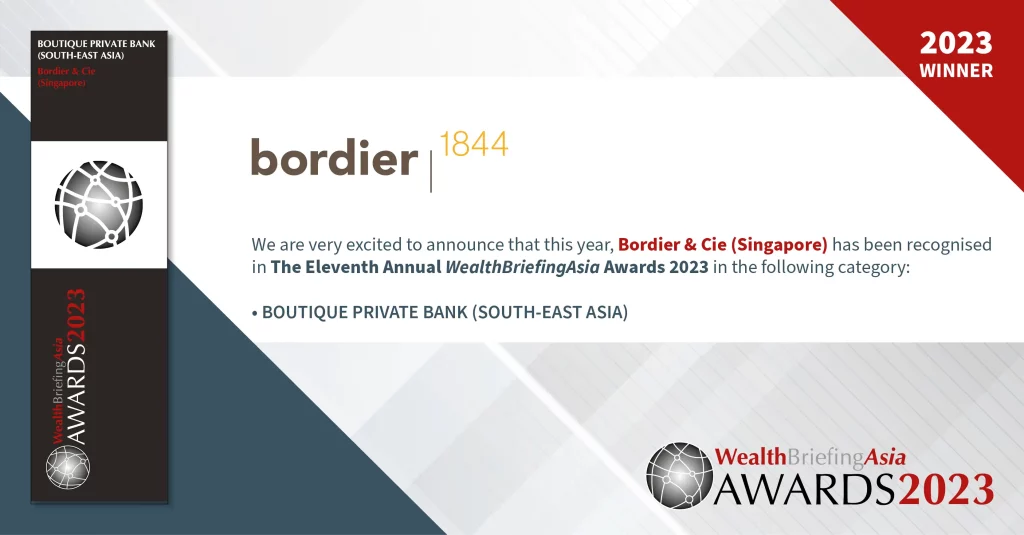 Leading wealth management industry participant, Bordier & Cie (Singapore) has been selected as a winner in the 'Boutique Private Bank' category at The WealthbriefingAsia Awards 2023.
The annual WealthbriefingAsia Awards program recognizes the most innovative and exceptional firms, teams and individuals. The awards have been designed to showcase outstanding organisations grouped by specialism and geography which the prestigious panel of independent judges deemed to have 'demonstrated innovation and excellence during the last year'.
Each of these categories is highly contested and is subject to a rigorous process before the ultimate winner is selected by the judges. It is this process that makes WealthBriefing awards so prized amongst winners. The WealthBriefingAsia Awards are part of a global programme run by WealthBriefingAsia and its sister publications WealthBriefing and Family Wealth Report, encompassing all of the world's major wealth management centres.
Participants around the world recognise that winning awards is particularly important in these challenging times as it gives clients reassurance in the solidity and sustainability of the winner's business and operating model.