Key market moves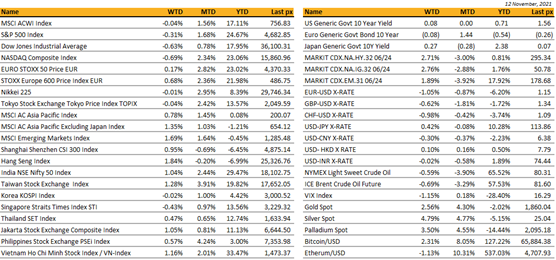 Macro Overview
Americas:
US markets snapped weeks of gains, after closing lower for the week on inflation concerns. On Wednesday, a higher than expected CPI report of 0.9% MoM and 6.2% YoY from last month's 0.4% and 5.4% respectively, triggered the decline, prompting President Biden to declare the fight against inflation "a top priority". Key to the Biden Administration's response is the rising cost of energy.
Fears that elevated CPI and its persistence may force the Fed to taper quicker and raise interest rates sooner than expected capped rebound-rallies earlier in the week.
Friday's rally of 0.7% and 1% for the S&P 500 and Nasdaq respectively stemmed the week's losses as the inflation component of the Uni of Michigan's Consumer Sentiment Index was in line with expectations. Toyota America announcing that all of its production lines will return to normal operations next month showed signs that supply-chain issues are indeed easing. WTI Crude prices eased for the 3rd straight week over a potential release of oil from the Strategic Petroleum Reserve. Markets were also buoyed at the prospect of Lael Brainard potentially replacing Jerome Powell at the helm of the Fed Reserve. Brainard is seen as more of a dove than Powell.
A couple of major US companies reported streamlining their businesses, a global trend to optimize efficiency – J&J will spin off its consumer unit to concentrate on its drugs and medical-devices businesses and GE plans to split into 3 companies focused on aviation, healthcare and energy. Shares of non-US manufactured EV's rallied after Senator Manchin said that he opposed a provision of Biden's social spending that would offer $4,500 more in tax credits for purchases of EV's that are made in the US, saying "that's not who we are".
This week will see retail sales, expected to come in strong with Americans "flushed with cash", import price index, and industrial & manufacturing production data.
Cryptos topped $3 trl last week but are off its highs after the Fed cited concerns over stable coins. BTC and ETH trades close to their highs circa $65k and $46k respectively.
Friday's rally in technology offers an opportunity to lighten up, amidst a shift to higher rates overall. With an overall mix report post earnings, of reopening and growth names we continue to favor a blended approach to replace growth-only techs.
Europe / Middle East (EMEA):
European markets ended higher with the STOXX 600 closing the week near record highs, and the sentiment was mostly supportive throughout the week with positive earnings offsetting worries over inflation risk and policy uncertainty. Travel and leisure stocks were the main underperformers.
There was a notable increase in Covid infections in mainland Europe, with the region now accounting for half of infections and deaths globally. Austria unveiled plans to impose strict coronavirus curbs on the unvaccinated and the Netherlands imposed another nationwide lockdown. Both countries last week recorded their highest infection numbers of the entire pandemic.
Eurozone industrial production fell less than expected in September, with a 0.2% m/m decline versus consensus for 0.5% drop. On y/y basis, production is up 5.2%. Output has been trending lower since the summer when supply chain problems deteriorated but there are signs of stabilization. Germany was in the spotlight this week, as ongoing weaker activity data continued to raise concerns about the country's outlook. It came as German exports fell for second consecutive month in September.
The EU accused Belarus of orchestrating a crisis by funnelling thousands of migrants from the Middle East to its borders with the EU and encouraging them to enter the bloc illegally. The EU is preparing to respond with a new round of sanctions on Minsk, and Lukashenko has already threatened to retaliate by cutting the transit of gas and goods through Belarus to Europe.
At the same time, Moscow has sent more than 90,000 troops at its border with Ukraine and western intelligence is suggesting a "high probability of destabilization" of Ukraine by Russia this winter. According to Blinken, the border crisis in Belarus is meant to distract the west from Russia's activities on the border with Ukraine. Russia already pressuring the country by pumping less gas through the country, limiting transit tariffs. All this could ultimately be orchestrated by Russia to speed up the Nord Stream 2 approval, which would bypass eastern Europe and flow directly to Germany.
At COP26, a deal was reached late on Saturday night and signed by nearly 200 countries, setting the rules for the implementation of the 2015 Paris climate agreement. However, last-minute objections from India and China halted a commitment to end coal use and subsidies for fossil fuels. Language on coal was indeed watered down to "phasing down" from "phasing out". On the other hand, the talks led to breakthroughs on rules for an international carbon market, and on financial commitments to help developing countries adapt to climate change.
Asia:
Asian markets closed up last week with the exception of CSI 300 in China and Hang Seng in Hong Kong. South Korean shares hit their lowest close in a month on Wednesday last week, as major tech heavyweights tracked a sharp decline in Tesla Inc. South Korea closed flat for the week. MSCI Asia x Japan was up 1.35% for the week, yet YTD remains down, -1.21%. Vietnam closed strong last week taking YTD gains to 33.47%. President Xi and President Biden are expected to meet virtually this week.
China producer price index climbed 13.5% from a year earlier, the fastest pace in 26 years. The consumer price index rose 1.5%, the highest since September 2020. October retail sales (+4.9%) and industrial output (+3.5%) beat estimates, relieving concern of a property slump was broadening into the rest of the economy.
The Communist Party's Central Committee adopted a "historical resolution" that places Xi's vision at the centre of the country's success and called on China to "unite around the party with Xi at the core." It was only the third such "historical resolution" since the party was founded in 1921.
India is set to open up its sovereign bond market to individual buyers on Friday. The move comes at a time when rising inflation adds pressure on the RBI to lift rates. Tighter monetary policy is likely to weaken the demand for bonds, making it challenging for the government to execute its near-record borrowing program. Consumer inflation accelerated to 4.48% in October from 4.35% in the previous month.
Thailand's central bank held its benchmark interest rate amid signs that easing pandemic restrictions and reopening borders are helping stabilize the trade and tourism-reliant economy. The Bank of Thailand's rate-setting committee on Wednesday unanimously decided to hold the key rate at a record low of 0.5% for a 12th straight meeting.
Malaysia economy returned to a contraction in the third quarter with GDP shrank 4.5%, deeper than the 2.6% drop predicted by analysts. It becomes the first Southeast Asia economy to report a renewed slump, but the central bank said it expects growth to rebound fast as virus curbs are eased.
Singapore and the Philippines' central banks sign agreements to broaden the scope of fintech collaboration and offer seamless cross-border payments. The linking of Singapore's QR and real-time payment systems also marks a concrete step towards the vision of an ASEAN network of interconnected real-time payment according to Ravi Menon, MAS.
Cambodia is removing quarantine requirements for all vaccinated travellers from Monday. New arrivals will be required to take a rapid antigen test and must bring proof of inoculation and a negative Covid test within 72 hours of boarding a flight. Thailand will reach a 70 per cent full vaccination rate by January 2022, Indonesia is expected to reach 70 per cent by April 2022, the Philippines by May 2022, and Vietnam by June 2022. Malaysia's vaccination rate has already exceeded 70 per cent. Japan is preparing to make vaccine booster shots available six months after a second inoculation. Singapore announced vaccinated travel lanes with Malaysia, Sweden and Finland starting Nov 29, as well as relaxed dine-in restrictions for families to 5 pax and resume sports/MICE events for vaccinated people.
Companies
Tencent Holdings, the Chinese tech giant, reported Q3 results that missed the average analyst estimate. Revenue 142.37 billion yuan, +13% y/y, estimate 145.41 billion yuan. Net income beat, 39.51 billion yuan, +2.5% y/y, versus estimated 32.60 billion yuan. the company has reaffirmed its commitment to "common prosperity" through invested commitments. Tencent says "proactively embracing the new regulatory environment which we believe should contribute to a more sustainable development path for the industry".
Alibaba's gross merchandise volume (GMV) during the 11-day period totalled 8% jump YoY to 540.3 billion yuan (US$84.54 billion), and JD said transaction volume on its platform increased 28% to 349.1 billion yuan ($54.6 billion) during the Singles Day period.
Tesla Inc shares fell following CEO Elon Musk's Twitter poll on whether he should sell about 10% of his holdings of stock in the electric automaker company he founded. The poll garnered more than 3.5 million votes, with 57.9% voting "Yes". Nearly $200 billion in market capitalization was wiped off from Tesla as Musk's potential sales of his $17 billion stake triggered concerns about the stock's valuation following a flurry of stock sales by some board members. While the stock sale could solve a major tax headache for Musk, his tweets raised questions about potential violation of his settlement with the U.S. securities regulator.
Hertz, the US rental car giant that has whipsawed between bankruptcy and a resurgent $16 billion valuation, plans to list on the Nasdaq this week.
General Electric plans to break into three separate companies, effectively ending its status as America's best-known industrial conglomerate. Shares in GE jumped more than 10 per cent in pre-market trading as investors welcomed the move. GE Healthcare will be spun off in 2023, with GE retaining a 19.9 per cent stake in the unit. GE Renewable Energy, GE Power and GE Digital will be combined into one energy-focused company that will be spun off in 2024. The move will reveal three well-capitalized, industry leading public companies, each with deeper operational focus and accountability, greater strategic flexibility and tailored capital allocation decisions.
Nykaa made a blockbuster market debut. Falguni Nayar, founder of the beauty e-tailer with a $13 billion valuation, is now India's richest self-made woman.
Indonesia's GoTo raised more than USD 1.3bn in the first closing of a fundraising round ahead of its IPO. Investors in the pre-IPO round included the Abu Dhabi Investment Authority, Avanda Investment Management, Fidelity International and Google. The company has been aiming to raise as much as USD 2bn at a valuation of USD 25bn to USD 30bn ahead of an IPO at home and a subsequent U.S. listing. Ride-hailing giant Gojek and e-commerce company Tokopedia, Indonesia's two biggest startups, merged to form GoTo Group in May this year.
FX/Commodity
DXY. DXY USD Index rose 0.86% to close at 95.128 due to strong inflation numbers in the US. CPI was up 0.9% mom/6.2% yoy, above consensus of 0.6% mom/5.9% yoy, the highest year ended print in 30 years. Other US data, US PPI came in at 0.6% in-line, Initial jobless claims came in 267k, above consensus, and Mich sentiment came in at 66.8, below consensus. Immediate support at 94.4 and 94.0, while resistance level at 95.6 and 96.0
EUR. EURUSD broke the key psychological level of 1.15 following USD strength, and closed at 1.445. EUR looked set to test the next key level of 1.14 against USD. The immediate resistance level at 1.15, 1.154 and 1.16, while immediate support at 1.14.
GBP. GBP fell 0.62% against USD, but rose 0.46% against EUR. GBPUSD fell to a ytd low of 1.3353 intra-week due to USD strength and a miss on UK GDP. UK GDP rose 1.3% qoq, while consensus was at 1.5%. This is materially lower than the BoE's 1.6% projection, made just a week ago in the November MPS. Furthermore, uncertainty continued to build about whether the UK will trigger Article 16 of the Northern Ireland protocol adding to GBP weakness.
AUD & NZD. Both AUD and NZD fell 0.92% and 1.03% against USD. Data wise, AU Westpac consumer confidence rose 0.6% mom to 105.3pts, employment change came in below consensus, and unemployment rate came in above consensus. In NZ, it was announced that COVID-19 restrictions would be further eased, indicating that Auckland is on track to end its lockdown by the end of the month.
Gold. XAU rose 2.56% against USD to 1864.9, as US real yield fell to even more negative territory following the strong CPI numbers. It is trading at an overbought territory based in RSI indicator. Immediate resistance level at 1880, 1900 and 1950.
Economic indicators
M – JP GDP/Indust. Pdtn, CH Retail Sales/Indust. Pdtn, EU Trade Balance, US Empire MFG, CA MFG Sales
T – UK Unemploy. Rate, EU Employment/GDP, US Retail Sales/Indust. Pdtn
W – NZ PPI, JP Trade Balance/Core Machine Orders, UK CPI/PPI, EU/CA CPI, US Housing Starts/MBA Mortg. App.
Th – NZ Inflation Exp., US Initial Jobless Claims/Leading Index
F – JP CPI, UK Cons. Confid./Retail Sales, EU Curr. Acc, CA Retail Sales
Sources – Various news outlets including Bloomberg, Reuters, Associated Press




Disclaimer: The law allows us to give general advice or recommendations on the buying or selling of any investment product by various means (including the publication and dissemination to you, to other persons or to members of the public, of research papers and analytical reports). We do this strictly on the understanding that:

(i) All such advice or recommendations are for general information purposes only. Views and opinions contained herein are those of Bordier & Cie. Its contents may not be reproduced or redistributed. The user will be held fully liable for any unauthorised reproduction or circulation of any document herein, which may give rise to legal proceedings. 

(ii) We have not taken into account your specific investment objectives, financial situation or particular needs when formulating such advice or recommendations; and 

(iii) You would seek your own advice from a financial adviser regarding the specific suitability of such advice or recommendations, before you make a commitment to purchase or invest in any investment product. All information contained herein does not constitute any investment recommendation or legal or tax advice and is provided for information purposes only. 

In line with the above, whenever we provide you with resources or materials or give you access to our resources or materials, then unless we say so explicitly, you must note that we are doing this for the sole purpose of enabling you to make your own investment decisions and for which you have the sole responsibility. 

© 2020 Bordier Group and/or its affiliates.