Key market moves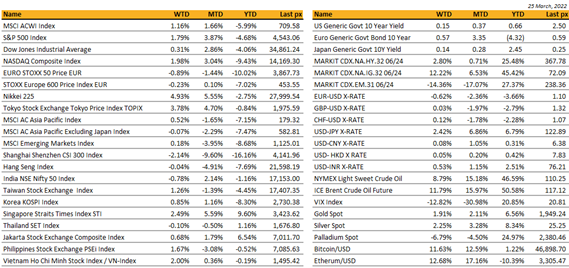 Source: Bloomberg
Macro Overview
Americas:
US markets ended its 2nd straight week of gains with 9 of its 11 major industry groups rising on Friday. In spite of multiple hawkish Fed member comments during the week, the S&P 500 was up 1.8%, the Nasdaq up 1.98% and the Dow up 0.31%.
Cannabis shares soared Friday after a House panel said that is would consider a bill to decriminalize marijuana.
Market insiders attributed the rally to having no real alternatives to equities in some ways because bonds look toxic, and cash looks toxic as well given surging inflation. Markets are realizing that a 50-bps hike in May is more than likely after the Fed opened that door last week.
Powell on Monday explicitly put a half-point hike on the table if needed. San Francisco Fed President Daly, a dove, backed robust action, St Louis' Bullard called for a roll-off of the Fed's balance sheet additionally. Cleveland Fed's Mester also favored a speedier pace in increases arguing for policy makers to get rates up to around 2.5% by the end of the year.
Sentiment continues to remain fragile as war rages on in Ukraine, with fears that Putin may lash out dangerously as its troops remain bogged down in Ukraine and recent sanctions bite into the Russian economy.
The UST5Y and UST10Y yield inverted further to around 7 bps with most expecting the Fed won't be able to navigate a soft landing.
Meanwhile, weekly jobless claims fell to a 52-year low, durable goods orders fell more than expected whilst the PMI composite flash reports beat consensus.
This week will see PCE and GDP Q0Q data as well as US employment data where NFP is expected to come in at 490k jobs and an unemployment rate of 3.7%.
President Biden announced a fresh round of sanctions on Russia on Thursday as he met leaders of G7 and NATO, and agreed to supply gas and oil to the EU, aimed at reducing its dependence on Russian exports. On Saturday, at a speech in Warsaw, Biden closed his address calling for Putin's removal, risking escalation over Ukraine.
Cryptos continued its ascend pretty much in tandem with risk-on sentiment for the week with BTC and ETH around $47k and $3,300 respectively. Bitcoin's rally puts it in positive territory for the year.
Europe / Middle East (EMEA):
European markets ended the week slightly lower, with the Eurostoxx 600 down 0.23%. Basic Resources outperformed, up 6.59%, along with Oil & Gas too at 6.25%. Most cyclical sectors, and banks in particular, underperformed. Technology remained supported by ongoing solid demand with hopes the sector can continue to generate stable earnings and are less affected by higher commodity prices, despite a slowdown in broader economic growth. European stock funds have been losing money for six weeks in a row, with outflows reaching $1.2B in the week through 23-Mar.
The Russian invasion of Ukraine has reportedly come to a stand-still, although Russian forces were reportedly instructed to complete military operations before 9-May. Meanwhile, western leaders gathered in Brussels for a triple summit: NATO, G7 and European Council. No decisive actions were decided, despite the presence of US President Biden. Instead, the European Union will continue to provide coordinated political, financial, material, and humanitarian support. US and EU also created a joint task force to help reduce European reliance on Russian energy, a day after US said it would increase LNG exports by 15B cubic meters this year.
Norges Bank hiked rates by 0.25% to 0.75% as expected and raised its rate path outlook, citing the stronger economic backdrop. Meanwhile, the SNB kept its policy rate at -0.75%, the lowest in the world, but in a hawkish move, said it is ready to take all necessary measures to tackle higher inflation. It doubled its inflation forecast, to 2.1% from prior 1%, and lowered its 2022 growth forecast to 2.5% vs its December forecast for 3%.
Macroeconomic data this week started to show the impact the Russia-Ukraine conflict was having on the economic outlook. Flash PMI came in better than expected, but the pace of expansion fell to a two-month low with the composite reading at 54.5 in March versus prior 55.5. Russia's invasion of Ukraine offset the boost to demand from the reopening of economies after the lifting of Covid measures, supply chain delays hit the highest level since November and companies' costs hit a new record high.
Finally, the war in Ukraine is continuing as planting season approaches. EU leaders announced plans to grow more food this year to avoid shortages. The EU announced extra direct help for EU farmers, to get them through a liquidity crisis caused by rising fuel and fertilizer costs. The Commission also lifted some environmental rules to free up land for food production. Ukraine farmers not yet affected by the war will receive 50,000 tons of fuel every week for their tractors. Analysts suggest full impact of Ukraine war on food may not be felt until next autumn's crop season so countries and households have time to prepare, although risk of civil unrest growing
On the energy side, Austrian energy giant OMV said it is limiting spot sales of heating oil and diesel. New York, usually an importer, is sending two diesel cargoes to Europe in a rare reversal of trade flows. Diesel exports from the Gulf coast to Europe are also picking up. However, even with temporary government protection in place, diesel prices remain above €2/litre. The Spanish Road transportation strikes may just be the beginning of larger civil unrest due to unsustainable fuel prices that come on top of record-high food prices.
Asia:
Asian markets ended broadly lower on Friday after tracking higher earlier in the week. Chinese stocks declined, weighed down by concerns over hawkish comments from top Federal Reserve officials, and US delisting risks for local companies. CSI 300 remains the worst performing market MTD at -9.6%
The Ukraine invasion is casting an unflattering light on the role of China's private technology groups, including Tencent, Sina Weibo and ByteDance, in disseminating official misinformation. The internet platforms of tech giants in China are promoting content backing Russian president Vladimir Putin's attack on Ukraine while suppressing posts that are sympathetic to Kyiv, potentially conflicting with international funds' corporate and social responsibility commitments and public statements against the war.
Japan, the composite PMI rose to 49.3 (vs. 45.8 in February), albeit that's still in contractionary territory, Prices spiked in Japan. Tokyo's consumer price index jumped the fastest since 2019, due in part to a 26.1% increase in energy prices.
Core consumer price index in Singapore — which excludes private transport and accommodation costs — rose by 2.2% in February. "While ongoing external supply constraints should ease in the second half of 2022, leading to some moderation in imported inflation, there remain upside risks to inflation from geopolitical and pandemic-related shocks," the MAS and MTI said in a joint statement. They reiterated an outlook that core CPI could reach 3% in the middle of the year before easing.
Thailand's exports beat expectations by growing 16.2% in February, driven by higher international demand on the back of global economic recovery and proactive trade promotions. More importantly, the Russia-Ukraine war has yet to affect Thailand's international trade. However, the overall economic growth may fall to 3% this year if the Dubai crude oil price averages US$150 per barrel, according to a joint study by the government's planning unit and the Bank of Thailand.
Singapore announced easing measures, including outdoor mask mandates starting March 29. Limits on social gatherings will be doubled from five to 10 people, more employees can return to offices and capacity limits for large events will be increased. Singapore will also "drastically streamline" testing and quarantine requirements, making travel abroad easier scraping the VTL concept.
After Thailand announced plans to scrap a mandatory pre-arrival Covid-free certificate for vaccinated tourists, Indonesia is also lifting all quarantine rules for international travelers to end two years of border closure.
While ASEAN embarks on reopening, Shanghai will lock down starting this morning. Most businesses in the financial hub will be closed in two separate stages to test for covid as cases spike. The east of Huangpu river including financial district will lock down first starting Monday (Mar 28th 5am – Apr 1st 5am) and the west side will start its turn on Apr 1st 3am – 5th 3am.
COMPANIES
Russia banned Facebook and Instagram for "extremist activities." The Russian state communications agency alleged the tech giant discriminated against state media, though WhatsApp will not be affected.
Apple has acquired UK-based fintech start-up Credit Kudos, signaling a deeper push into payments technology. Aiming to make affordable credit more widely available and assist in faster lending decisions, the company looks at alternative measures to assess the credit risk of individuals for companies including rental apps, brokers and other Fintechs. Traditional credit assessment measures such as bank statements and utility bills have faced criticism over their ability to accurately assess a consumer's financial situation.
Tesla opened its first European factory outside of Berlin. The EV maker said the new "Gigafactory" will employ 12,000 people and produce 500,000 vehicles a year, challenging automakers on their home turf.
Snap on Wednesday announced it had acquired NextMind, a Paris-based maker of "brain-computer interface" technology. The technology, which remains at an early stage of development, can be used for hands-free control of virtual and augmented-reality headsets. The technology monitors neural activity to understand your intent when interacting with a computing interface, allowing you to push a virtual button simply by focusing on it.
Tencent reported its slowest revenue growth on record after Beijing's sweeping regulatory crackdown forced the company to divert resources away from game development and the advertising market slowed. The group's third-quarter revenue climbed 8% from a year ago to Rmb144.2bn ($22.6bn), the weakest pace since Tencent listed in 2004.
S&P Global Ratings downgraded top lenders in Thailand citing increased systemic risks. S&P Global ratings lowered ratings of Siam Commercial Bank Pcl and Kasikornbank Pcl to BBB from BBB+ and that of Krung Thai Bank Pcl and TMBThanachart Bank Pcl to BBB- from BBB. S&P's base case scenario project bad loans ratio of Thai banks jumping to 5% over the 24 months, the highest level since the 2008 global financial crisis, from 3% currently, it said.
FX/ COMMODITIES
DXY USD rose 0.57% to close the week at 98.789 due to hawkish Fedspeak last week. Fed Chair Powell signalled an obvious need to move expeditiously to return the stance of monetary policy to a more neutral level, and then to move to more restrictive levels if that is what is required to restore price stability. Data wise, US initial jobless claims declined to 187k, the lowest level since 1969. US PMI outperformed consensus, while Michigan consumer sentiment revealed downward revisions from the preliminary release for headline, expectations, and current conditions.
JPY declined 2.42% against USD to 122.05, with USDJPY reaching the highest level since December 2015, due to policy divergence between the Fed and BoJ with continued dovishness from BoJ Governor Kuroda.
European G10 currencies. EUR fell 0.62% against USD to 1.0983 due to USD strength, while GBP and SEK fell slightly against USD at 0.03%. Resilient Eurozone PMIs led SEK to outperform, as EURSEK fell 0.55%. European PMIs indicated strong 1Q22 growth, despite the Russia-Ukraine conflict, with the composite euro area index outperforming consensus at 54.5 (C: 53.8). UK inflation rose to a 30 year high, with headline accelerating to 6.2% yoy (C: 6.0%). UK PMI surprised to the upside in March, with services sector activity accelerating further in a strong re-opening, outweighing the slowdown in manufacturing activity.
CAD rose 1.00% against USD to close the week at 1.2477, breaking the key support level of 1.25. BoC Deputy Governor indicated that the BoC is increasingly inclined to raise rates by 50bp in upcoming meetings.
NOK rose 1.54% against USD as Norges Bank hikes 25bp and projects a hawkish rate path, which includes four hikes this year and four hikes in 2023. This brings the Bank Rate to 2.5% at the end of 2023, above neutral of 2%.
WTI and Brent rose 10.49% and 11.79% to close the week at 113.9 and 120.65. Oil prices staged a sharp rally alongside the potential of Russia employing its leverage in commodity markets to its advantage. Along the lines of this notion, Russian President Putin later announced that some countries would have to pay in rubles for Russian gas.
ECONOMIC INDICATORS
M – US Wholesale Inv./Dallas Fed MFG
T – JP Jobless Rate, AU Retail Sales, UK Mortg App, US Cons. Confid./JOLTS
W – NZ Building Permits/Biz Confid., JP Retail Sales, EU Econ/Indust./Svc/Cons. Confid., US MBA Mortg. App./ADP/GDP/Core PCE
Th – JP Indust. Pdtn, AU Building App, CH PMI, UK GDP, EU Unemploy. Rate, CA GDP, US Personal Income/Initial Jobless Claim
F – JP Tankan Index, JP/CH/EU/UK/US/CA PMI MFG March Final, SZ/EU CPI, US NFP/Unemploy. Rate/ISM
Sources – Various news outlets including Bloomberg, Reuters, Associated Press




Disclaimer: The law allows us to give general advice or recommendations on the buying or selling of any investment product by various means (including the publication and dissemination to you, to other persons or to members of the public, of research papers and analytical reports). We do this strictly on the understanding that:


(i) All such advice or recommendations are for general information purposes only. Views and opinions contained herein are those of Bordier & Cie. Its contents may not be reproduced or redistributed. The user will be held fully liable for any unauthorised reproduction or circulation of any document herein, which may give rise to legal proceedings.


(ii) We have not taken into account your specific investment objectives, financial situation or particular needs when formulating such advice or recommendations; and


(iii) You would seek your own advice from a financial adviser regarding the specific suitability of such advice or recommendations, before you make a commitment to purchase or invest in any investment product. All information contained herein does not constitute any investment recommendation or legal or tax advice and is provided for information purposes only.


In line with the above, whenever we provide you with resources or materials or give you access to our resources or materials, then unless we say so explicitly, you must note that we are doing this for the sole purpose of enabling you to make your own investment decisions and for which you have the sole responsibility.


© 2020 Bordier Group and/or its affiliates.