Key market moves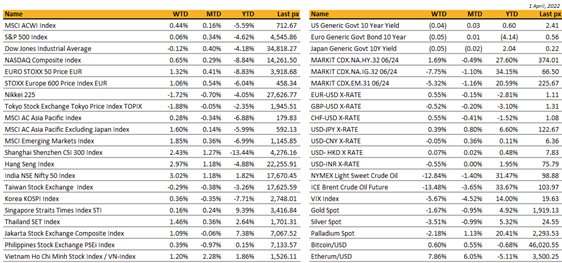 Source: Bloomberg
Macro Overview
Americas:
US markets ended the week moderately higher following yet another wild ride. For the quarter ending Thursday, US markets endured the worst quarter since the onset of the pandemic amid worries over soaring inflation, rising interest rates and the ongoing war in Ukraine.
So much so that personal spending fell last month as higher prices tempered demand leading to analysts forecasting a slowdown in US' growth. Potentially cooling some of that red-hot inflation however, was the decision by the US administration to release a million barrels a day of crude for the next 6 months beginning in May from its Strategic Petroleum Reserve. Friday saw the release of robust US employment data. The number is likely to support a more hawkish Fed tightening in coming months. The unemployment rate fell to 3.6% and hourly earnings YoY fared better than expected. Non-farm payrolls was marginally below expectations at 431k jobs.
With the markets' next direction highly correlated to breakthroughs in talks in Ukraine and the next inflation data releases, volatility is expected to remain high. The recent 2 year yield briefly exceeding that of the 10-year's on Tuesday for the first time since 2019, warns of a potential recession in the works. The PCE Core deflator YoY remains elevated at 6.4% (as expected) whilst the final GDP slipped to 6.9%. Corporate profits showed a 24.8% YoY growth rate, down from last month's pace of 26.7% but only underscores the economy's strength.
OPEC+ met but not too surprisingly, did little to stem crude's price rise, sticking to its plan to only increase its output by some 432k barrels per day. OPEC+ has been sticking to monthly increments of around 400k barrels per day despite global markets being in a deficit of anywhere from 5-6 million barrels per day, especially after the US ban on Russian oil and other Western sanctions that have impacted energy exports from Russia.
This week will see factory & durable goods orders as well as minutes from the last FOMC meeting in March.
Europe / Middle East (EMEA):
European markets ended higher, with the STOXX Europe 600 up 1.06%, in another volatile week of trade, with utilities, auto & parts and financial services outperforming. Worries over a sharp squeeze in the cost-of-living, on the other hand, weighed on retail with consumers seen reducing their discretionary spending. Oil & gas lagged with crude prices down more than 10% on the week after the US announced a ~180M barrel release from its reserves to help reduce fuel costs.
Eurozone macro data this week showed a mix of higher inflation, weaker sentiment, and slower activity. Eurozone inflation accelerated sharply in March to a new high of 7.5%, up from 5.9% in February. A sharp rise in energy prices was the main influence, but all the categories were well above ECB's 2% target. Eurozone final manufacturing PMI was revised lower to 56.5 to hit a 14-month low. The collapse in business optimism adds to the risk of a manufacturing recession in the second quarter. In terms of country performance, German output was at 18-month low, Italian at a 14-month low, and the French output the weakest in five-months.
In terms of fund flows, according to EPFR data, while US equity funds attracted $18.9B in the week ending 30-Mar, European equity funds lost around $4B, marking the seventh straight week of outflows.
After another week of negotiations, Russian negotiators appeared to have warmed up to the potential for a ceasefire. Ukraine dropped NATO ambitions and appears willing to discuss Crimea. However, Zelenskiy has said a referendum would be held on any peace deal negotiated with Russia. At the same time, Western surveillance suggested Russian forces were regrouping – not retreating – to move in on the Donbass region.
On Thursday, Russian President Putin mandated that Russian gas supplies would have to be paid for in roubles from 1-Apr and ordered special accounts to be opened for gas payments through Gazprombank. Foreign buyers need to transfer foreign currency into the accounts. Gazprombank will then convert the funds to roubles on the MOEX and transfer the roubles into the buyer's account. In practice, nothing should change for European buyers. Despite these reassurances, Germany triggered an emergency plan to manage gas supplies, and Austria is also preparing for gas rationing.
There was more outsized volatility in bond markets, which saw the German 2-year paper move above 0% for the first time since 2014 and the yield on the German 10-year Bund traded at its highest level since early 2018 at ~0.73% but ended 5 bps lower on the at 0.55%. There was no great explanation for the reversal in yields, though a sharp selloff in oil prices influenced.
Asia:
The Ukrainian War is hitting PMIs and economic data across the region. Asian markets still posted a third straight weekly gain. CSI +2.43%, HSI +2.97%, India's Nifty +3%. Japan lagged with the Nikkei 225 -1.72%. MSCI Asia ex Japan closed the week up, +1.6%.
China's official manufacturing purchasing managers' index (PMI) fell to 49.5 in March, down from 50.2 in February. Non-manufacturing PMI, which measures business sentiment in the services and construction sectors, fell to 48.4 from 51.6 in February.
China markets moved higher despite a new round of GDP cuts due to lockdowns. Stimulus expectations have also increased. China also announced that it considers giving US access to audits of most firms, to remove delisting risk.
BOJ looks to increase JGB purchases in Q2. Data showed that Japan's retail sales (-0.8% m/m) fell for the third straight month in February, exceeding market expectations for a -0.3% loss and after falling -0.9% last month.
China proposed revising confidentiality rules involving offshore listings, putting the onus on Chinese companies to protect state secretes. Saturday's proposal scraps requirements that on-site inspection of overseas-listed Chinese companies be conducted mainly by Chinese regulators. That could open the door to inspections by U.S. regulators, who demand complete access to such firms' audit working papers, which are stored in China. The China Securities Regulatory Commission (CSRC) said in a statement on its website that the changes will facilitate "cross-border regulatory cooperation, including joint inspections, which will help safeguard interest of global investors," This also showed that China is stepping up efforts to ensure Chinese firms remain listed in New York.
China's central bank said on Saturday it will further expand a pilot scheme of its digital currency to more areas, including cities in the eastern Zhejiang province which is set to host the Asian Games later this year. The People's Bank of China (PBOC) said it will promote the research and development of the digital currency, dubbed e-CNY, and expand the scope of the pilot scheme, according to an online statement.
Vietnam's economic growth slowed in the first quarter as coronavirus outbreaks and rising oil prices hindered the recovery of industries and businesses. Gross domestic product rose 5.03% in the three months to March compared to 5.22% for Q4 2021. Consumer prices rose 2.41% in March from a year earlier. The government aims to cap average inflation at 4% this year.
India's government is considering a proposal from Russia to use a system developed by the Russian central bank for bilateral payments. India is keen to continue bilateral trade due to its dependency on Russian weapons and the prospect of buying cheaper oil as global prices surge. The US chief strategist for sanctions against Russia is visiting India during which the topic of selling India discounted oil is expected to be discussed. His visit comes one day before Russia's foreign minister Sergei Lavrov's trip to Delhi. Prime Minister Narendra Modi's government has been pushing back against pressure from Western nations by arguing that arms purchases from Russia are needed to counter China's growing military assertiveness.
India and Australia signed a wide-ranging economic pact over the weekend, cutting duties on more than 85% of goods exported to India
Dark days in Sri Lanka. The economic crisis, worsened by the pandemic and tax cuts, is causing reduced trading hours and cut-off street lights, as well as widespread protests. All 26 cabinet ministers have resigned en masse after protests over the government's handling of the worst economic crisis in decades. For weeks, Sri Lanka has been battling its worst economic crisis since the island nation gained independence in 1948, leaving food, fuel, gas and medicine in short supply, and sending the cost of basic goods skyrocketing.
COMPANIES
Sea Ltd. is shutting its main e-commerce operation in India just months after its October launch, blaming market uncertainty. It will be shuttering Shopee India from March 29, though it will continue to handle orders placed before then and support local merchants during the transition. Its other global operations are unaffected, Shopee said in a statement. The closure of the Indian business comes weeks after India banned "Free Fire," Sea's most popular mobile gaming title, citing security concerns.
AstraZeneca's preventive drug for covid-19 has been approved by the EU. Evusheld, already authorized in the US, reduces risk of developing symptoms by 77%
Lululemon generated record annual sales as demand for casual apparel surged, despite supply chain disruptions and Omicron-related staffing challenges. Lululemon expects full-year net revenue to be in the range of $7.49bn to $7.615bn, higher than the consensus estimate of $7.3bn. The upbeat outlook and a share buyback program announced sent shares of Lululemon up more than 7 per cent in after-hours trading.
The US Food and Drug Administration authorized a second booster dose for people aged 50 and over. The shot, either Pfizer or Moderna, can be given four months after the first booster, and the authorization comes as the BA2 subvariant becomes dominant in the US
Google's sister company Waymo is putting driverless cars in San Francisco. The rides are free, but only available to Waymo's employees.
Tesla announced that it will split its stock for the second time in two years, following similar plans by Amazon and Alphabet. The move will lower share price—or appear to, anyway. the automaker has done it once before, a 5-for-1 split in August 2020 that doubled net stock purchases within weeks. It's already a darling with retail investors, who own 39% of the company, much more than they do Meta or Alphabet. Tesla also announced it is suspending the production at its Shanghai plant amid uncertainty over the city's pandemic lockdown and ongoing Covid-19 outbreak. The company is expected to deliver 309,158 vehicles globally during the first three months of 2022, which is slightly over the 308,000 vehicles manufactured in the fourth quarter in 2021.
FX/ COMMODITIES
DXY USD index fell slightly at -0.16% to 98.632, likely driven by month end USD selling flows and EUR strength. Data wise, US nonfarm payrolls rise 431k in March below consensus of 490k, but marking the 11th consecutive month of nonfarm payroll growth in excess of 400k – the longest stretch going back to 1939. Core PCE qoq came in in-line at 5.0%, while GDP qoq came in at 6.9% below consensus of 7.0%.
USDJPY rose to an intra-week high of 125, before paring back to close the week at 122.52 (+0.39%), as BOJ announced an unlimited amount of fixed-rate JGB purchase operation. On top of that, the BoJ increased eligible tenors of the scheduled operation to 3-5y (JPY 450bn to 600bn), 5-10y (JPY 425bn to 725bn), 10-25y (JPY 150bn), and 25y and beyond (JPY 100bn).
European G10 currencies.
Both EUR and SEK rose 0.55% against US, as Euro Area inflation rises to an all-time high at 7.5% yoy in March (consensus at 6.7%), driven by a sharp acceleration in energy prices to 44.7% yoy. SEK rose alongside optimism for progress in cease-fire talks between Russia-Ukraine. GBP fell 0.52% against USD, despite GDP yoy at 6.6% above consensus of 6.5%.
CAD & NOK. Following the drop in oil prices, both CAD and NOK fell against USD. USDCAD rose 0.36% to 1.2522, while USDNOK rose 1.61% to 8.7477. NOK was the under-performer, as Norges bank announced it plans to sell NOK2 billion per day in April. This was larger in size and earlier than expected. Data wise, unemployment in Norway came in at 2.0% below consensus of 2.1% (the lowest level since December 2008), while Canada GDP Yoy came in 3.5% below consensus of 3.6%.
AUD & NZD. AUD and NZD both fell 0.25% and 0.65% against USD, as indications that geopolitical tensions in Eastern Europe may be easing weighed on commodity prices. AUDNZD rose 0.38% as Australia retail Sales increased 1.8% mom in February above consensus and are 9.1% higher than their level a year ago.
WTI and Brent fell 12.84% and 11.06% to close the week at 99.27 and 104.39 respectively, as President Biden announced the largest ever release from the Strategic Petroleum Reserve, one million barrels per day for the next six months. OPEC and its allies agreed to another modest monthly oil output boost, resisting the urge to pump more amid supply constraints stemming from the conflict in Eastern Europe. OPEC+ agreed to raise output by 432k bpd in May. Russian President Putin had initially said that foreign buyers must pay in RUB for Russian gas from April 1 onward and contracts would otherwise be halted. However, he subsequently said Russia would keep supplying gas to European customers.
ECONOMIC INDICATORS
M – AU Inflation, EU Sentix Inv Confid., US Factory Orders/Durable Goods
T – AU/JP/EU/UK/US Comps/Svc PMI March Final, AU RBA OCR, US Trade Balance/ISM Svc Index
W – CH Comps/Svc PMI March, UK Construction PMI, US MBA Mortg. App
Th – AU Trade Balance, SZ Unemploy. Rate, EU Retail Sales, US Initial Jobless Claims
F – JP Current Acc/Cons. Confid., CA Unemploy., US Wholesale Inv.
Sources – Various news outlets including Bloomberg, Reuters, Associated Press




Disclaimer: The law allows us to give general advice or recommendations on the buying or selling of any investment product by various means (including the publication and dissemination to you, to other persons or to members of the public, of research papers and analytical reports). We do this strictly on the understanding that:


(i) All such advice or recommendations are for general information purposes only. Views and opinions contained herein are those of Bordier & Cie. Its contents may not be reproduced or redistributed. The user will be held fully liable for any unauthorised reproduction or circulation of any document herein, which may give rise to legal proceedings.


(ii) We have not taken into account your specific investment objectives, financial situation or particular needs when formulating such advice or recommendations; and


(iii) You would seek your own advice from a financial adviser regarding the specific suitability of such advice or recommendations, before you make a commitment to purchase or invest in any investment product. All information contained herein does not constitute any investment recommendation or legal or tax advice and is provided for information purposes only.


In line with the above, whenever we provide you with resources or materials or give you access to our resources or materials, then unless we say so explicitly, you must note that we are doing this for the sole purpose of enabling you to make your own investment decisions and for which you have the sole responsibility.


© 2020 Bordier Group and/or its affiliates.