Key market moves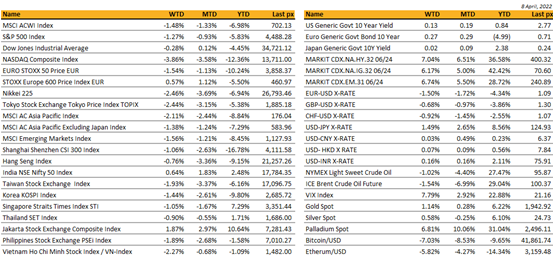 Source: Bloomberg
Macro Overview
Americas:
April saw its worst first week yet for US markets. Worries about the Fed Reserve's hawkish rate-hike policy and the worsening impact on the world economy from the Ukraine war sent the Nasdaq reeling 4.2% and the S&P 500 -1.3%, the Dow closing flat.
The movement and shape of the yield curve during the week sent signals the market is getting nervous about a potential near term economic slowdown or an impending recession. Despite a surge in late dip-buying on Friday night, it appears most preferred to await how Q1 earnings would unfold this week. Still, according to EPFR Global Data, US equities saw a second straight week of inflows at $1.5 bln. Wednesday saw the release of the Fed's last policy meeting minutes which gave better clarity on what path it would take with rate hikes and QT. It did little to stabilize markets – Officials proposed shrinking the balance sheet at a maximum of $60 bln in Treasuries and $35 bln in MBS, in line with expectations. This is however nearly double the peak rate of $50 bln a month, the last time the Fed trimmed from 2017 to 2019. Post the release, the US 2-10 year spread returned back to positive. Bullard called for rates to be raised to 3.5% and said that the market had already priced in this, Esther George supported a 50 bps hike in May and Lael Brainard "previously" a dove, indicated hikes could come at a more aggressive pace than the typical increments of 0.25 percentage points.
An interesting observation from an analyst pointed that "a flat yield curve signals that a long-term growth picture is not too bright, and as a consequence rates cannot go much higher from here, which ultimately, benefits growth stocks which have strong and stable earnings growth".
The other mover that dominated Tech was Twitter Inc which jumped after Tesla's chief, Musk took a 9.2% stake in the company, a week after hinting he might shake up the social-media industry.
Key releases this week will see US CPI on Tuesday, expected at 8.4% YoY from last month's 7.9%, as well as PPI and retail sales on Wednesday and Thursday respectively.
Cryptos fell amid a broader drop in risk assets for the week but remained above BTC $40k and ETH $3k.
Europe / Middle East (EMEA):
The benchmark STOXX 600 ended the week up by 0.57%, but across the region markets were mixed. The FTSE 100 outperformed, while the DAX fell, and the CAC ended 2% down. In terms of sectors, defensive stocks outperformed, while market segments sensitive to the rate cycle and a deteriorating macro outlook struggled. Outperformers: Health Care +6.18%, Utilities +4.09%, Food & Beverage +2.89%, Oil & Gas +2.24%, Telecom +1.99%. Underperformers: Technology (4.40%), Industrial Goods & Services (3.10%), Auto & Parts (2.90%), Constructions & Materials (2.43%).
The publication of March ECB minutes signaled an increased urgency to act on inflation, raising the prospect that the policymakers could decide to normalize policy at a faster pace. There is now a possibility that the ECB could raise rates by Q3 already, after QE ends, and may even hike by increment of 50 bps.
The Ukraine war continues, and a ceasefire agreement suddenly looks more and more unlikely. The new round of sanctions following Bucha include a phase-out of Russian coal which will take full effect from August. Other measures issued by the EU this week included blocking new machinery exports to Russia and slashing the access of Russian road and shipping goods carriers into the bloc. The UK also announced asset freezes against Sberbank and Credit Bank of Moscow in co-ordination with the US. An outright ban on all new outward investment to Russia and on imports of iron and steel products were also announced, together with the objective to end all dependency on Russian coal and oil by the end of 2022.
The lack of Black Sea port operations is changing the dynamics of global wheat trade and fueling panic about shortages. Food prices have been rising at the fastest pace on record and posted new all-time highs this week. Middle Eastern and North African nations are already at breaking point. There is strong loading in Brazil and Argentina to substitute part of the Ukrainian supply of wheat, alongside India and USA. However, the alternative supplies come at higher prices, differing qualities and are in any case insufficient to cover the loss of Ukraine's sales. The United Nations warned food prices could rise as much as 22% more from here.
Emmanuel Macron will face far-right rival Marine Le Pen in the second and final stage of the French presidential election on April 24 after they beat the other candidates in the first round of voting on Sunday, according to estimates. With more than 90% of the votes counted, estimates show Macron winning about 28% and Le Pen 23%, ahead of the far-left candidate Jean-Luc Mélenchon with 22%.
In the race to distance itself from Russian energy, Boris Johnson unveiled the British Energy Security Strategy. The strategy will focus on nuclear, wind, solar and green hydrogen with the objective to reach 95% low-carbon electricity by 2030. Contextually, North Sea oil and gas explorations will be expanded and fracking likely reintroduced. The enormous expansion reportedly exceeds UK energy requirements by far. Also, it may pave the way for the UK to become a leader in green hydrogen technology.
The Central Bank of Russia cut its key interest rate by 300 bps to 17%, which is the first move lower in rates since 2020. The statement highlighted that while external conditions are still challenging, financial stability risks have ceased to increase for the time being due to capital controls. In addition, it pointed out there is steady inflow of deposits and a noticeable slowdown in current inflation rates.
Asia:
Asian markets ended the week lower with MSCI Asia index down 2.11% and CSI 300 was down 1%. Chinese shares recovered from the drop on Friday buoyed by expectations of further policy easing measures to support a slowing economy hit by the country's worst COVID-19 outbreak in two years. Indonesia and India were the only two Asian markets that closed the week up- +1.87% and +0.64% respectively.
Hong Kong Chief Executive Carrie Lam said she wouldn't seek a second term. The U.S. sanctioned Lam for her role in helping China quash pro-democracy protests in 2019 that saw hundreds of thousands take to the streets. She later drew scorn from international businesses over one of the world's strictest hotel quarantine policies. An ex-Hong Kong security official is running to lead the city. John Lee, who was a deputy police commissioner during the city's 2019 protests, appears to have Beijing's backing to replace Carrie Lam.
China's state refineries are avoiding Russian oil deals. The companies are heeding Beijing's calls for caution as the US threatens to sanction China if it aids Russia's war effort.
The U.S. has told India that the consequences of a "more explicit strategic alignment" with Moscow would be "significant and long-term," he said. While the U.S., Europe, Australia and Japan have piled economic sanctions onto Russia in response to its war against Ukraine, India has declined and instead has sought to continue imports of Russian oil. New Delhi's reaction to the invasion is complicating its relationship with Washington, where India is regarded as an important partner in countering Chinese influence in Asia.
The Reserve Bank of Australia left its cash rate at a record low 0.1% as expected on Tuesday. The hawkish tilt in its post-meeting statement sent the Australian dollar surging through 76 U.S. cents for the first time since June 2021. Australia's US $1.7 trillion economy is beginning to run hot: Job vacancies are at a record, consumer spending is strong and a private measure of inflation released Monday jumped to a 13-year high of 4%.
Sri Lankan bonds slumped after protests against soaring inflation and lengthy power cuts led to a cabinet reshuffle. Sri Lanka is looking to renegotiate the terms of its obligations to avoid a default, while contending with Asia's fastest inflation and a collapsing currency. The nation's $1 billion bond due in July was quoted at 59 cents on the dollar on Monday, down 7 cents and indicated at its lowest price since May 2020.
Pakistani prime minister Imran Khan was ousted. Opposition leader Shehbaz Sharif will likely be selected as his replacement today.
Singapore's March whole economy purchasing managers' Index rises to 52.9 from 52.5 in Feb. Output falls to 55.2 vs 56.6 in Feb, the lowest reading since Aug. 2021.
Thai economy is expected to return to pre-pandemic levels by early 2023, driven by private consumption and tourism, while weakening global demand will slow export growth, according to the World Bank. GDP growth is projected to reach 2.9% in 2022 and 4.3% in 2023. Headline inflation is expected to rise to 3.7% in 2022 due to supply-side driven factors, including the surge in global oil prices.
Shanghai reported almost 24,944 infections on Sunday, the ninth straight day of rising case numbers. Reports of food shortages in the country's commercial capital have prompted a flurry of interest in what essentials to hoard. Taiwan will end its zero-covid strategy. "We will not stop our journey towards opening up," Taiwan's health minister said.
COMPANIES
Gogoro, the Taiwanese "Tesla of scooters," begins trading on the Nasdaq last week. The company operates its own fleet of electric scooters in Taiwan, but it also sells batteries and charging systems to other rideshare networks. Gogoro's stock listing comes just months after the company inked deals to sell its batteries to big scooter manufacturers in China and India. Gogoro went public via a special purpose acquisition company (SPAC), which valued the scooter manufacturer at $2.35 billion and raised $335 million to fund its expansion.
Chinese electric vehicle start-up Nio is in talks with several other carmakers about licensing the battery-swapping technology that is at the heart of the group's strategy. It is targeting expansion in Europe, one of the most competitive markets in the world for electric cars, which is likely to become a testing ground for adopting the battery technology. The group, which listed in 2018 and has sold 180,000 electric models in China, aims to have 1,000 swapping stations outside the country by 2025. The company began deliveries in September in Norway. It will launch in Germany, Netherlands, Sweden and Denmark this year.
Volkswagen will discontinue dozens of car models. Supply constraints forced the automaker to phase out 60% of its combustion engine models, but plans for new electric car lines are on track.
Meta has drawn up plans to introduce virtual coins, tokens and lending services to its apps. Meta is seeking alternative revenue streams and new features that can attract and retain users, as popularity falls for its main social networking products such as Facebook and Instagram — a trend that threatens its $118bn-a-year ad-based business model. Meta is leaning towards introducing in-app tokens that would be centrally controlled by the company, similar to those used in gaming apps such as the Robux.
JD.com, the Chinese ecommerce group, has appointed a new chief executive. Lei Xu, previously JD.com president, will take on the chief executive role immediately. Xu has worked at JD.com for more than a decade, the company said, with previous roles including chief marketing officer, chief executive of JD Retail and head of JD Wireless.
Samsung Electronics on Thursday estimated its first-quarter operating profit rose 50 per cent on stronger sales of microchips and smartphones. Operating profit at the world's biggest smartphone and memory chipmaker was estimated at Won14.1tn ($11.6bn) in the first three months of this year.
GOTO will debut today and the company will be 4th largest market cap in JCI. A huge expectation as IPO was more than 15x oversubscribed and many retail investors seem still hungry to get more in secondary market. The tech company, which has the backing of the likes of SoftBank and Alibaba, raised $1.1 billion through its IPO.
FX/ COMMODITIES
DXY USD index rose 1.18% to close the week at 99.796, as 2s10s curve steepens and 10y US yields rise 4.2bp to 2.70%, the highest level since March 2019. March FOMC minutes reveal QT of USD 60bn for Treasury securities and USD 35bn for agency MBS. Many participants note one or more 50bp rate hikes could be appropriate at future meetings. DXY USD index broke the recent upper bound of 99.70, signalling more appreciation to come.
EURUSD fell 1.50% to close the week at 1.0877, despite hawkish undertone of the March ECB minutes, opening the door to a possible 3Q22 hike. The depreciation is likely due to highly uncertain first round of the French presidential elections. The latest polls continue to show a relatively tight margin between incumbent Macron and Le Pen. GBPUSD fell 0.68% to close the week at 1.3025, and USDSEK rose 0.92% to close the week at 9.4541.
AUD fell 0.51% against USD, but rose 0.62% against NZD. RBA held the cash rate on hold at 0.1%, but signal a hawkish pivot, by removing the word patient from the statement.
ECONOMIC INDICATORS
M – CH CPI/PPI, JP Machine Tool Orders, NO CPI, UK Indust. Pdtn/Mfg Pdtn/Trade Balance
T – JP PPI, AU Biz Confid., UK Unemploy. Rate, EU Zew, US CPI
W – NZ Food Prices/ RBNZ OCR, JP Core Machine Orders, AU Cons. Confid., UK CPI, US PPI, CA BOC Rate Decision
Th – NZ Biz MFG, AU Unemploy. Rate, EU ECB Rate Decision, US Initial Jobless Claims/Mich Sentiment
F – US Empire MFG/Indust. Pdtn
Sources – Various news outlets including Bloomberg, Reuters, Associated Press




Disclaimer: The law allows us to give general advice or recommendations on the buying or selling of any investment product by various means (including the publication and dissemination to you, to other persons or to members of the public, of research papers and analytical reports). We do this strictly on the understanding that:


(i) All such advice or recommendations are for general information purposes only. Views and opinions contained herein are those of Bordier & Cie. Its contents may not be reproduced or redistributed. The user will be held fully liable for any unauthorised reproduction or circulation of any document herein, which may give rise to legal proceedings.


(ii) We have not taken into account your specific investment objectives, financial situation or particular needs when formulating such advice or recommendations; and


(iii) You would seek your own advice from a financial adviser regarding the specific suitability of such advice or recommendations, before you make a commitment to purchase or invest in any investment product. All information contained herein does not constitute any investment recommendation or legal or tax advice and is provided for information purposes only.


In line with the above, whenever we provide you with resources or materials or give you access to our resources or materials, then unless we say so explicitly, you must note that we are doing this for the sole purpose of enabling you to make your own investment decisions and for which you have the sole responsibility.


© 2020 Bordier Group and/or its affiliates.