Key market moves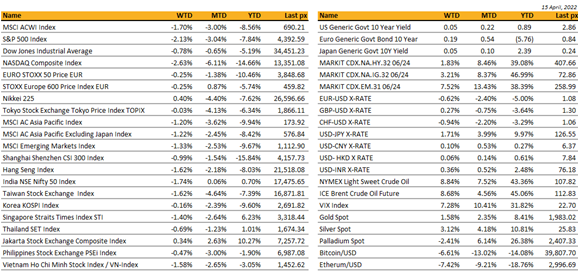 Source: Bloomberg
Macro Overview
Americas:
The shortened week ended in the red for US markets as rising yields pressured Big Tech lower. The S&P 500 and Nasdaq were down in excess of 2% whilst the Dow fell 0.8%.
The UST10Y yield closed at 2.827% and the $ strengthened. Yields started climbing following comments from NY Fed President Williams who said that speeding up the pace of interest rate increases to include hikes in increments of 50-basis points were reasonable options. This came right after the Labor Department reported that import prices jumped higher than expected.
The market had earlier started dialing back expectations of aggressive Fed tightening over the course of the year after evidence that inflation was poised to moderate. Headline CPI YoY was at 8.5% slightly higher than expected. MoM was as expected at 1.2%. However, the core number excluding food & energy, increased 0.3% from a month earlier and 6.5% from a year earlier, both lower than expected due in large part to the biggest drop in used vehicle prices since 1969. The rally was clearly short-lived, paring its gains after Fed Governor Brainard said that it will move expeditiously to lift rates and return inflation to the 2% target.
Retail sales ex-auto was higher than expected indicating that consumers are spending more on essentials as its consumer spending pattern adjusts to better handle price increases.
Earnings reported so far, mainly from banks have been mixed. In major corporate news, Elon Musk who last week declined to join Twitter's board, instead offered to take the company private by offering $54.20 per share.
This week will see a quieter data week with only building/housing data and industrial production to contend with.
Cryptos have been in a tight range echoing overall risk sentiment with BTC and ETH holding above $40k and $3k respectively.
We would use this beta correction for a better entry point into commodities that remain a focus for the medium term, specifically in the energy space: CRUD and URA.
Europe / Middle East (EMEA):
European equity markets ended a bit lower. Bond yields backed up. Euro and sterling weakened. Best performing sectors were travel & leisure, oil & gas, and basic resources, while technology, utilities and financial services lagged.
No surprises in the ECB policy update. The ECB kept the key deposit rate at -0.5% and maintained the QE plan outlined at the last meeting in March. There was no change in the ECB's policy sequencing and rates will only rise after QE ends, which now looks more likely in Q3. A July rate hike now seems possible and there was consensus for a 25 basis point move in Q3, which is in line with market expectations for two rate increases by year-end.
UK macro data this week increased the pressure on BoE policy, with inflation in March registering its highest level in 30 years at 7%, claimant count down another 46.9k in March and wage growth up 5.4% versus 4.8% in the prior month. The market is fully priced for a 25 basis point increase in May, but could follow up with further moves in August and November. However, it is increasingly likely that the squeeze on the cost-of-living will begin to weigh on demand, judging by the recent weakness in sentiment indicators and the slowdown in retail sales data. Many banks see peak inflation around 9% in April but potential further increases in utility prices this autumn could lead to double-digit inflation for the first time since the 1980s.
This week, Putin said that peace talks with Ukraine have reached a dead end as Ukraine has deviated from the Istanbul agreements, in particular concerning his demands on Crimea, Sevastopol, and Donbass. Another red line poised to be crossed is Sweden and Finland accelerating plans to join NATO. Both countries face Russia across the Baltic Sea and Finland shares an 830-mile land border. And across the pond, US President Biden has stepped up military support for Ukraine with a new $750M package. Dynamics at this stage appear to be leading towards escalation.
The European Commission has also confirmed that it is working on targeting Russian oil. Measures would be phased, in order to allow member states time to find alternative suppliers, and would also differentiate between oil transported via tankers and pipelines. The concession is aimed at bringing on board Germany, which has resisted the efforts so far given its dependence on Russian oil. Proposed embargo will be put up for negotiation only after the final round of the French election on 24-Apr, so as not to give Le Pen an advantage over Macron.
Asia:
Asian markets ended lower last week, MSCI Asia Index down 1.2%, with Hang Seng leading the losses down 1.62% for the week. For the month of April, all Asian markets are in the negative with the exception of Indonesia and India as of last week. HK exchange and Stock Connect are closed today for Easter Monday and would resume tomorrow.
Last week, China signaled a RRR cut while President Xi reaffirmed the COVID-Zero approach. China's gross domestic product rose 4.8% compared with the same period a year earlier. On a quarter-on-quarter basis, GDP grew 1.3%. Retail sales, a gauge of consumer spending, fell by 3.5% in March — its first contraction since July 2020. Data for the first three months will not capture the impact of recent events in Shanghai, which was in late March plunged into China's most severe lockdown since the emergence of coronavirus in 2020.
US state department has ordered non-essential workers to leave its consulate in Shanghai after authorities imposed China's most severe citywide lockdown in two years.
China's foreign trade surged 13% to USD1.5 billion in the first quarter from a year earlier. The value of China's imports and exports jumped 9.6% and 15.8% to USD658 billion and USD820.9 billion, respectively, in the three months.
White House press secretary Jen Psaki said Biden told Modi that his administration could help India diversify its oil imports – but that it was not in New Delhi's interests to increase energy imports from Moscow. The imports from the United States are already significant, much bigger than the imports that India gets from Russia. The discussion last week came as New Delhi continues to try to balance its ties with Moscow and the West, which has imposed a series of sanctions against Russia over the Ukraine war and urged nations to move away from Russian energy supplies.
The Reserve Bank's Monetary Policy Committee increased the official cash rate by 25 basis points to 1% Wednesday. New forecasts published by the RBNZ show the cash rate climbing to 2.5% over the next 12 months and peaking at about 3.25% at the end of 2023.
South Korea's central bank raised its policy rate to 1.5%, the highest since August 2019 on Thursday.
The Monetary Authority of Singapore (MAS) tightened monetary policy last week, the third time in six months. Headline inflation is projected to average between 4.5% and 5.5% , up from the earlier range of 2.5% and 3.5 %. The central bank said fresh shocks to global commodity prices and supply chains brought about by both the war in Ukraine and the COVID-19 pandemic are adding to domestic cost pressures. Separate data released on Thursday morning showed the Singapore economy expanded 3.4 % year on year in the first quarter of 2022, slowing from the 6.1 % growth in the preceding quarter.
Singapore's Prime Minister Lee Hsien Loong said on Saturday that Finance Minister Lawrence Wong would succeed him as PAP's leader.
Sri Lanka defaulted on $51 billion of foreign debt. Officials said it was a last resort move to avoid further financial deterioration.
COMPANIES
Chinese regulators have approved new online games for the first time in nine months. China's National Press and Publication Administration released a list of 45 games on Monday that it said were approved last Friday. Authorities paused approvals for new games in July last year over concerns the country's children were addicted to online titles that undermined Communist party values. A month later, Chinese children were banned from playing video games for more three hours a week, hitting providers such as NetEase and Tencent even further and slowing revenue growth.
China's oil giant is pulling out of the West. CNOOC is preparing to sell off operations in Britain, Canada, and the US, out of concerns that they could be subject to sanctions related to Russia. The exit being prepared would take place less than a decade after state-owned CNOOC entered the three countries via a $15 billion acquisition of Canada's Nexen, a deal that transformed the Chinese champion into a leading global producer. As it seeks to leave the West, CNOOC is looking to acquire new assets in Latin America and Africa, and also wants to prioritise the development of large, new prospects in Brazil, Guyana and Uganda, the sources said.
Panasonic said it expected the roll-out of a bigger electric vehicle battery would help the company diversify its business from Tesla. Panasonic was prioritizing the development of the lithium-ion 4680 battery at its Wakayama factory in western Japan. The company plans to introduce two production lines for the battery, which has a fivefold energy capacity compared with those being used at present.
TSMC reported revenue of NT$491.08 billion ($16.965 billion) for the first quarter of 2022, up a whopping 35.5% year-over-year. TSMC's results beat analyst estimates. Leading-edge N5 and N7 fabrication technologies account for about a half of TSMC's earnings. TSMC's N5 have been used by Apple almost exclusively for nearly two years now, but this node is now gaining traction with other high-volume customers of the foundry, so as TSMC ramped up delivery of N5/N4 silicon to customers like AMD and MediaTek in Q1 2022. There is also growing demand from cloud service providers like Google, Microsoft and Amazon thus decreasing dependence on Apple. TSMC accounts for more than half of global supply of made-to-order chips
Epic Games, the maker of Fortnite, has secured $2bn in new funding from Sony and the group behind the Lego franchise as leading global games companies race to build an avatar-filled "metaverse". Epic Games has already created a successful virtual world through its most popular game, Fortnite. The "Unreal Engine" software underpinning it provides a prototype of the technology that would run a virtual world in which thousands of people can move between discrete digital spaces as 3D avatars.
Luxury group LVMH reported stronger-than-expected sales growth in the first quarter. Revenues soared 29% in the first quarter, as the U.S. and Europe logged double-digit growth, fending off concerns that the war in Ukraine will weigh on growth and fuel inflation.
FX/ COMMODITIES
DXY USD index rose 0.71% to close the week at 100.5 due to EUR weakness and US Treasury continued to steepen with US Core CPI surprising to the downside. Immediate support level at 100. USDJPY rose above the strong resistance level of 125 to close the week at 125.46.
EURUSD fell 0.62% to close the week at 1.081, as ECB President Lagarde commented that it is very unlikely for ECB to raise rates in 2022. ECB kept its main rate and will end purchases under its pandemic program at end March, while temporarily boosting its older bond buying plan for half a year to smooth transition. SEK was the worst performer in Europe, as it fell 0.68% against EUR. GBP fell 0.27% against USD, supported by higher than expected inflation in March at 7.0% against consensus at 6.7%.
CAD. BoC hikes 50bp as expected and ends reinvestment, allowing its balance to start shrinking, amid an increasing risk that expectations of elevated inflation could become entrenched. BoC Governor comments that "we may need to take rates modestly above neutral for a period." CAD fell 0.30% against USD, closing at 1.261.
NZD. RBNZ delivers a 50bp hike against expectation of a 25bp hike, but dovish signals in the statement, such as "policy flexibility". This leads NZD to fall 1.24% and 0.43% against USD and AUD.
ECONOMIC INDICATORS
M – CH GDP/Indust. Pdtn/Retail Sales
T – JP Indust. Pdtn, US/CA Housing Starts
W – JP Trade Balance, AU Westpac Leading Index, CH Prime Rate, EU Indust. Pdtn, US MBA Mortg. App/Existing Home Sales, CA CPI
Th – NZ/EU CPI, EU Cons. Confid., US Initial Jobless Claims/Leading Index
F – UK Cons. Confid., JP CPI, UK Retail Sales, JP/EU/UK/US PMI Apr Prelim, CA Retail Sales
Sources – Various news outlets including Bloomberg, Reuters, Associated Press




Disclaimer: The law allows us to give general advice or recommendations on the buying or selling of any investment product by various means (including the publication and dissemination to you, to other persons or to members of the public, of research papers and analytical reports). We do this strictly on the understanding that:



(i) All such advice or recommendations are for general information purposes only. Views and opinions contained herein are those of Bordier & Cie. Its contents may not be reproduced or redistributed. The user will be held fully liable for any unauthorised reproduction or circulation of any document herein, which may give rise to legal proceedings.





(ii) We have not taken into account your specific investment objectives, financial situation or particular needs when formulating such advice or recommendations; and





(iii) You would seek your own advice from a financial adviser regarding the specific suitability of such advice or recommendations, before you make a commitment to purchase or invest in any investment product. All information contained herein does not constitute any investment recommendation or legal or tax advice and is provided for information purposes only.





In line with the above, whenever we provide you with resources or materials or give you access to our resources or materials, then unless we say so explicitly, you must note that we are doing this for the sole purpose of enabling you to make your own investment decisions and for which you have the sole responsibility.





© 2020 Bordier Group and/or its affiliates.