Key market moves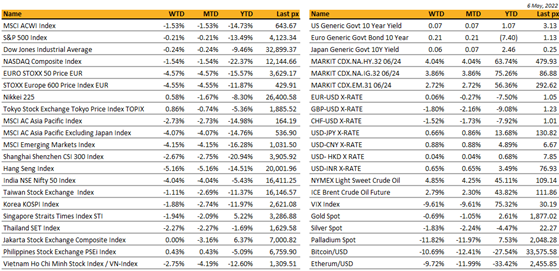 Source: Bloomberg
Macro Overview
Americas:
The drop in US stocks continued into its 5th week, longest since 2011. The relatively strong jobs report on Friday added fuel to lingering concerns about surging inflation.
The debate between signs of a strong economy against rising interest rates remains a drag on higher valuation companies, especially in Tech. More than 90% of S&P companies have reported earnings and more than ¾ of those have topped EPS projections. Still, the 10 year Treasury yield continued to climb trading at 3.12%, highest since November 2018. On Friday the labor report showed a larger than forecast increase in nonfarm payrolls of 428k in April, while the participation rate fell to 62.2% potentially exacerbating further wage pressures that could lead to broad-based inflation.
Markets which initially reacted positively following the Fed Reserve's decision to only raise by 50 bps soon attracted doubters that the move would not be sufficient to cool inflation and expected more.
Chair Powell on Thursday after the FOMC meet, mentioned that 50 bps hikes remain on the table for the next couple of meetings BUT that 75 bps is not being actively considered. Powell also said that the neutral rate would probably be somewhere in the 2 to 3 percent range.
A more aggressive tightening cycle on the other hand, could ultimately send the US economy into a recession. The market has also to contend with the Fed beginning its balance sheet rundown from June, setting an initial cap of monthly rundown of USD30bn a month in Treasuries that will increase to USD60bn a month after three months. And, for agency mortgage-backed securities, the cap is initially set at USD17.5bn a month and after three months will increase to USD35bn a month.
Comforting words from US Treasury Sec Yellen (ex Fed chief) telling the WSJ that she expects robust growth this year, with a likely "soft landing" for the economy as the Fed moves to bring down inflation had little effect.
"I do believe we're going to see solid growth in the coming year," Yellen said, however warned that the Fed will need to be both "skilful and lucky" a combination that she thinks is possible. She recognised both the US and global economy faced a number of risks emanating from Russia's invasion of Ukraine, particularly its effect on global prices of energy and food commodities, which will not make the task any easier. She added that while consumer prices have surged, medium-term expectations for inflation haven't been affected. This in turn means this is a different type of inflation than that faced by former Fed Chair Paul Volcker in the 80's.
This week, all eyes will be on the release of US CPI on Wednesday where the market is expecting a slight drop in YoY inflation to 8.1% from 8.5%, excluding food & energy at 6.0% from 6.5%. PPI will follow suit on Thursday.
Commodities and infrastructure sectors remain our focus. With volatility remaining elevated – VIX around 30, we have priced up some Tech FCN recently with defensive strikes that yield in excess of 10% pa.
Europe / Middle East (EMEA):
There was a huge downdraft for European stocks and bonds this week, with STOXX Europe 600 down 4.55%. European equity funds saw their 12th week of outflows, amounting to about $4B. Real Estate, Personal & Household Goods, Construction & Materials and Basic Resources were the biggest sector decliners, while Oil & Gas was the only sector that ended in positive territory.
In the fixed income market, global bond funds saw redemptions worth $12B in their fifth weekly net selling in a row, with European bond funds booking $6B of those. The yield backup and dollar strength played into concerns about tightening financial conditions. The 10-yr Bund yield surpassed 1% and the German real yields surged by 35bp, as the prospect of an ECB rate hike by July looked more likely as the hawkish members of the governing council seemed to gain the upper hand. Markets are fully priced for at least two rate increases this year but bets for three 25bp rate hikes have picked up.
The sterling plunged to its lowest since July 2020 after a dovish BoE rate hike. The BoE MPC voted 6-3 to raise rates by 25 bps to its highest level since 2009 at 1%. Inflation is forecast to accelerate to a peak of ~10.2% in Q4 2022 and remain above target until 2024. The GDP forecast point to stagnation over the next two years and a material risk of a technical recession.
German inflation pressures intensified with import prices the highest since September 1974. German CPI was also the highest since 1981. Both German and Eurozone retail sales missed consensus. On the industrial side, German factory orders dropped more than expected due to a growing reluctance to invest based on supply chains issues and expectations of a long-term increase in the cost of raw materials.
Negotiations around the sixth package of sanctions continued in Brussels this week. The most difficult point to negotiate remained the timeline for a phase-out of Russian oil. Whereas most EU members are preparing to phase out Russian oil by year-end, Hungary reportedly needs a five years' exemption and Slovakia needs three more years. Greece is also holding out as it doesn't want to abandon profits from shipping Russian oil to other countries with its fleet of tankers. EU is also attempting to prevent Russia from using companies based in the EU to sell oil to third countries.
The Q1 reporting season reached its half-way mark this week and Eurostoxx 600 profits for the quarter are now expected to have increased by 35.4% y/y, a steep increase from last week. Out of the 131 companies to have reported so far, 72.5% reported results exceeding analyst estimates. The energy sector has the highest earnings growth rate for the quarter, while the technology has the weakest growth compared to Q1'21. Consumer-related stocks like retailers, luxury and food services have broadly reported better than expected.
Asia:
Asia had a weak start to May. MSCI Asia ex Japan was down 4% to start the week. Hang Seng was the worst performer down 5.16%, followed by India's Nifty, down 4.04%.
Chinese shares slid after Beijing's vow to boost growth has failed to alleviate concerns about strict Covid lockdowns and gloomy economic data. China's services sector activity hit a two-year low. PMI for April worsened to a level of 47.4, notching its lowest level since February 2020. Several multinationals, including Starbucks, Estée Lauder, Apple and Coca-Cola, have raised the alarm about the effect of China's lockdowns, saying it would eat into their revenues in the world's largest consumer market.
US tariffs on Chinese goods are up for review. Tariffs are set to expire on July 6, but may be extended pending feedback from industry stakeholders and the public.
Over the weekend, China issued a jobs warning. Premier Li Keqiang called the employment situation "complicated and grave" as Beijing and Shanghai tightened Covid curbs. Hong Kong is closed for public holiday.
Hong Kong's economy shrank by 4%. The contraction of GDP in the first quarter, attributed to the impacts of Covid's fifth wave, was greater than analysts predicted.
India's central bank raised its key interest rate to 4.4% in a surprise move Wednesday, sending bonds and stocks tumbling, as it intensified the battle against inflation that's outpaced its expectations for much of the year. So far, South Korea, Singapore, Australia and New Zealand have all raised rates in Asia.
Australia raised interest rates the first in more than a decade as regulators seek to moderate a 20-year inflation high. Australia's annual rate of inflation hit 5.1 percent in the January-March period, the highest since 2001. RBA raised the benchmark interest rate to 0.35%, up from a record low of 0.1%.
Thailand's headline inflation slowed to 4.65% y/y, cooling for the first time in three months and lower than the median estimate of 4.81%. Thailand's finance ministry cut its GDP growth estimate to 3.5% vs 4% forecast made on Jan 2022. Tourism arrivals this year now forecast at 6.1m vs prior est. of 7m, revenue from travelers in 2022 expected at 370b baht from previous 400b baht est.
Covid updates: New Zealand opened its borders. Visitors will have to show proof of vaccination and carry a passport from one of the 60 countries participating in its visa-waiver program. Singapore's Changi Airport handled 1.14 million passengers in March, the first time the figure climbed above 1 million since the start of the pandemic. Google searches related to travel to Singapore have jumped, particularly from neighboring Malaysia, as well as Indonesia, India and Australia, according to data tracked by economists. In Thailand, where international tourism contributes about 15% to gross domestic product, the number of foreign visitors rose 38 per cent in March from February after a relaxation of requirements on testing and health insurance. Hong Kong's new chief executive John Lee has vowed to make reopening the borders with China and the rest of the world a priority.
COMPANIES
The US Securities and Exchange Commission on Thursday added 88 US-listed Chinese stocks, including JD.com, Bilibili, and Pinduoduo, to a register of foreign companies at risk of being kicked off American exchanges, raising the total number of Chinese companies on the list to 105. JD is exploring possible solutions and will strive to maintain its Nasdaq listing, the Beijing-based e-commerce giant said in a filing to the Hong Kong exchange on Friday. The company also said it will continue to abide by applicable laws and regulations in China and the United States.
Baidu and AI driving startup Pony.ai received the country's first permits to operate a fleet of self-driving robo taxis without human in the driver's seat. The autonomous taxi services are granted to be in an area on the outskirts of Beijing. The permits allow Baidu to deploy 10 driverless vehicles in Beijing, which will join Baidu's existing Apollo Go fleet of about 100 cars. To date, numerous cities in China have allowed autonomous vehicle companies to test self-driving vehicles without a human safety operator in the driver's seat, but this is the first time companies are allowed to run a fully driverless service.
Lenovo could dramatically boost sales on Beijing's order that central government agencies and state-backed companies replace foreign-branded computers, as reported by Bloomberg News. This would amount to more than 50 million PCs over the next two years. The nation's No. 1 PC maker relies on U.S. chips, but has set up its own chip-making unit and invested in at least 15 semiconductor design firms.
Moderna has said up to 1.7bn people at high risk from Covid-19 would benefit from annual booster shots, as it prioritizes developing a new jab to be released in the autumn targeting the fast-spreading Omicron variant. The booster works by stimulating an immune response against two different antigens, which in this case would be the original wild type strain of Covid-19 as well as the mutations present in the Omicron variant.
Starbucks managed to increase revenue and profit in its second quarter, even as it continued to deal with the impact of coronavirus lockdowns in China and inflation. Revenue at the coffee chain operator rose 15% $7.64bn.
Italian luxury brand Gucci will start accepting payments in cryptocurrencies in some of its stores in America. Customers will be able to pay using a number of cryptocurrencies, including Bitcoin, Ethereum and Litecoin.
Toyota is investing $624 million to make EV parts in India. The manufacturing facilities in the southern state of Karnataka will create at least 3,500 new jobs.
FX/ COMMODITIES
DXY. USD index rose 0.68% to 103.66, as US Treasury bear steepens and equity market continues to sell off. The FED increased 50 bps with Chair Powell commenting that 75 bps is not something FOMC is actively considering and sees 50 bps on the table for the next couple of meeting. Chair Powell also acknowledged that inflation is too high and the FOMC will move expeditiously to bring inflation down. NFP came in 428k beating consensus of 380k, but mixed details under the surface, with downside surprises in household survey employment and labor force participation rate.
JPY & CHF. USD rose 1.77% and 0.66% against CHF and JPY to 0.989 and 130.56 respectively, following sharp bear-steepening in US rates, led by higher real yields.
European G10 currencies. GBP fell 1.80% and 1.97% against USD and EUR to 1.2348 and 0.8553 respectively, following a dovish hike from BOE. BOE delivered a 25 bps rate hike, and flagged risk of a recession, lowering their 2023 growth forecast to -0.25% (P: 1.25%) and their 2024 growth forecast to 0.25% (P: 1.0%). Hawkish ECB commentary resulted in EUR to rise 0.06% against USD to 1.0551, as ECB Governing Council Member Villeroy says it is "reasonable" the central bank should raise its deposit rate into positive territory by the end of this year.
NOK. Norges Bank kept rates unchanged, in line with expectations, and maintained the guidance that "the policy rate will most likely be raised further in June". NOK fell 1.12% against USD to 0.4868 following lower risk sentiment.
AUD. RBA raised rates at its May Meeting for the first time since 2010 by an unexpected 25bps, where consensus was for a 15 bps hike. GDP forecasts were left unchanged. The Bank also announced the start of passive balance sheet roll-off but ruled out asset sales at this stage. As such, AUD rose 0.21% and 1.00% against USD and NZD respectively. AU retail sales increased 1.6% in March, where consensus is at 0.5%, well above pre-Covid trend rates of 9.4% yoy.
WTI and Brent rose 4.85% and 4.90% respectively to 109.77 and 112.39, following a media report that suggested the Energy Department would buy 60mm barrels of crude oil this fall to replenish the US Strategic Petroleum Reserve. OPEC+ agreed to another modest monthly oil output increase in June to 432k/bpd. The increase in the production target is in line with the existing plan to steadily add supply into the market, resisting an acceleration in output due to supply-side disruptions associated with Russia's invasion of Ukraine.
ECONOMIC INDICATORS
M – JP PMI Svc/Comps Apr Final, US Wholesale Inv
T – AU Biz Confid./Retail Sales Ex Inflation, EU Zew, US Small Biz Opti.
W – AU Cons. Confid., CH PPI/CPI, JP Leading Index, US CPI
Th – NZ Food Prices/ Inflation Exp, JP Current Acc, UK GDP/Trade Balance/Indust. Pdtn/Mfg Pdtn, US PPI/Initial Jobless Claims
F – NZ Biz Mfg, EU Indust. Pdtn, US Mich Sentiment
Sources – Various news outlets including Bloomberg, Reuters, Associated Press




Disclaimer: The law allows us to give general advice or recommendations on the buying or selling of any investment product by various means (including the publication and dissemination to you, to other persons or to members of the public, of research papers and analytical reports). We do this strictly on the understanding that:
(i) All such advice or recommendations are for general information purposes only. Views and opinions contained herein are those of Bordier & Cie. Its contents may not be reproduced or redistributed. The user will be held fully liable for any unauthorised reproduction or circulation of any document herein, which may give rise to legal proceedings.
(ii) We have not taken into account your specific investment objectives, financial situation or particular needs when formulating such advice or recommendations; and
(iii) You would seek your own advice from a financial adviser regarding the specific suitability of such advice or recommendations, before you make a commitment to purchase or invest in any investment product. All information contained herein does not constitute any investment recommendation or legal or tax advice and is provided for information purposes only.
In line with the above, whenever we provide you with resources or materials or give you access to our resources or materials, then unless we say so explicitly, you must note that we are doing this for the sole purpose of enabling you to make your own investment decisions and for which you have the sole responsibility.
© 2020 Bordier Group and/or its affiliates.