Key market moves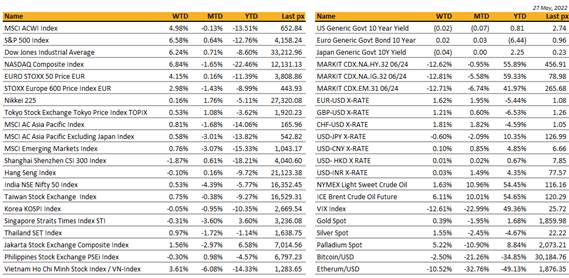 Source: Bloomberg
Macro Overview
Americas:
After 7 weeks of selloff, US markets ended the week with a furious rally that saw the S&P 500 Index post its best since November 2020. Risk assets recovered from selloffs brought on by social media giant SNAP's cut in its full-year guidance and last week's misses from retail giants Walmart and Target. The S&P, Nasdaq and the Dow ended more than 6% up for the week on firm consumer demand in the economy and a cooling inflation. Real personal spending rose 0.7% in April as expected, while the PCE Core deflator – the Fed's preferred inflation gauge, fell to 4.9% from 5.2%.
The VIX fell to 25.72 and the UST10Y yield softened a tad to 2.738% as risk appetite returned ahead of the long Memorial Day weekend. Fed minutes from its last meeting released Wednesday revealed that the Fed is looking to front-load rates up and may pause later in the year as inflation slows, which the latest economic releases helped support. This led to mean that the Fed may indeed pause after the two expected 50 bps hikes in June and July, helping overall sentiment. Interestingly, the minutes did not mention that officials were considering a 75 bps rate hike or any discussion around what possible conditions that would prompt officials to dial back the size of rate hikes.
In other economic releases, new home sales fell more than expected as mortgage rates rose, and durable goods orders underwhelmed. The coming shortened week will see key releases in consumer confidence, ISM manufacturing and employment data. Bloomberg is expecting an unemployment rate of 3.5%, change in non-farm payrolls of +325k and a participation rate of 62.3%. Although remaining tight, the report is expected to show some transitioning to a more moderate payrolls growth as the Fed hikes further for a more-sustained cooling in jobs growth to help moderate wage gains and ultimately, inflation.
There are reasons for this positive sentiment to continue as President Biden contemplates further, a review of Trump-era China tariffs and China, over the weekend reported that Beijing's Covid outbreak is under control and will loosen mobility curbs in several districts. Even JP Morgan's Jamie Dimon added, "storm clouds" over the economy may dissipate!
Europe / Middle East (EMEA):
European shares marked their best week since mid-March, ending Friday on a strong note as upbeat U.S. data and easing bets about aggressive interest rate hikes lifted sentiment.
The pan-European STOXX 600 index rose for a third straight session, closing up 1.5%, taking weekly gains to 3%. Germany's DAX ended at an over one-month high, up 1.6%. Technology stocks led gains among sectors, up 3.3%, while industrials and luxury stocks were among the biggest boosts to the STOXX 600. Banks shone this week, up 6% as major central banks stayed on course to hike interest rates.
The EU failed on Sunday to agree on an embargo of Russian oil, but diplomats but will still try to make progress ahead of a Monday-Tuesday summit on an exemption for pipeline deliveries to landlocked Central European countries. The whole package has been held up by Hungary, which says an oil embargo would be a body blow to its economy because it cannot easily get oil from elsewhere. Slovakia and the Czech Republic have expressed similar concerns.
Asia:
Asian markets closed higher for the week. MSCI Asia ex Japan was +0.19%, Nifty +3% and the Ho Chi Minh Stock Index + 4.9%. Chinese shares rose on Friday as investors looked ahead to stimulus measures to aid growth. The jump on Friday was not enough to cover losses from the week. China and Hong Kong were the laggards last week in Asia, Shanghai Shenzhen CSI 300 closed the week down -1.87% and HSI -0.1%.
Chinese authorities are moving to stimulate the country's faltering economy China rolled out a broad package of measures to support businesses and stimulate demand. The 33-point package include 140 billion yuan ($21 billion) in additional tax rebates and 300 billion yuan in railway construction bonds.
New local Covid-19 cases fell to the lowest level in almost three months. In Beijing, infections dropped to 12 on Sunday, from 21 on Saturday. In Shanghai, cases fell to 67 for Sunday from 122 on Saturday.
President Joe Biden said the US military would intervene to defend Taiwan in any attack from China. Biden's comments angered Beijing, which has warned the US repeatedly over its increased support for Taiwan.
China's Premier Li Keqiang gave his starkest warning yet about the economy. Li held an emergency meeting on Wednesday with thousands of representatives from local governments, state-owned companies and financial firms, calling on them to do more to stabilize growth. Latest official data showed a contraction in industrial output for the first time since 2020 and a jump in the surveyed jobless rate to 6.1% in April, close to a record. High-frequency data for May showed the economy remained in a deep slump, according to Bloomberg's aggregate index of eight indicators.
India unveiled inflation-fighting fiscal measures estimated to cost $26 billion that includes lower fuel taxes and import levies, raising speculation the government will expand its bond borrowing program and potentially easing pressure on the central bank. The measures announced last week by Prime Minister Narendra Modi's administration come after inflation climbed to an eight-year high, driven by commodities and supply-chain shocks, and the Reserve Bank of India began raising interest rates for the first time in almost four years. India joins policy makers globally who are struggling to slow a surge in consumer prices that threatens their recoveries from the pandemic and risks tipping many economies back into recession.
India, the world's largest sugar producer, is restricting exports. The announcement followed India's earlier ban on wheat exports, and Brazil's canceled sugar export contracts last week, marking a global rise in food protectionism. Thailand, a major food exporter, stands to benefit.
Singapore's 1Q GDP deceleration implies heightened risks. GDP growth decelerated to 3.7% yoy and 0.7% qoq in 1Q22 as a result of the Russia-Ukraine conflict and Omicron. Manufacturing and tourism-reliant sectors are likely to fuel GDP growth this year due to robust chip demand and rapid economic reopening.
Malaysia's move to halt chicken exports from June will hurt diners in the city-state, which gets a third of its poultry from its neighbor. The export ban will likely further push up the price of chicken, which rose 5.7% in April. Almost all chickens from Malaysia are imported as live animals, which are then slaughtered and chilled, according to the Singapore Food Agency. There may be temporary disruptions to chilled chicken supply, but frozen chicken remains available.
The Bank of Korea raised its key interest rate on Thursday as newly installed Governor Rhee Chang-yong demonstrated his intention to tackle inflation at his first policy meeting since taking the helm.
Thailand central bank signals no hurry to raise rates. Thailand's central bank is confident inflation will return to target next year, signaling there was no rush to change monetary policy settings just yet to check price gains hovering around a 13-year high. Instead, Thai government is trying to curb inflation from spiking above 5% and taking steps to ease the cost of living. Thailand's unemployment rate dropped in the first quarter to 1.53%, its lowest level since the start of the pandemic.
New Zealand's central bank delivered its fifth straight interest rate hike on Wednesday and signaled a much more aggressive tightening path as authorities seek to reduce the second-round effects of runaway inflation. The central bank sees inflation peaking at 7.0% in the June quarter 2022, well above its 1-3% target.
COMPANIES
Broadcom cannot stop buying companies. The Singapore-based chipmaker is reportedly buying the software firm VMware for $50 billion, and has bought three multibillion-dollar companies in four years even under the watchful eye of US regulators.
Great Wall Motor soared 5.1% to HK$12.42, while Geely Auto jumped 3.5% to HK$14.12. Auto stocks are seen as beneficiaries of tax relief measures to stabilize the economy, including a cut on purchase tax on passenger vehicles.
Apple Inc. is planning to keep iPhone production roughly flat in 2022, a conservative stance as the year turns increasingly challenging for the smartphone industry. Apple already warned that supply problems will impact sales by $4 billion to $8 billion in the current quarter, largely because Covid-19 lockdowns are roiling production lines in China. And the whole tech industry is bracing for a slowdown in consumer spending as rising fuel and materials prices push up the cost of everyday essentials.
Nvidia Corp., the largest U.S. chipmaker by market value, slid in late trading after China's Covid-19 lockdowns and the war in Ukraine weighed on its sales forecast. Revenue in the current quarter will be roughly $8.1 billion, the company said in a statement Wednesday. That compares with an $8.44 billion average analyst estimate. The shares fell as much as 10% to $152.20 in extended trading. It follows similarly downbeat forecasts from other major tech providers. Companies such as Cisco Systems Inc. and Applied Materials Inc. have cut guidance because of the situation in China.
Gap Inc slashed its annual results forecast, sending shares 13% lower after hours as the clothing retailer blamed poor fashion choices at its Old Navy line and weak demand in the face of decades-high inflation. The Banana Republic parent also posted a much wider-than-expected quarterly loss, slammed by surging costs of air freight and deeper discounts. The dismal outlook echoes peers American Eagle Outfitters and Abercrombie & Fitch Co as rising prices of essentials like food force consumers to limit discretionary spending. Gap is also reeling from execution issues at Old Navy, its biggest brand.
CREDIT
The publication of FOMC minutes were not considered too hawkish and alongside growing concerns about a potential recession, investors continues to dial back the likelihood of more aggressive tightening. The Fed funds future priced in by the December meeting to 2.64% which is the lowest in nearly a Month and down from its peak of 2.88% on May 3rd. So the market has taken out nearly a full 25bp hike by now, which is the biggest reversal in monetary policy expectations this year since Russia's invasion of Ukraine began. Fed Chair Powell said at the meeting that the hawkish shift in Fed communications have already had a noticeable effect on Financial conditions.
The whole of the US Treasury curve moved lower last week, even though equity market rebounded, therefore the correlation between equity and bonds was pretty significant last week. The 2Years treasury yield lost 13bps, the 5years lost 12bps, the 10years lost 7bps and the 30years lost 4bps.
In term of fixed income performances, all spaces performed really well last week, supported by lower interest rates but especially because of some significant credit spreads tightening, for example the 5years US HY credit spreads tightened by 55bps last week. US IG gained 2.90% over the week, US HY gained 4.45% during the same period and leverage loans, which performed much better than bonds since the beginning of the year, gained only 10bps last week.
This week we will have some indicators about the pace of progression of real estate prices, we will also have the May ISM numbers as well as many data about the job market, the Job Opening number, Non-farms payrolls, the unemployment rate, the labor force participation rate as well as the Average hourly earnings.
FX
DXY. USD continues to weaken with two consecutive weekly declines. DXY fell 1.44% to close the week at 101.668, as US yields continue to fall. US data broadly disappoint with flash PMI, new home sales, pending home sales, durable goods orders, Mich. Sentiment etc, coming in below consensus. GDP annualized QoQ came in at -1.5% below consensus of -1.3% and Core PCE QoQ came in at 5.1% below consensus of 5.2%. Fed minutes report was considered less hawkish than fear, showing that officials are attentive to financial conditions while preparing to raise rate further. Immediate support at 101.40 and next at 100.
JPY and CHF strengthen 0.60% and 1.83% against USD to 127.11 and 0.9568, as US yields continue to fall for a consecutive second weeks.
EURUSD rallies 1.62% to 1.0735, alongside comments from ECB President Lagarde, who contends the ECB is not seeing a recession in the euro area. Lagarde also notes rates are likely to be positive at the end of the third quarter. EU flash PMI fell modestly, but was still strong. GBP fell 0.49% against EUR but rose 1.21% against USD following a sharp downside surprise in UK PMI data, the fourth largest decline on record. UK composite PMI came in at 51.8 against consensus of 56.5. SEK was an underperformer despite a solid labor market, as consumer confidence fell to a new post Global Financial Crisis low. EURSEK rose 0.26% to 10.5307.
AUD and NZD rose 1.73% and 2.16% against USD following broad USD weakness last week. RBNZ delivered a 50bp rate hike as expected, but revised its terminal rate forecast up to 3.95%, an increase from 3.35%. This was considered a hawkish hike from RBNZ. As such, AUDNZD fell 0.43% to 1.0961 from above 1.10.
NOK was the best performer within G10, rising 2.83% against USD, as oil prices rose. NOK, previously the most prominent short amongst G10, was short squeezed as risk sentiment and equity market rebounded towards the end of last week.
ECONOMIC INDICATORS
M – JP Machine Tool Orders, EU Econ/Indust./Svc/Cons Confid.
T – NZ Building Permit/Biz Confid., JP Jobless Rate/Retail Sales/Indust. Pdtn, CH PMI, AU Building App., SZ/CA GDP, UK Mortg. App, EU CPI, US MNI Chic. PMI/Cons. Confid.
W – JP Capital Spending, AU GDP, CH/EU/UK/US/CA Mfg PMI, UK House Px, US ISM Mfg/ISM Prices/JOLTS, CA BOC Rate Decision
Th – AU Trade Balance, SZ CPI, EU PPI, US ADP/Initial Jobless Claims/Factory Orders/Durable Goods Orders
F – AU/JP/EU PMI Svc/Comps, EU Retail Sales, US Nfp/Unemploy. Rate
Sources – Various news outlets including Bloomberg, Reuters, Associated Press




Disclaimer: The law allows us to give general advice or recommendations on the buying or selling of any investment product by various means (including the publication and dissemination to you, to other persons or to members of the public, of research papers and analytical reports). We do this strictly on the understanding that:
(i) All such advice or recommendations are for general information purposes only. Views and opinions contained herein are those of Bordier & Cie. Its contents may not be reproduced or redistributed. The user will be held fully liable for any unauthorised reproduction or circulation of any document herein, which may give rise to legal proceedings.
(ii) We have not taken into account your specific investment objectives, financial situation or particular needs when formulating such advice or recommendations; and
(iii) You would seek your own advice from a financial adviser regarding the specific suitability of such advice or recommendations, before you make a commitment to purchase or invest in any investment product. All information contained herein does not constitute any investment recommendation or legal or tax advice and is provided for information purposes only.
In line with the above, whenever we provide you with resources or materials or give you access to our resources or materials, then unless we say so explicitly, you must note that we are doing this for the sole purpose of enabling you to make your own investment decisions and for which you have the sole responsibility.
© 2020 Bordier Group and/or its affiliates.