Key market moves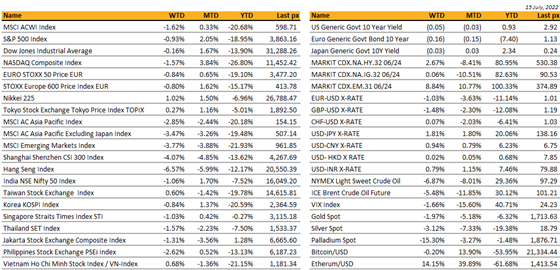 Source: Bloomberg
Macro Overview
Americas:
YoY June Headline CPI rose to its highest level since 1981, at +9.1% (vs. +8.8% expected). That's led to serious speculation among investors that the Fed could hike by 100bps at their next meeting on the 28th of July, which would be even faster than the 75bps we saw in June that itself was the biggest hike since 1994. Fed funds futures for the July meeting are pricing in +92bps (vs 74bps on Tuesday). So that's noticeably closer to 100bps than 75bps now.
We did hear from a few Fed speakers after the release, including Atlanta Fed President Bostic, who said that "Everything is in play", whilst Cleveland Fed President Mester referred to the report as "uniformly bad – there was no good news in that report at all". The blackout period for the Fed members, ahead of their next meeting, has now started.
PPI also printed above expectations. What is interesting, for the past 3Months is the dichotomy between headline and core prints. Headlines are pushing higher while core prints are slowly going down for the past 3Months. So based on these observations, it is possible that we would have seen already the peak in terms of inflation. Headline numbers should also go down overtime if energy prices goes down or at least remain roughly at the current levels.
The two last important economic data which were release last week were the June retail sales. They were stronger than previous Month and also beat expectations. We also had the publication of the University of Michigan 5-10years inflation forecast which came out lower than expectation at 2.80% Vs 3% expected. If we put together the strong employment numbers of the previous week, the strong retail sales and high inflation prints last week, it probably lead the Fed to believe that, with the current state of the US economy, they can afford to be quite aggressive during the FOMC meeting at the end of this Month.
In term of the impact of all these data on the US Treasury curve, the whole curve is now inverted, the 2years remain unchanged over the week but the 5, 10 & 30years yield went down respectively by 9 & 18bps for the long part of the curve.
Also, we have just had kickoff on Q2 earnings, what the market fears is bulk earnings downgrades. We are watching this space. S&P up 1.9% on Friday, on the back of better US data, and after the FOMC's resident hawks walked back the prospects of a super-sized 100bps hike in July, and signaled that a 75bp increase remained preferable despite the CPI beat. The index closed the week 0.9% lower.
Europe / UK / Middle East (EMEA):
European stocks closed higher on Friday, as automakers and retail stocks rebounded, which saw investors grapple with shifting expectations of US interest rate hikes, a political crisis in Italy and recession risks. Eurostoxx 50 closed the week down 0.84%.
All eyes were on Italy last week. Prime minister Draghi offered his resignation after the Five Star party, a key member of his coalition government, boycotted a vote on a Euro 26B aid package to help families with soaring inflation. Mario Draghi resignation was refused by President Mattarella. The prime minister will address lawmaker in the parliament on Wednesday.
Following the news about his resignation, the 10year spread between Germany and Italy widened last week by 20bps. All these happened just a few days before the most important ECB meeting which will happen this Thursday and when it is expected that European central bank will hike rate by 25bps but more importantly they should communicate the details of their anti-fragmentation program for the Eurozone.
London Heathrow airport is limiting summer passengers. Daily travelers will be capped at 100,000 amid staff shortages. Airlines will also be asked to stop selling tickets until September.
Croatia is officially joining the euro zone. It plans to adopt the euro currency in 2023, and will be the 20th nation to join the monetary union.
A heat wave fueled wildfires across Europe. Firefighters battled blazes across the Mediterranean region as the UK braces for record-high temperatures
Asia:
Asian markets ended broadly lower last week. MSCI Asia ex Japan closed the week -2.85%. China and Hong Kong were weakest, down more than 4.0% and 6.5% respectively last week
China's Q2 GDP data showed economic growth slowed to just +0.4% year-on-year in Q2 (vs. +1.2% expected). On a quarter-on-quarter basis, there was even a -2.6% contraction (vs. -2.0% expected), which marks the first quarterly contraction since Q1 2020 when the Covid-19 pandemic started. The data for June alone was better however, with retail sales up +3.1% year-on-year (vs. +0.3% expected), and industrial production up +3.9% year-on-year (vs. +4.0% expected). Separately, China have reported their highest number of daily Covid-19 cases in 7 weeks, with 432 infections yesterday, of which 165 were in Guangxi province.
China will repay some victims of the Henan bank scandal. Authorities have named the alleged culprit of what could be one of China's biggest financial scams.
Chinese president Xi Jinping visited Xinjiang. It was his first visit to the region since his government started to crack down on the Uyghur minority, which has brought international sanctions.
Mongolia expects Russia to begin construction of the "Power of Siberia 2" gas pipeline through its territory to China within two years, as Moscow moves to connect its Europe-supplying gasfields to Asia for the first time.
The Reserve Bank of India (RBI) has allowed trade settlements between India and other countries, including Sri Lanka and Russia, in rupees.
India has stepped up a crackdown on the Chinese companies that dominate its smartphone market in a series of legal actions that have raised trade tensions between Asia's two biggest nations. Oppo, which sells both the popular realme brand and its eponymous marque, was accused by Indian regulators of tax evasion this week. That followed recent raids, lawsuits and sweeping asset seizures against Xiaomi and Vivo. Together, the three Chinese technology groups control about 60 per cent of India's smartphone market.
Indonesia temporarily removed a levy on palm oil exports. The world's biggest palm oil exporter is trying to get rid of excess stock.
Sri Lanka's parliament has confirmed that President Gotabaya Rajapaksa is no longer in power following his resignation on Thursday after fleeing to Singapore, prompted by weeks of protests in his home country.
COMPANIES
Shares in Chinese electric car maker BYD fell 12 per cent after a stake close to the size of Berkshire Hathaway's appeared in the Hong Kong stock exchange clearing system, prompting speculation that Warren Buffett's conglomerate might dump its holdings. Berkshire in February owned a total 7.7 per cent stake in BYD, according to its annual letter to investors. The group valued its holding at almost $7.7bn, reflecting a more than 33-fold gain from its initial investment of $232mn made in 2008.
Apparel retailer Gap Inc. slid around 5% following its announcement that its CEO would step down, and those margins would stay under pressure in Q2 due to input costs.
Shares for French energy giant EDF surged ahead of nationalization. The government is reportedly preparing to pay €8 billion ($8.05 billion) as it looks to secure its energy supply.
LianLian is seeking 1.5 billion yuan ($223 million) in pre-IPO financing. The rival to Jack Ma's Ant Group, whose own IPO was stopped by Chinese regulators in 2020, is planning a Hong Kong debut next year.
New studies of Pfizer's antiviral drug Paxlovid, raised significant questions about the drug. These include how well it works in lower-risk patients, why some suffer Covid-19 "rebound" — symptoms returning after they stop taking the drug — and whether the virus could become resistant to it. The initial trials and great efficacy was based on unvaccinated people, while the majority of recipients of the drug are now vaccinated.
Google is slowing hiring after a recent spree, making it the latest big technology company to take a more cautious stance. It follows moves by both Microsoft and Facebook's owner Meta to ease recruitment in some areas in recent weeks. The Google chief said the hiring slowdown at the internet company was a direct result of the large number of new jobs it created this year. However, he also warned about the worsening economic outlook and said Google would be "pausing development" in some areas to focus its investments.
FX
DXY USD continues its uptrend, rising 0.99% to 108.063, as both CPI and PPI came in better than expectation. CPI Yoy came in 9.1% (C: 8.8%, P: 8.6%), while PPI yoy came in 11.3% (C:10.7%, P:10.8%). Other US data were strong as well, with retail sales mom outperforming at 1.0% (C: 0.9%), and Michigan consumer sentiment outperforming at 51.1 (C: 50.0). US inflation expectation eases off, with 5y5y coming in at 2.8% (C: 3.0%, P: 3.1%).
USDJPY rose to an intra-day high of 139.40 within the week, the highest level since 1998, before closing the week at 138.57 (+1.81%), as policy divergence between the Fed and BoJ became even more apparent due to strong US CPI.
European G10 Currencies fell against USD due to broad based USD strength , EURUSD (-1.03%), GBPUSD (-1.48%), USDSEK (+0.22%) and USDNOK (+0.97%). EURUSD fell to a low of 0.9952 during the week, before rebounding to close above parity at 1.008, as concerns over Russia gas cut-off mounts. GBP was the worst performing, despite monthly GDP outperforming consensus at 0.5% (C: 0.1%), as market focus on the growth concerns in the UK. SEK performs the best, as inflation print was a big upside surprise, with CPIF yoy rose to 8.5% (C: 8.1%; P: 7.2%).
CAD rose 0.43% against AUD, but fell 0.66% against USD, as BOC delivers a surprise 100bp rate hike (C: 75bp), to bring the policy rate to 2.5%. BOC decided to front-load its rate path, in order to tackle its high inflation while economy has been over-heating, and to bring inflation back to 2% with a soft landing.
AUD & NZD fell 0.93% and 0.44% respectively against USD to 0.6793 and 0.6165 due to broad based USD strength. RBNZ followed suit with a 50bp rate hike to bring the Official Cash Rate (OCR) to 2.50% as expected. AUD was supported by strong Australian employment data (unemployment rate at 3.5%, consensus at 3.8%) and reports China may end an Australian coal ban, amid Russian supply concerns.
Oil & Commodity continues its downward trend, as recession risks mount. WTI and Brent fell 6.87%% and 5.48% to 97.59v and 101.16. Iron Ore fell significantly at -13.25%, while Aluminium fell 3.84% and Copper fell 7.88%.
ECONOMIC INDICATORS
M – NZ CPI, UK House Prices, CA Housing Starts
T – AU RBA Mins, UK Unemploy. Rate, EU CPI, US Housing Starts
W – AU Leading Index, CH LPR, UK/CA CPI, EU Current Acc, US Mortg. App./ Existing Home Sales, EU Cons. Confid.
Th – NZ Trade Balance, JP BOJ Rate Decision, EU ECB Rate Decision, US Leading Index
F – JP CPI, AU/JP/EU/UK/US Svc/Mfg/Comps PMI Jul Prelim, UK/CA Retail Sales
Sources – Various news outlets including Bloomberg, Reuters, Associated Press




Disclaimer: The law allows us to give general advice or recommendations on the buying or selling of any investment product by various means (including the publication and dissemination to you, to other persons or to members of the public, of research papers and analytical reports). We do this strictly on the understanding that:
(i) All such advice or recommendations are for general information purposes only. Views and opinions contained herein are those of Bordier & Cie. Its contents may not be reproduced or redistributed. The user will be held fully liable for any unauthorised reproduction or circulation of any document herein, which may give rise to legal proceedings.
(ii) We have not taken into account your specific investment objectives, financial situation or particular needs when formulating such advice or recommendations; and
(iii) You would seek your own advice from a financial adviser regarding the specific suitability of such advice or recommendations, before you make a commitment to purchase or invest in any investment product. All information contained herein does not constitute any investment recommendation or legal or tax advice and is provided for information purposes only.
In line with the above, whenever we provide you with resources or materials or give you access to our resources or materials, then unless we say so explicitly, you must note that we are doing this for the sole purpose of enabling you to make your own investment decisions and for which you have the sole responsibility.
© 2020 Bordier Group and/or its affiliates.