Key market moves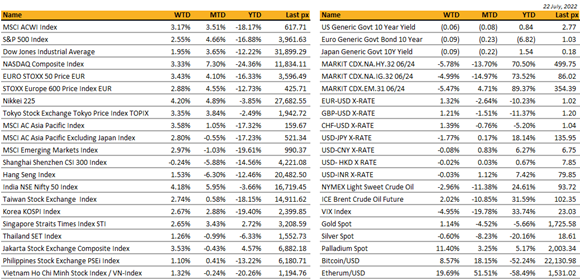 Source: Bloomberg
Macro Overview
Americas:
US equity markets continued its impressive rebound, with the S&P 500 clocking in an +2.55% performance for the week, its best performance in a month. Better than expected overall earnings are providing markets with some upside momentum.
All 3 major indices continued its rebound following a breach and close above their respective 50-day moving averages for the year last week.
However, markets on Friday ended in the red led by Tech as troubling earnings from some social media stalwarts (Snap/Twitter) dampened sentiment. A contracting business activity report for the 1st time in more than 2 years from purchasing managers also dampened sentiment, adding fuel to fears of an economic downturn. The Philadelphia Fed factory activity index massively disappointed, missing estimates at +0.8 and came in at -12.3, the second consecutive contraction, following weaker than expected ISM & manufacturing readings.
On the bright side however, economists surveyed by Bloomberg, expect the Fed Reserve to slow its pace of rate hikes after a big increase last month. The next FOMC meeting is on Wednesday.
Price declines in energy and industrial commodities, improving supply chain bottlenecks, coupled with the trend of slightly weaker than expected economic data is providing increased support for the 'peak inflation/Fed narratives'. Treasuries rallied sharply after the contraction in business activity data, on heightened fears the economy will plunge into a recession. Friday saw the slide in Treasury yields gather pace with the weak economic reading spurring bets the Fed will slow its pace of rate hikes. UST10Y yield tumbled some 12 bps to close at 2.75%, 30's were down 7 bps to 2.97% and the 2's were down 11 bps to close at 2.97%.
The street is expecting Powell to deliver another 75-bps hike next week and then pull back its pace after. Bloomberg also reported that the rally in bond market has been accompanied by large block trades in 5 & 10 year futures, indicating the initiation of fresh long positions in these parts of the Treasury curve by investors leaning toward a stalling economy. Housing data fell short of expectations, blaming rising yields and surging borrowing costs.
Bank of America's latest monthly fund manager survey showed investors slashing their exposure to risk assets to an all-time low indicating a capitulation. The question remains whether a bottom has been reached….
On Wednesday, President Biden said that he expects to speak to Chinese leader Xi Jinping "within the next 10 days" as Washington considers lifting some tariffs on Chinese imports, an aim at reducing imported inflation and (hopefully) improving relations with China.
Key releases in the coming week will be Thursday's FOMC announcement, Q2 GDP annualized, Core PCE, Personal Consumption, and durable goods orders.
Cryptos have held to recent rebounds as well with BTC circa $22,500 and ETH at $1,550 with sentiment returning to the fore.
Europe / UK / Middle East (EMEA):
UK inflation hit a new 40-year high in June. Consumer prices rose 9.4% from a year earlier, the biggest increase since February 1982. Prices are now rising far more quickly than wages. The pain for households is set to get worse, with inflation forecast to top 11% in October when another energy price-hike kicks in.
BOE Governor Andrew Bailey floated the possibility of a half- point rate increase in August as the central bank steps up its battle to bring inflation back to the 2% target. If delivered, it would mark the first half-point increase since the BOE gained independence in 1997.
Eurozone PMIs missed, manufacturing down 2.5pts to 49.6, services down 2.4pts to 53.0
To meet the energy demands, the EU is turning to the Middle East for supply. The EU signed a natural gas deal with Azerbaijan… The move comes amid a 60% drop in natural gas supply and anticipation of a full Russian cutoff. Russia's Gazprom has claimed it can't ensure supply to European buyers due to "extraordinary" circumstances. France and the UAE also shook hands on energy. Their agreement will secure France's access to oil and natural gas as it seeks to wean off reliance on Russia.
Putin says that Nord Stream flows will be capped ~20% rather than 40% if other turbine parts are not services/returned. No gas is flowing through the biggest pipeline to Europe because of maintenance, just as the continent is trying to refill its storage for winter. Before maintenance, gas was flowing at about 40% of Nord Stream's capacity. Russia has also curbed flows through other routes, such as via Ukraine.
Six countries froze debt payments from Ukraine. The US, UK, Japan, Germany, France, and Canada called on other creditors to join them in giving Ukraine more time to repay its loans.
EU remains the focal point as Italian snap elections seem likely. Mario Draghi would resign as Italian prime minister, after members of his coalition indicated they would boycott a vote of no confidence.
Spain and Portugal reported at least 1,169 deaths during a record heat wave. Firefighters are still battling blazes in France, Spain, and Portugal as the heat wave moves east.
Asia:
Markets in Asia were mostly in the green with the expectation of CSI 300 index which closed down 24bps last week. The MSCI Asia ex Japan index was up 2.8%. India and Japan staged the best returns in the week, both up more than 4%. Month to date, India is up close to 6%.
As China economy shows initial signs of recovery, Premier Li stated at WEF that the most important thing is to keep employment and prices stable and China will avoid massive stimulus to hit an overly high growth target. China's urban unemployment rate eased slightly to 5.5% in Jun but youth unemployment soared to 19.3%. On the inflation side, CPI rose from 2.1% in May to 2.5% in Jun. Instead of introducing a large-scale stimulus to meet the high-growth target, Chinese government would focus to support the area that will help China grow in a sustainable way.
China's holdings of U.S. debt have fallen below $1 trillion for the first time in 12 years amid rising interest rates that have made Treasury's potentially less attractive. The decline in China's share also has been attributed to Beijing working to diversify its foreign debt portfolio.
Separately, China issued stark warning to the Biden Administration against US House Speaker Nancy Pelosi's planned visit to Taiwan, which the FT reported as "significantly stronger than the threats that Beijing has made in the past". Earlier last week President Biden said he is expected to speak to President Xi in the next 10 days, and the two are expected to discuss Taiwan among other topics like the tariffs on Chinese goods as a way to mitigate some impact of imported inflation to the US.
Ordinary Chinese people are publicly revolting, with rapidly escalating boycotts on mortgage payments spread across at least 301 projects in about 91 cities. These homeowners accuse developers of failing to deliver apartments they've already paid for: the value of mortgages that could be affected has swelled to an estimated 2 trillion yuan ($297 billion). The property sector has been lurching from one crisis to another over the past year, as it grapples with mounting liabilities, a slowing economy and flagging demand, while its sources of fresh fundraising have been drying up. President Xi is just months away from a once-in-five-years Communist Party meeting, at which he's expected to secure a third term in office.
Singapore's central bank is confident that despite rising interest rates, there are no heightened risks that households cannot service their loans. Household debt remains generally healthy in SG which has among the strictest limits in the world on household borrowing. MAS believe that global inflation hasn't peaked yet, expects inflation to ease only next year as major central banks withdraw policy support and address supply challenges. The yield on 10-year Singapore Government Securities (SGS) closed at 2.78% — below the 2-year SGS yield of 2.84% last week. This inversion usually means higher home mortgage rates is expected.
The Bank of Japan projected inflation would exceed its target this year in fresh forecasts issued on Thursday, but maintained ultra-low interest rates and signalled its resolve to remain an outlier in a wave of global central banks'policy tightening. BOJ Governor Haruhiko Kuroda brushed aside the chance of near-term policy tightening, saying he had "absolutely no plan" to raise interest rates or hike an implicit 0.25% cap set for the bank's 10-year bond yield target.
Indonesia's central bank left its policy interest rate unchanged at a record low on Thursday but said it would lift yields on other short-term debt, taking the money market back towards pre-pandemic normality. Bank Indonesia (BI) said the current level of its benchmark seven-day reverse repurchase rate, 3.50 per cent, remained consistent with its low forecast for core inflation and the impact of global economic slowdown on the domestic economy.
Thailand's Industries Sentiment Index rose for the first time in three months in June after the government lifted most Covid-related restrictions and attracted more tourists
India elected Droupadi Murmu as the next president. A tribal leader from Odisha, she will become the second woman to hold India's highest office.
COMPANIES
Goldman Sachs warned on Monday that it would slow hiring and may cull underperforming staff. With fears of a recession mounting, Goldman chief executive David Solomon warned of increasing uncertainty owing to high inflation, monetary policy tightening in the US and the war in Ukraine. For the second quarter, Goldman reported net income fell 47 per cent to $2.9bn or $7.73 per share, from $5.5bn or $15.02 per share in the same period last year.
Netflix lost 970,000 subscribers in the second quarter. The streaming service, which anticipated a loss of 2 million, said it expects to add 1 million subscribers in the third quarter. Asia-Pacific was the only region in which Netflix added subscribers in the three months to the end of June. Netflix outlined plans to jump-start growth, announcing it would next year roll out a new payment plan for users who share an account. It has vowed to crack down on password sharing, estimating that 100mn households are using but not paying for Netflix. Netflix shares rose by 7 per cent in after-hours trading, but are still down nearly 70 per cent since the start of the year. Netflix earned $1.4bn in net income on $8bn in revenue during the quarter. It said that a stronger US dollar had resulted in a $339mn hit to revenue.
Microsoft Corp., Google and Lyft Inc. are some of the latest companies to pull back on hiring. Microsoft said Wednesday it was eliminating many job openings. Google is pausing hiring for the next two weeks, while Lyft is shutting down a division and trimming jobs.
Amazon has agreed an all-cash deal to buy US healthcare provider One Medical for $3.9bn. It will pay One Medical shareholders $18 per share, a more than 75 per cent premium on its closing price on Wednesday.
Weak earnings reports from the social media companies delivered a one-two punch that reverberated through the digital advertising sector on Friday. Digital advertising often acts as a leading indicator of the online economy. Snap's earnings disappointed, from 38 per cent in the first quarter, Snap's revenue growth tumbled to 13 per cent in the second. And Snap has so far seen no growth in the current quarter while analysts are expected 18% expansion. Facebook's parent, Meta, already facing what could be its first-ever revenue decline, will be reporting quarterly earnings on Wednesday this week.
SoftBank has put on hold plans for a London initial public offering of Arm because of the political turmoil in the UK government, throwing doubt on Britain's place as the future home of the Cambridge-based tech giant. UK prime minister Boris Johnson has personally lobbied SoftBank's billionaire founder Masayoshi Son to secure at least a partial listing for the chip designer on the London Stock Exchange. As Johnson's government collapsed earlier this month, investment minister Lord Gerry Grimstone and digital minister Chris Philp resigned. They had both played leading roles in talks with the Japanese tech investor. Baidu revealed a new self-driving taxi. The tech giant, whose robo-taxis have been trialed in 10 Chinese cities since 2020, says the Apollo RT6 is cheaper to manufacture.
Chinese offshore tech stocks advanced last week after Didi Global was finally fined over RMB 8 billion, bringing an end to a yearlong investigation into the company's cybersecurity practices. Company Chairman Will Cheng Wei and President Jean Liu Qing were each fined RMB1mn and the authorities did not say whether Didi's apps, 26 of which were removed from domestic app stores in Jul 2021, would be restored. The penalties fell short of the worst fears of some industry observers, who had expected executives or the company to draw harsher punishment. The announcement signals that the worst may have passed for the company.
FX
DXY USD fell 1.23% to 106.73, as prelim composite US PMI for July fell below 50, into contraction territory to 47.5 (C:52.4, P: 52.3). Svc PMI came in 47.0 (C:52.7, P:52.7), while Mfg PMI came in 52.3 (C:52.0, P: 52.7). All eyes will be on the FOMC meeting this Thursday morning.
JPY & CHF strengthened against USD due to renewed global growth slowdown concerns as Euro Area and US PMI fell into contraction territory. USDJPY fell 1.77% to 136.12 and USDCHF fell 1.46% to 0.9629. BoJ remains status quo on monetary policy, with policy rate at -0.1% and maintains the 25bp ceiling for 10y JGBs under its YCC framework.
EURUSD rose 1.32% to 1.0213 due to broad based USD weakness. ECB front-loads its exit from negative interest rates with a 50bp rate hike, its first hike in 11 years, and approves the Transmission Protection Instrument (TPI) to ensure monetary policy is transmitted smoothly across all euro area countries. However, the terminal rate did not change, and forward guidance is now discarded. EUR recovered despite composite PMI coming in below 50 at 49.4 (C:51.0, P:52.0), and the resignation of Italian Prime Minister Draghi putting pressure on EUR. Resistance level on EURUSD at 1.035, and the next at 1.05.
GBPUSD rose 1.21% to 1.1999. Data wise, UK headline inflation rose to 9.4% yoy (C: 9.3%), but core inflation declines for a second consecutive month to 5.8% (P: 5.9%). UK PMI for July PMI performed relatively better than EU and US, with composite at 52.8 (C: 52.4, P: 53.7)
AUD rose 2.00% and 0.36% against USD and NZD respectively, as minutes from the RBA's July meeting explicitly state "the current level of the cash rate is well below the lower range of estimates for the nominal neutral rate." This imply further rate hikes are likely.
Oil & Commodity – Bloomberg Commodity Index rose 2.69% with Aluminium and copper rising 5.66% and 3.64% respectively. Risk appetite returned with dollar weakening and Europe's economy set to avoid the bleakest scenarios for Russia gas supplies. Brent rose 2.02% to 103.2, while WTI rose 0.14% to 94.7.
ECONOMIC INDICATORS
M – US Chicago Fed Nat Act./ Dallas Fed Mfg Act.
T – US Richmond Fed Mfg/ Cons. Confid./ New Home Sales
W – CH Indust. Profits, AU CPI, EU M3 Money Supply, US MBA Mortg. App./ Durable Goods Orders/ Pending Home Sales/ FOMC Rate Decision
Th – NZ Biz Confid., AU Retail Sales, EU Econ/Indust./Svc Confid., US GDP/ Personal Cons./ Core PCE/ Initial Jobless Claims
F – NZ Cons. Confid., JP CPI/ Retail Sales/ Indust. Pdtn, AU PPI, UK Mortg. App., EU CPI/ GDP, CA GDP, US Personal Income/ Personal Spending/ MNI Chic. PMI/ Mich Sentiment
Sources – Various news outlets including Bloomberg, Reuters, Associated Press




Disclaimer: The law allows us to give general advice or recommendations on the buying or selling of any investment product by various means (including the publication and dissemination to you, to other persons or to members of the public, of research papers and analytical reports). We do this strictly on the understanding that:
(i) All such advice or recommendations are for general information purposes only. Views and opinions contained herein are those of Bordier & Cie. Its contents may not be reproduced or redistributed. The user will be held fully liable for any unauthorised reproduction or circulation of any document herein, which may give rise to legal proceedings.
(ii) We have not taken into account your specific investment objectives, financial situation or particular needs when formulating such advice or recommendations; and
(iii) You would seek your own advice from a financial adviser regarding the specific suitability of such advice or recommendations, before you make a commitment to purchase or invest in any investment product. All information contained herein does not constitute any investment recommendation or legal or tax advice and is provided for information purposes only.
In line with the above, whenever we provide you with resources or materials or give you access to our resources or materials, then unless we say so explicitly, you must note that we are doing this for the sole purpose of enabling you to make your own investment decisions and for which you have the sole responsibility.
© 2020 Bordier Group and/or its affiliates.