Key market moves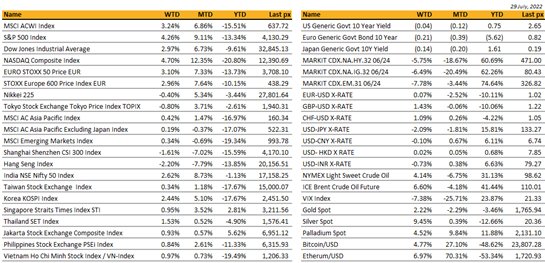 Source: Bloomberg
Macro Overview
Americas:
What a week it was. Another supersized move by the Fed, a drop in US GDP and the Nasdaq had its best performance in over 2 years whilst the S&P 500 posted its best month since November 2020. The S&P 500 closed Friday, above its 100 day moving average – yet another sign that this "relief rally" has legs to run. Big Tech and Big Oil companies outperformed after beating Wall Street targets. Both Apple and Amazon issued resilient results whilst Exxon and Chevron reported record quarters. Earnings beat overall, continue to fuel optimism in an otherwise bleak outlook. Clearly the week epitomized that bad news is good news.
The Fed raised interest rates by 75 bps to 2.5% (upper band) as expected. The committee voted unanimously with Jerome Powell leaving large hikes on the table for subsequent meetings, data dependent. Stocks surged after, as Powell discussed the central bank possibly slowing rate increases. The Fed's statement read, "recent indicators of spending and production have softened" which led to the market interpreting that the Fed may slow its pace of hikes, as inflation may have peaked.
The 10-year yield on UST fell 10 bps for the week to close at 2.65%. FI Quant models (Bloomberg) reportedly unwounded some $100 bln of bearish bond bets which has helped the world's biggest markets recover from the worst first-half in history. Inflationary concerns have shifted towards recession recently as many accept that it could be the price to pay in order to bring inflation down.
US GDP fell for the 2nd consecutive quarter with the latest read showing a 0.9% annualized contraction after the previous quarter's decline of 1.6%. Technically, this puts the US in recession as defined by 2 quarters of negative growth. The National Bureau of Economic Research however, the "official" arbiter of recessions in the US, stated that the US has not entered a recession as yet as the labor market remains strong – wages, price and consumer spending all continue to rise. A denial perhaps, but data coming out of late do not augur well unsurprisingly given rises in prices. Personal consumption fell for the first time since the pandemic, as did advance goods trade balance and mortgage applications. The Fed's preferred inflation gauge, PCE Core Deflator YoY remained elevated at 4.8%.
This week will see the release of US employment data together with ISM manufacturing and factory orders to give us a better read on the state of the economy following recent Fed hikes. Consensus is expecting an unchanged 3.6% unemployment read with non-farm payrolls to come in at +250k.
Cryptos fared better all week with risk-on sentiment trading around BTC$24,000 and ETH$1,700.
US semiconductors had a bit of a shot in the arm following the House's passing a bill aimed at boosting US semiconductor production. Biden is to sign it into law soonest. This bill will provide incentives for domestic semiconductor manufacturing as well as R&D and includes more than $50 bln in funding for that aim. Consider US heavy Semi ETF's which still have a long ways to recover post the year's selloff: SMH US, SOXX US.
Europe / UK / EMEA:
Strong beat on Eurozone GDP, up 0.7%qoq in Q2. Also a beat on Eurozone CPI, up 0.1%mom in July, consensus at -0.1%mom. Year-ended at 8.9%, core rose to 4.0%.
Second-quarter earnings for companies that are part of the STOXX 600 are expected to increase 23.1% from a year earlier, according to Refinitiv. Of the 35% that have reported so far, nearly 60% have topped estimates.
European natural gas prices soared. Russia's Gazprom cut back Nord Stream 1 pipeline's capacity by 20% yesterday in a move the EU has called "politically motivated."
In response, the EU agreed to curb natural gas demand by 15%. Member states, barring Hungary, voted to reduce natural gas usage, with some exemptions, in anticipation of further Russian cuts. The Council also extended sanctions against Russia to 2023.
The IMF cut its global economic forecast again. It predicts 3.2% growth for 2022 and 2.9% for 2023, but warned that results could be even lower. The UK is expected to have the slowest growth among G7 nations next year.
France's economy expanded by 0.5 per cent in the three months to June, outstripping analysts' expectations. Inflation in France was 5.8 per cent in the year to June. While domestic demand in France did not grow in the second quarter, gross fixed capital formations increased by 0.5 per cent compared with the first quarter. Exports grew by 0.8 per cent, while imports declined by 0.6 per cent.
Ukraine's president Volodymyr Zelenskyy has urged residents of the country's easternmost Donetsk region to leave the province as Russia continues its offensive to conquer the area. Zelenskyy said hundreds of thousands of people were still living in the industrial heartland where "the fiercest fighting" was taking place. Moscow is trying to take over the whole of Ukraine's eastern Donbas region, made up of the provinces of Donetsk and Luhansk. Russian forces now occupy all of Luhansk.
Asia:
Asian markets closed mixed with China underperforming. CSI 300 and the Hang Seng led weakness, down 1.6% and 2.2% respectively. India was the best performer, up 2.6% in Asia. MSCI Asia Ex Japan index closed the week flat, +0.19%.
China's Politburo decided to remain zero-COVID policy and there is no more mention of "5.5%" GDP growth target in the communique. Instead, the country will now "strive to achieve the best possible results," according to a statement after the Politburo. The Communist Party will undergo a leadership reshuffle at its 20th party congress this fall. President Xi Jinping is expected to seek a historic third term in power at the meeting. If successful, he would be re-elected as the president in the parliamentary session in March 2023.
The presidents of the US and China talked for two hours. The White House called the phone chat a relationship-tending mission, while Beijing called the conversation productive but warned it would "never leave any space for Taiwan independence forces in any form." Xi did not directly mention Pelosi's possible visit but said his administration would "resolutely safeguard China's national sovereignty and territorial integrity". "Those who play with fire will perish by it. It is hoped that the US will be clear-eyed about this," China's president added.
China's factory activity unexpectedly contracted in July, reversing earlier economic momentum as sporadic Covid outbreaks weigh on the recovery. China's recovery is sputtering after a short spurt in the wake of Shanghai's reopening, Bloomberg Economics says.
The current property crisis in China dragged the financial and real estate sectors. Though sources reported that Beijing is seeking up to $148bn of loans to rescue the sector, JP Morgan's China Economist noted it "would be marginally positive, but unlikely a quick fix to ease concerns"
Shenzhen sealed off major manufacturing areas. The Chinese tech hub aims to continue production amid a covid outbreak using a "closed loop" containment system.
China's electricity usage reached record levels. The ongoing heat wave has led to blackouts as cities across the country hit temperatures of 35°C (95°F) and higher.
Tokyo core inflation prints 2.3% YoY in July vs 2.2% survey; 2.1% prior. Japan's factory order surged record high at 8.9% in June amid eased COVID restriction in China.
Vietnam's central bank plans to keep this year's credit growth target at 14% despite some calls that it needs to be raised to ease the property market's cash flow bottleneck.
Australia is on track for its steepest tightening of monetary policy in a generation, raising the risk of an economic slowdown as the housing market shifts into reverse and consumers pull back on spending. Sydney home prices declined for a sixth straight month, driving a fall in property values across Australia as rising interest rates hit demand.
North Korean leader Kim Jong Un has accused the US and South Korea of bringing the Korean peninsula to the "brink of war" . Kim threatened to "wipe out" South Korean forces with nuclear weapons in the event of a confrontation. Pyongyang has also finalised preparations for its seventh nuclear test, according to the US and South Korean governments. A joint US-South Korean military exercises next month will be the first large-scale drills since 2018, when they were scaled down ahead of a summit between Kim and then-US president Donald Trump.
COMPANIES
Microsoft's revenue and income fell short, as did the company's revenue from Azure and other cloud services. It was the slowest revenue growth since 2020, at 12% year over year in the quarter. he company's earnings per share fell short of consensus for the first time since 2016, with net income rising 2% to $16.74 billion. For the new 2023 fiscal year, the company reiterated its forecast from three months ago, despite the economic climate.
Google parent company Alphabet reported earnings that missed Wall Street estimates after the closing bell on Tuesday. Ad revenue totaled $56.29 billion during the period, topping the $56.14 billion analysts had expected. Alphabet jumped 7.7 per cent despite reporting its slowest revenue growth in two years.
Amazon will raise prices in Europe. Delivery services and Prime streaming fees will be increased by as much as 43% a year in an effort to buoy profits. Amazon reported revenues of $121.23B (+7.2% y/y), an Ebit margin of 2.7% (vs. 6.8% in Q2-2021), a net loss of $2B and an EPS of $-0.20. Advertising revenue (including NA, International and AWS) was $8.75B (+21% y/y).
Apple's revenues grew slightly on the back of iPhone sales and its services division despite headwinds from supply chain shortages. Revenues had risen 2 per cent from a year ago to $83bn, slightly ahead of analysts' forecasts for $82.8bn. iPhone, which accounted for 49 per cent of overall revenue, ios still thriving, with a record number of people switching from android to iPhone according to the company.
Visa's revenue for the fiscal third quarter grew to $7.3 billion from $6.1 billion, while analysts had been expecting $7.1 billion. The company notched net income of $3.41 billion, or $1.60 a share, compared with $2.58 billion, or $1.18 a share, in the year-earlier period
Intel shocked Wall Street as it reported a slump in revenue. The biggest US chipmaker by revenue blamed the disappointing results on weakening economic conditions, supply chain disruptions and competitive pressures. Revenue for the second quarter of the year tumbled by 17 per cent from a year before to $15.3bn, while earnings per share fell 79 per cent to 29 cents. For the current quarter, the chipmaker said it expected revenue of $15bn-$16bn, well below the $18.6bn analysts had penciled in.
Mark Zuckerberg warns 'economic downturn' will have 'broad impact' on digital ad spend in gloomy forecast. Meta's revenues for the April-June period were $28.82bn, down 1 per cent on the same period in 2021. Meta's results matched a trend of poor performance among the big players in online advertising. Meta's net income fell to $6.69bn from $10.39bn last year. Wall Street had been expecting a profit of about $7bn. The company said it expected revenue for the current quarter to land between $26bn and $28.5bn, lower than the $30.4bn analysts had been anticipating
Jack Ma plans to give up control of Ant Group. Relinquishing control of the company could put its road blocked IPO back on track, reports the Wall Street Journal. Ma's move to give up control could be done through changes to a voting agreement struck in the run-up to Ant's planned Shanghai and Hong Kong dual offering.
Indonesia banned Yahoo, Steam, Epic, and PayPal before giving a temporary reprieve. The country blocked access to companies that haven't registered with the government's scheme to access private user data, but granted a five-day extension to PayPal so that people could withdraw their money and find other services.
FX
DXY USD fell 0.77% to 105.903 due to a less hawkish Fed, despite the Fed delivering a second 75 bp rate hike to the 2.25% – 2.50% range, right in the range of what the FED thinks is neutral. Rate decision in September (50 or 75 bps hike) would be data dependent. In addition, Chair Powell added that as policy tightens further, it would be appropriate to slow the pace of rate increases. Data wise, US GDP came in at -0.9% (C: 0.4%), indicating a technical recession, adding to USD weakness. However, Core PCE inflation came in at 0.6% mom (C: 0.5%; P: 0.3%), its highest monthly reading since April 2021.
JPY strengthened 2.09% against USD to 133.27 despite risk on sentiment at the end of the week, suggesting month end flow in play. A dovish Fed, therefore weaker USD, dominates the direction of USDJPY.
EUR continued its broad-based weakness as markets remained confident in using the currency as a funder, given the weak Eurozone growth outlook, while Russia may keep vital gas flows to Europe at minimal levels. In addition, EU countries struck an agreement to cut gas use by 15% through next winter. EURGBP fell 1.36% to 0.83934, while EURUSD was unchanged for the week at 1.022. EURCHF dipped to a new all-time low of 0.97313.
GBPUSD rose 1.43% to 1.2171, as risk on sentiment dominates. We have the BOE rate decision this Thursday, where BOE is expected to hike 50 bps.
AUD rose 0.81% against USD to 0.6985 due to broad USD weakness, while AUDNZD rose 0.44% to 1.1109. Data wise, Headline Inflation rose further above the RBA's target band in 2Q22, despite coming in below consensus, increasing 1.8% qoq (C: 1.9%) and 6.1% yoy (C: 6.3%). This represents the largest annual increase since 1990. AU retail sales also surprised to the downside, as it rose 0.2% mom (C: 0.5%). We have the RBA rate decision this Wednesday, where RBA is expected to hike.
Oil & Commodity – Bloomberg Commodity Index continues its upside for a second week, rising 4.55% due to risk on from a dovish Fed. Copper and Iron Ore rose 6.24% and 17.55% for the week respectively. WTI and Brent rose 4.14% and 6.60% respectively as well. In addition, OPEC and its allies will consider keeping oil output unchanged for September when they meet this week, despite calls from the United States for more supply, although a modest output increase is also likely to be discussed.
ECONOMIC INDICATORS
M – AU Inflation, JP/CH/EU/US PMI Mfg July, EU Unemploy. Rate, US ISM Mfg/ISM Prices
T – AU Building App./RBA OCR, UK Nationwide House, SZ/CA PMI Mfg July, US JOLTS
W – NZ Unemploy. Rate, AU/JP/CH/EU/UK/US PMI Svc/Comps July, AU Retail Sales, SZ CPI, EU PPI/Retail Sales, US MBA Mortg. App/Durable Goods Orders/Factory Orders/ISM Svc
Th – AU Trade Balance, UK Construction PMI/BOE Rate Decision, CA Building Permits, US Trade Balance/Initial Jobless Claims
F – JP Leading Index, CA Unemploy. Rate, US NFP/Unemploy. Rate
Sources – Various news outlets including Bloomberg, Reuters, Associated Press




Disclaimer: The law allows us to give general advice or recommendations on the buying or selling of any investment product by various means (including the publication and dissemination to you, to other persons or to members of the public, of research papers and analytical reports). We do this strictly on the understanding that:
(i) All such advice or recommendations are for general information purposes only. Views and opinions contained herein are those of Bordier & Cie. Its contents may not be reproduced or redistributed. The user will be held fully liable for any unauthorised reproduction or circulation of any document herein, which may give rise to legal proceedings.
(ii) We have not taken into account your specific investment objectives, financial situation or particular needs when formulating such advice or recommendations; and
(iii) You would seek your own advice from a financial adviser regarding the specific suitability of such advice or recommendations, before you make a commitment to purchase or invest in any investment product. All information contained herein does not constitute any investment recommendation or legal or tax advice and is provided for information purposes only.
In line with the above, whenever we provide you with resources or materials or give you access to our resources or materials, then unless we say so explicitly, you must note that we are doing this for the sole purpose of enabling you to make your own investment decisions and for which you have the sole responsibility.
© 2020 Bordier Group and/or its affiliates.