Key market moves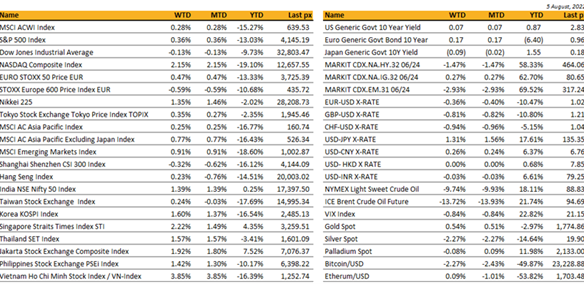 Source: Bloomberg
Macro Overview
Americas:
US indices closed mixed for the week, with the Dow and the S&P 500 ending the week basically where it began. The Nasdaq was up over 2% for the week, its third winning streak since April.
US employment data showed nonfarm payrolls gained 528k jobs in July, way higher than expectations of a 250k gain. The unemployment rate slipped to 3.5% against an expectation of 3.6% despite June JOLTS – job openings data, posting another drop signaling a cooling trend in the labour market. Participation rate was slightly lower and average hourly earnings YoY was higher at 5.2%. All in all a strong number, validating the opinion that the US' growth remain robust and is not in a recession. This ups the ante for the Fed to be more aggressive given that signs indicate a recession may not be imminent and undermines the "imminent Fed pivot" anticipation that's been powering stocks of late. Others however, see that this pace of hiring, at the highest in 9 months is just not sustainable, when at the same time GDP is declining.
Following the data release, futures are now pointing to a 75 bps rate hike in September to be more likely. US Treasuries sank with the 10-year yield closing around 2.83% climbing nearly 26 bps since Monday. Bond traders are on a collision course with the Fed over the LT view where markets think the Fed being aggressive this year means inflation will fall enough to allow the Fed to pivot/shift. A handful of Fed officials during the week reiterated the central bank's resolve to bring down high prices pushing back against the narrative that the central bank was preparing to pivot away from tightening. As long as the Fed is tightening, they don't want to talk about easing!
We will get July's CPI reading on Wednesday, expected to come off its peak to 8.7% YoY and at 0.2% MoM. In other economic releases, optimism kept risk sentiment buoyed as ISM readings and durable goods orders came in better than expected. However, rising geopolitical risks remain on the radar after Japan reported that China likely fired missiles over Taiwan during military drills on Thursday, following Pelosi's totally unnecessary visit to Taiwan, stoking fears of a full-blown conflict in the region.
In corporate news, Tesla shareholders approved a 3 for 1 stock split. Banks advanced on easing fears that the US economy is heading for a recession. Corporate earnings continue to deliver mostly good news, with over 75% of S&P 500 companies that have reported earnings topping analysts' estimates. Following Biden's trip to Saudi earlier, OPEC+ is said to raise its output goal by (only) 100k bpd in September – a gesture increase amounting to anything but a blip. The justification is blamed on the cartel struggling to meet full targets as most members have exhausted their output potential following years of under-investment in new capacity. Nevertheless, oil fell below WTI$90 a barrel on expected weaker gasoline demand. We think that crude prices will remain elevated circa $100-$110 straddling between the Ukraine war persisting and global demand.
A relatively quiet week for cryptos with Bitcoin settling around $23k and Ether at $1700. The coming week will be one to look out for, for further direction as far as the CPI is concerned. One of the largest contributors is commodities, which has been on the decline, measured by BCOMSP Bloomberg Commodity Spot Index at 573.3637 around late February levels, down some 16% from its peak in early June.
Europe / UK / EMEA:
BoE hiked by 50bps, as expected, taking Bank Rate to 1.75%, and marking BoE's largest hike since 1995. Forecasts inflation at 13% by end-year.</p.
Retail sales in Germany unexpectedly contracted in June (-1.6% vs estimates of +0.3%) and Italy's manufacturing PMI slipped below 50 (48.5 vs 49.0 expected). </p.
German exports rebounded more than expected in June, partially reflecting the impact of rising prices and hinting at a possible easing of supply chain disruptions. Germany's exports grew 4.5 per cent between May and June, according to official data from the national office for statistics. Imports grew less than expected at 0.2 per cent, dragged down by a 3.9 per cent decrease in imports from China.</p.
Bund yields fell -3.8bps, similar to OATs (-3.1bps). The decline was more pronounced in peripheral yields and spreads, with BTPs (-12.9bps) in particular dropping below 3% for the first time since May of this year, perhaps on further follow through from last week's story that the far right party leading the polls aren't planning to break EU budget rules. Spreads have recovered the lost ground from Draghi's resignation announcement.</p.
Survey of Eurozone executives confirmed that business activity in the currency bloc hit a 17-month low in July, putting pressure on European government bonds. Germany's 10-year Bund yield rose 0.08 percentage points to 0.8 per cent as the price of the debt fell. Italy's equivalent bond yield added 0.07 percentage points to 2.99 per cent.</p.
The Netherlands declared a water shortage. Lack of rainfall has led to a drought. In France, energy supplier EDF cut nuclear power production to keep rivers, which cool the plants, from overheating. Meanwhile, Europe's Rhine River, a key shipping route, may close due to low water levels.</p.
Turkey's annual rate of inflation neared 80 per cent in July, heightening pressure on the central bank to raise interest rates despite resistance from president Recep Tayyip Erdoğan. Consumer price inflation was 2.37 per cent in July, lifting the annual rate to 79.6 per cent, the state statistics office said on Wednesday.</p.
UN's nuclear watchdog is alarmed about a power station in Ukraine. The Zaporizhzhia plant, Europe's largest nuclear power station, shut down one of its reactors after being shelled over the weekend.</p.
Asia:
Markets in Asia were slightly positive last week. MSCI Asia Ex Japan was up 0.77%. Vietnam was the best performer, up 3.8% while CSI 300 in China was the worst performer in the region, down 0.32% to kick start August.
All eyes were on China following Nancy Pelosi's visit to Taiwan. China ran long-range airstrike drills near Taiwan. The PLA flew some 66 sorties on Sunday, including 22 that crossed the southwest air defense identification zone, the ministry said. Some 14 Chinese warships were detected around the Taiwan Strait as of 5 p.m. local time. Separately, a drone was found approaching the restricted waters of the Kinmen area and was driven away by flares, Taiwan's army said. Taiwan pledged it won't succumb to pressure from China.
China halted some trade with Taiwan in retaliation to the high-profile visit of US House Speaker Nancy Pelosi. China suspended some fish and fruit imports from Taiwan, citing excessive pesticide residue detected on products since last year and some frozen fish packages that tested positive for coronavirus in June. Exports of natural sand, used in construction, were also banned. The trade bans imposed so far are likely to have only a marginal impact on Taiwan's economy. What needs to be watched is whether Beijing will broaden the trade bans into the manufacturing sector. Nancy Pelosi pledged that the US wouldn't abandon Taiwan, reaffirming US support for the democratically elected government in Taipei.
China's trade balance climbed to about $101 billion last month, while exports in dollar terms grew 18% from a year earlier — far higher than economists' estimates of a 14.1% gain. The strength in exports was mainly supported by automobiles, steel products and textile-related products, according to an analysis by Goldman Sachs Group Inc. Shipments to the Association of Southeast Asian Nations and the European Union were among the strongest, up 33.5% and 23.2% respectively.
Hong Kong fell into a recession. GDP fell by 1.4% in the second quarter, its second consecutive quarter of contraction, as it weathers a fifth wave of covid. Hong Kong today announced it will shorten hotel quarantine for arrivals to 3 days from current 7 days starting from Friday. Arrivals have to subject to movement restriction for 4 days after hotel quarantine, so they will not be allowed to visit places like restaurants and bars.
Consumer prices in South Korea rose 6.3% in July hitting its highest level since November 1998. Governor Rhee Chang-yong said a day earlier that the Bank of Korea will likely raise rates by 25 basis points this month, 25th Aug, while declining to rule out a bigger increase. The Bank of Korea raised rates by 50 basis points in July.
RBA has raised rates by another 50 basis points to 1.85%. Their economic forecasts seem to have been lowered and they have now said monetary policy is "not on a pre-set path" which some are already interpreting as possibly meaning 25bps instead of 50bps at the next meeting. Aussie 10yr yields dropped 7-8bps on the announcement and 10bps on the day.
Singapore's manufacturing new orders dropped 0.5 point to 50.2 in July from a month ago, the lowest level since September 2020. While the overall manufacturing sector recorded 25 consecutive months of expansion, supply chain disruptions due to pandemic and prolonged uncertainties with the war in Ukraine could further aggravate the general PMI reading.
Singapore issued a maiden 50-year green bond, tapping into resilient demand for environmentally friendly notes to aid its push to become a regional hub for such debt. The city state raised S$2.4 billion ($1.7 billion) via the sovereign offering Thursday. The deal, whose proceeds will be used to finance public transport, attracted more than S$5.3 billion of orders. Singapore's debut green issuance is part of the government's plan to raise as much as S$35 billion of environment-focused financing by 2030.
Finance Minister Nirmala Sitharaman asserted in the Lok Sabha last Monday that India remains the fastest growing economy in the world, citing reports from global institutions. On the macroeconomic fundamentals of the country, the country's debt-to-GDP ratio is better than many developed nations, including Japan, and the GST collection has touched the second-highest since its rollout in July. Purchasing Managers' Index (PMI) touched eight months high is an indication that the Indian economy is getting more robust, she said. The government has been able to contain inflation pressures below 7 per cent despite problems like COVID-19 and Omicron. On forex reserves, she said India has sufficient reserves and economic fundamentals are perfect.
COMPANIES
As the US Congress passed an historic $52 billion federal program to boost domestic chip making capabilities, with one caveat: The Chips and Science Act bars companies that get federal funding from materially expanding production of chips more advanced than 28-nanometers in China — or a country of concern like Russia — for 10 years. A large chunk of the federal grant is expected to go to Intel, TSMC and South Korea's Samsung Electronics Co., all of which are now building new chip fabrication facilities worth tens of billions in the US. Only TSMC is making relatively advanced chips in China at the moment.
BMW's shares fell sharply on Wednesday despite results that beat analysts' expectations. The Munich-based group posted earnings before interest and tax of €3.9bn in the three months to end of June. That was a 34 per cent drop on the same period last year.
Reliance Jio was the highest bidder in India's 5G auction. Billionaire Mukesh Ambani's telecom company will pay $11 billion to claim nearly half of the auctioned airwaves over the next 20 years.
Keppel Infrastructure Trust, Keppel Asia Infrastructure Fund and Keppel Infrastructure expand into South Korea with joint acquisition of Eco Management Korea, a leading waste management services player, for S$666.1m.
FX
DXY USD Index rose 0.68% to 106.621 following a very strong US employment report, as nonfarm payrolls increase by 528k (C: 250k) in July and the unemployment rate falls to 3.5%. On other US data, July ISM Services Index surprised to the upside at 56.7 (C: 53.5; P: 55.3), while final headline durable goods orders for June were above consensus. High volatility on USDJPY, as it recovered to close the week at 135 after touching 130.50 mid-week.
EURUSD closed the week, down -0.36% (better than most G10 currencies) at 1.0183 despite a big miss on retail sales mom, which came in at -1.2% (C: 0.0%). EU July final composite PMI performed slightly better than consensus at 49.9 (C: 49.4).
GBP fell 0.81% and 0.49% against USD and EUR respectively, as BoE hikes 50bp and communicates a bleak forecast guidance, with UK CPI inflation expected to rise to just over 13% in 4Q22 and the UK economy expected to enter recession from 4Q22. UK final July composite PMI closed slightly below consensus. GBPUSD closed at 1.2073 and EURGBP closed at 0.8435 for the week.
AUD fell 1.06% against USD at 0.6911, despite the third consecutive 50bp hike by the RBA. an emphasis on rate normalization "not on a pre-set path" leads AUD to decline. In addition, elevated US-China tensions added to AUD weakness.
Oil & Commodity – Bloomberg Commodity Index fell 3.26% to 117.8512, led by the decline in oil prices. Despite a minimal output hike by OPEC+ last Wednesday, resilient US data, and a supply reduction in the Caspian Pipeline Consortium, the downturn in the oil market continued. Brent crude settled at 94.92 (-8.70%), while WTI crude settled below $89/bbl (-8.96%), for the first time since Russia's invasion of Ukraine. The recent leg is driven by demand concerns, suggested by a large rise in US inventories.
ECONOMIC INDICATORS
M – JP Trade Balance, NZ 2Yr Inflation Exp., SZ Unemploy. Rate, EU Sentix Investor Confid.
T – AU Consumer Confid./Biz Confid., JP Machine Tool Orders, US Small Biz Optimism
W – JP PPI, CH PPI/CPI, US Mortg. App/CPI/Wholesale Inv.
Th – NZ House Sales, AU Consumer Inflation Exp., US PPI/Initial Jobless Claims
F – NZ Biz Mfg PMI/Food Prices, UK GDP/Indust. Pdtn/Mfg Pdtn/Trade Balance, EU Indust. Pdtn, US Mich. Sentiment
Sources – Various news outlets including Bloomberg, Reuters, Associated Press




Disclaimer: The law allows us to give general advice or recommendations on the buying or selling of any investment product by various means (including the publication and dissemination to you, to other persons or to members of the public, of research papers and analytical reports). We do this strictly on the understanding that:
(i) All such advice or recommendations are for general information purposes only. Views and opinions contained herein are those of Bordier & Cie. Its contents may not be reproduced or redistributed. The user will be held fully liable for any unauthorised reproduction or circulation of any document herein, which may give rise to legal proceedings.
(ii) We have not taken into account your specific investment objectives, financial situation or particular needs when formulating such advice or recommendations; and
(iii) You would seek your own advice from a financial adviser regarding the specific suitability of such advice or recommendations, before you make a commitment to purchase or invest in any investment product. All information contained herein does not constitute any investment recommendation or legal or tax advice and is provided for information purposes only.
In line with the above, whenever we provide you with resources or materials or give you access to our resources or materials, then unless we say so explicitly, you must note that we are doing this for the sole purpose of enabling you to make your own investment decisions and for which you have the sole responsibility.
© 2020 Bordier Group and/or its affiliates.