Key market moves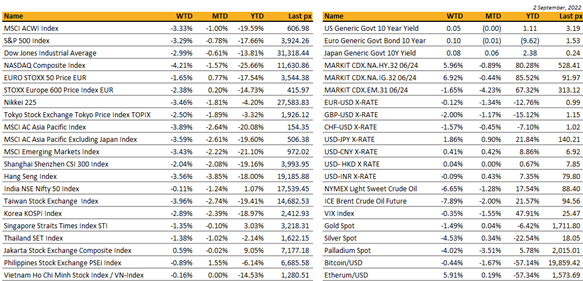 Source: Bloomberg
Macro Overview
Global
For the 3rd week in a row, post Powell's speech at the Jackson Hole Symposium, US equities declined as concerns linger around yet another jumbo rate hike at the next FOMC meeting. The Fed is seen as willing to sacrifice growth to bring inflation down, which could lead to a recession, beyond the technical one which we are in the midst of. Comments from Cleveland Fed President Mester that the Fed needs to raise rates above 4% by early next year damped sentiment further. Friday saw data out from the labour department which did little to change the narrative even though the average hourly earnings were a tad weaker than expected and unemployment ticked up to 3.7% from 3.5%. Non-farm payrolls came in at 315k, slightly higher than expected. The data reported a "solid jobs growth but cooling wage pressures". UST10Y yields were higher for the week as angst over the impact of the beginning of the $95 bln monthly QT begins this month.
The equity selloff was further exacerbated by Gazprom saying its key gas pipeline to Europe won't reopen as planned. Stocks had rallied earlier post the jobs data as the market started to pare back the amount of rate-hike premium. However, until we get the CPI release in a couple of weeks' time, futures are pricing in a 75 bps rate hike this month. Citigroup strategists see "little interest in dip buying" but signs of panic with exposure sits near the lightest level since 2016. So far, earnings and indeed the health of the economy as measured by growth metrics, appear to be holding up. The VIX spiked back up to 26.
Some semiconductor chip manufacturers came under pressure after the US Government's new rules on the export of AI chips to China took its toll. Nvidia underperformed whilst others such as Broadcom reported that the new rules were somewhat, manageable. US markets are closed Monday in observation of Labor Day. A relatively quieter, shortened week in data terms with only the ISM Services and unemployment claims, being key releases.
Cryptos retreated with BTC falling back below $20k and ETH at $1550. Gold was a standout outperformer after pivoting back above $1700 per oz on technical oversold buying.
The week is expected to consolidate sideways as US August CPI looms before a clearer conviction can be better defined, both from the markets and the Fed.
Asia
Asian Markets closed the week in the red. MSCI Asia ex Japan was down 3.59%. And the start to this week has not been calm either. Hang Seng is down 1.8%, CSI 300 down 0.3% intraday.
China placed millions under lockdown, again. Major trade hubs like Dalian and Shenzhen face new covid restrictions in the latest phase of an economic blow that has already hit China's aviation and real estate sectors. Chinese metropolis of Chengdu will lock down its 21 million residents to contain a Covid-19 outbreak. It will be the biggest city to shut down since Shanghai's bruising two-month lockdown earlier this year. EU luxury names hit on China lockdown.
Activity in China's manufacturing sector contracted for second straight month in August. PMI reading came in at 49.4. China's economy was plagued by power shortages in August, with several provinces, including Sichuan and the municipality of Chongqing, suspending or restricting electricity supplies to industry as an unprecedented drought drained hydropower and heightened usage.
The US will audit Chinese e-commerce giants Alibaba and JD. Vetting starts next month, according to Reuters, following a landmark audit deal that may reduce delisting risks for China.
Tencent, the other internet giant in China, has outlined a strategy internally to divest about Rmb100bn ($14.5bn) of its $88bn listed equity portfolio.
US Government orders AMD, NVDA to halt AI chip sales to China.
India Manufacturing Purchasing Managers' Index eased marginally to 56.2 in August as against 56.4 level recorded in July
India wants to take a step up the manufacturing value chain, with a high-stakes bid to begin making semiconductors. The Modi government has put $10bn of incentives on the table to tempt manufacturers to set up new "fabs" (semiconductor fabrication plants) and encourage investment in related sectors such as display glass. India is offering itself as a democratic alternative tech hub to China. Singaporean group IGSS Ventures has signed a memorandum of understanding for a wafer factory in three years. Foxconn has teamed up with Indian group Vedanta to build a semiconductor plant. Israeli group ISMC has signed a letter of intent to build a $3bn semiconductor chip making plant in Bangalore.
Japan's manufacturing activity grew at its weakest rate in nearly a year in August, as businesses took a hit from worsening conditions in the global economy and declining demand from China and South Korea. The final au Jibun Bank Japan Manufacturing Purchasing Managers' Index (PMI) fell to a seasonally adjusted 51.5 in August from a final 52.1 in the prior month.
Taiwanese soldiers have begun targeting and shooting Chinese drones flying over its outlying islands for the first time. In May, Taiwan's military approved $146mn in investment in anti-drone defense systems for its bases, but installation has yet to be completed. The defense ministry also plans to deploy an indigenously-developed system for countering unmanned aircraft systems from next year.
FX and Commodities
DXY USD Index rose 0.67% to 109.534 with broad based USD strength, as deteriorating risk outlook dominates. Data wise, non-farm payrolls beat consensus at 315k (C: 298k), while unemployment rate rose to 3.7% (C: 3.5%). Average hourly earnings a touch softer, up 5.2% yoy (C: 5.3%). ISM Mfg and consumer confidence both beats consensus.
Employment in line, up 315k in August, albeit with a net 107k of downward revisions to the two months prior.
Average hourly earnings a touch softer, up 5.2%yoy versus consensus at 5.3%
EUR fell 0.12% against USD to 0.9954 amid increasing expectations for a 175 bps ECB rate hike in the next meeting, due to hawkish comments among ECB policymakers last week. Data wise, EU inflation beats consensus, where headline up 0.5% mom (C: 0.4%), and 9.1% yoy (C: 9%). Bigger beat on core, up 4.3% yoy (C: 4.1%). EU unemployment rate came in in-line at 6.6%. 3
GBP fell 2.00% and 1.93% against USD and EUR as higher gilt yields fail to support GBP. GBPUSD closed the week at 1.1509 (a new post-pandemic low). Deteriorating risk outlook dominates the direction of GBP, driving GBP weakness. Data wise, UK Mfg PMI for August was revised upwards to 47.3 by 1.3 points.
JPY fell through 140 against USD (first time since 1998), closing the week at 140.20 (+1.86%), as the policy divergence narrative was reinforced.
Oil & Commodity – Bloomberg Commodity index fell 4.41% on concerns that slowing global growth would hurt demand. WTI and Brent fell more than 6% to 86.87 and 93.02 respectively. Aluminium fell 8.10%, while copper fell 7.45% due to new antivirus lockdowns in China. Russia announced that Nord Stream 1 pipeline would remain shut indefinitely as state-controlled Gazprom said that it had discovered oil leaks in a turbine during maintenance.
ECONOMIC INDICATORS
M – AU/CH/EU/UK Svc/Comps PMI Aug Final, AU Inflation, SZ GDP, EU Retail Sales
T – AU RBA OCR, UK Construction PMI, US Svc/Comps PMI Aug Final/ ISM Svc Index
W – AU GDP, CH Trade Balance, JP Leading Index, EU GDP, US MBA Mortg. App./ Trade Balance, CA BOC Rate Decision
Th – NZ Mfg Act., JP GDP/ Current Acc., AU Trade Balance, SZ Unemploy. Rate, EU ECB Rate Decision, US Continuing Claims
F – CH PPI/ CPI, CA Unemploy. Rate, US Wholesale Inv
Sources – Various news outlets including Bloomberg, Reuters, Associated Press




Disclaimer: The law allows us to give general advice or recommendations on the buying or selling of any investment product by various means (including the publication and dissemination to you, to other persons or to members of the public, of research papers and analytical reports). We do this strictly on the understanding that:
(i) All such advice or recommendations are for general information purposes only. Views and opinions contained herein are those of Bordier & Cie. Its contents may not be reproduced or redistributed. The user will be held fully liable for any unauthorised reproduction or circulation of any document herein, which may give rise to legal proceedings.
(ii) We have not taken into account your specific investment objectives, financial situation or particular needs when formulating such advice or recommendations; and
(iii) You would seek your own advice from a financial adviser regarding the specific suitability of such advice or recommendations, before you make a commitment to purchase or invest in any investment product. All information contained herein does not constitute any investment recommendation or legal or tax advice and is provided for information purposes only.
In line with the above, whenever we provide you with resources or materials or give you access to our resources or materials, then unless we say so explicitly, you must note that we are doing this for the sole purpose of enabling you to make your own investment decisions and for which you have the sole responsibility.
© 2020 Bordier Group and/or its affiliates.