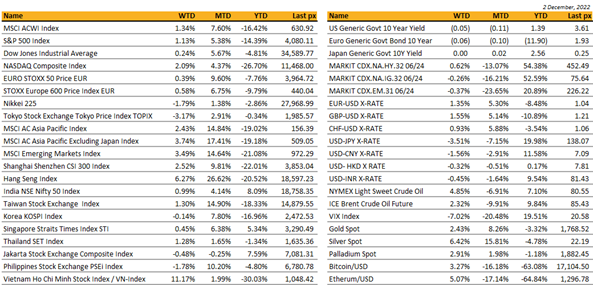 The back foot stance of December continued last week with the 3 major indices retreating, completing their biggest weekly decline since September. The market went into the weekend cautious, cognizant of an anticipated rate hike this Thursday morning where rates would remain "higher for longer" causing a severe recession. Energy's continued selloff together with Tech weighed on stocks.
Friday's Producer Prices topped forecast for November adding to angst for the upcoming CPI release this Tuesday. PPI headline was at 7.4%, core at 6.2% YoY both higher than expected but lower from October. The countering factor which lifted stocks off their lows was the U. of Mich. One-year inflation expectations which moved lower to 4.6% from 4.9%. Other data confirmed the resilience of the economy adding to the Fed's 'need' to remain hawkish: US services sector came in higher than expected, which is a major contributor to the CPI.
The recent rally to above the 200-day moving average for the S&P 500 has faltered and could be vulnerable to a downtrend resumption, sitting now at the 100-day MA. Wall street banking heavyweights from BofA to Morgan Stanley are sounding the alarm on growth headwinds, recommending hedges be placed following the drop in volatility which we concur with. As an analyst puts it, the difficulty is to balance the end of a tightening cycle to that of a potential global recession next year! This week will see the final key numbers for the year in the form of:
CPI on Tuesday expected at 7.3% YoY and a YoY core of 6.1%; 0.3% MoM on headline and core. Thursday morning the Fed is expected to raise the Fed Funds to 4.5% (upper band) and retail sales with Friday showing us Manufacturing, Services Composite PMI. Let's wait to hear what Powell and his pals have in store for 2023.
Cryptos were broadly flat for the week with BTC trading above $17k.
Asia diverged from US & Europe last week. MSCI Asia ex Japan was up 0.7% over the week. Chinese stocks shot higher with Hang Seng leading gains, up 6.56%, CSI 300 +3.29%.
Zero-Covid changes in China are moving faster than expected.  China is lifting its most severe Covid policies – including forcing people into quarantine camps – just a week after landmark protests against the strict controls. People with Covid can now isolate at home rather than in state facilities if they have mild or no symptoms. They also no longer need to show tests for most venues, and can travel more freely inside the country. The lifting of strict pandemic measures means many residents, as many as 840 million, could be infected.
Data out from China showed that services activity contracted further in November as Covid restrictions continued to restrain growth, with the Caixin China services PMI falling to a six-month low of 46.7 from 48.4 in previous month. China CPI in line, up 1.6%yoy in November. PPI stronger than expected, -1.3%yoy versus consensus at -1.5%.
Press takeaways from December Politburo meeting noted economic growth a higher priority for policymakers. Attention is China's 2023 GDP growth target following reports leaders weighing figure of ~5%, which may encourage greater efforts to boost economy
Hong Kong's government  is considering easing many of city's Covid restrictions including those covering overseas entries and close-contact home quarantine rules. Hospitals may alter their discharge criteria and outdoor mask mandate may also be dropped. Follows news Wednesday mainland China is to relax rules further, albeit with many measures previously announced. Also comes on a four-fold increase in the number of Hong Kong residents that have taken the fourth Covid vaccination shot in past seven days with most taking the BioNTech shot designed to tackle omicron
Reserve Bank of India hiked base rate 35 bps to 6.25% and signaled it would continue its fight against inflation. October Inflation at 6.77%, still above RBI's 2-6% target lower than September's rate; bank forecast 6.7% end-year inflation rate.
Beijing warns against a "NATO for Asia": The Australian carried a warning from one of Beijing's top diplomats in Australia who said any attempts between Quad nations to develop a NATO for Asia would "stoke divisions, stir up conflicts, and severely harm peace and prosperity. Separately, AFR carried comments from a senior Chinese lawmaker who said Beijing will not force Australia to choose between the US and China.
Netherlands plans curbs on China technology exports in deal with Washington: The Netherlands is planning new controls on the export of chip-making equipment to China, possibly aligning its rules with those of the US. The new export limits being considered would bar the sale of equipment capable of making 14 nanometers chips or better
Last week, US November PPI printed above expectations, headline was up 7.40% vs 7.20% expected and Core was up 6.20% Vs 5.90% expected. November numbers were however 0.60% lower than previous Month.
We also had last week the December University of Michigan index as well as sub-categories (current conditions as well as expectations) printed stronger than expected. The PPI's and the Michigan Index steepened the US Treasury yield curve last Friday, especially the 10 & 30years yield which gained more than 10bps on the day.
Over the week, USD sovereign interest rates trades lower early on but managed to end up higher after Friday's economic data. The 2years gained 4bps, the 5years gained 8bps, the 10years gained 6bps and the 30years end the week unchanged.
In term of performances, US IG gained 35bps, US HY gained 25bps and leverage loans lost 15bps.
Chinese banks are opening more than 3 trillion yuan, equivalent to  USD 430 billion, in lines of credit for cash-strapped real estate companies, suggesting a temporary emphasis on stabilizing the economy over cutting the industry's debt. Fresh credit lines provide a lifeline for a heavily indebted property sector whose troubles have weighed on China's economy. Like recent moves to roll back coronavirus-related restrictions, the aid to real estate developers suggests that the leadership under President Xi Jinping is focused on supporting the economy. But even the announced boost will not immediately solve the debt problems in the real estate industry. Developers have a wide range of liabilities, including accounts payable and homes that have been sold but not handed over yet.
Sources – Various news outlets including Bloomberg, Reuters, Financial Times, Associated Press
Disclaimer: The law allows us to give general advice or recommendations on the buying or selling of any investment product by various means (including the publication and dissemination to you, to other persons or to members of the public, of research papers and analytical reports). We do this strictly on the understanding that:
(i) All such advice or recommendations are for general information purposes only. Views and opinions contained herein are those of Bordier & Cie. Its contents may not be reproduced or redistributed. The user will be held fully liable for any unauthorised reproduction or circulation of any document herein, which may give rise to legal proceedings.
(ii) We have not taken into account your specific investment objectives, financial situation or particular needs when formulating such advice or recommendations; and
(iii) You would seek your own advice from a financial adviser regarding the specific suitability of such advice or recommendations, before you make a commitment to purchase or invest in any investment product. All information contained herein does not constitute any investment recommendation or legal or tax advice and is provided for information purposes only.
In line with the above, whenever we provide you with resources or materials or give you access to our resources or materials, then unless we say so explicitly, you must note that we are doing this for the sole purpose of enabling you to make your own investment decisions and for which you have the sole responsibility.
© 2020 Bordier Group and/or its affiliates.